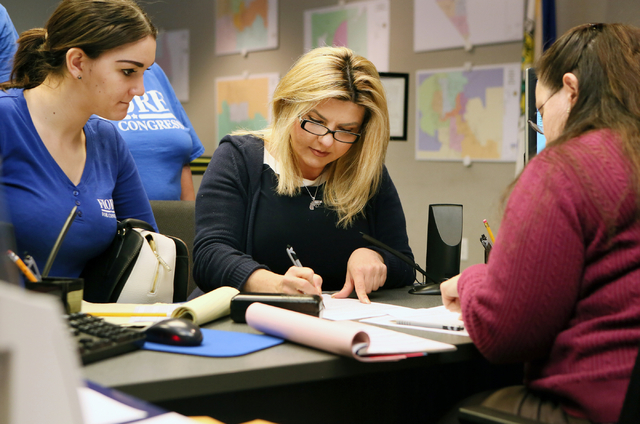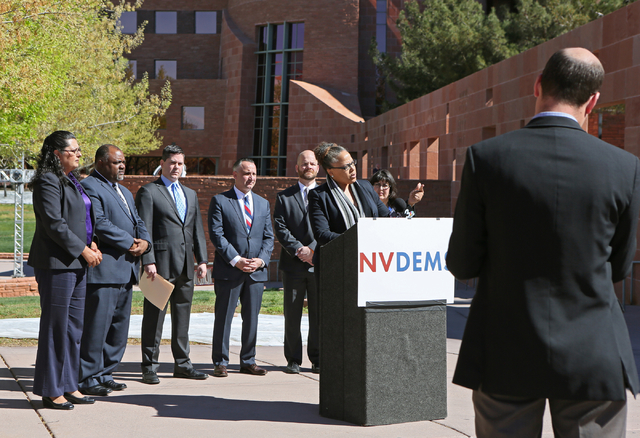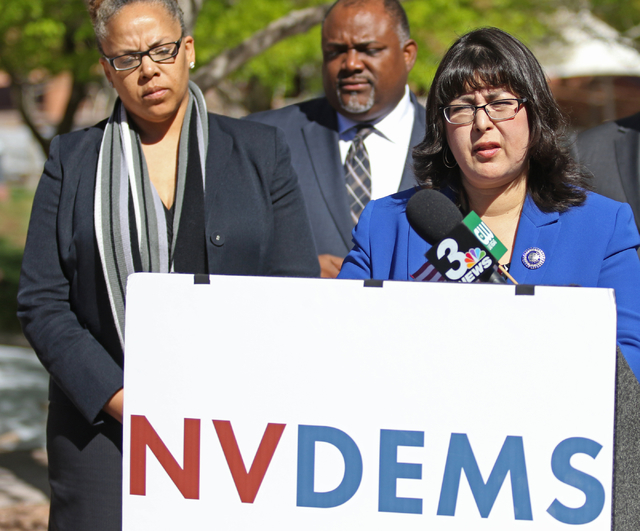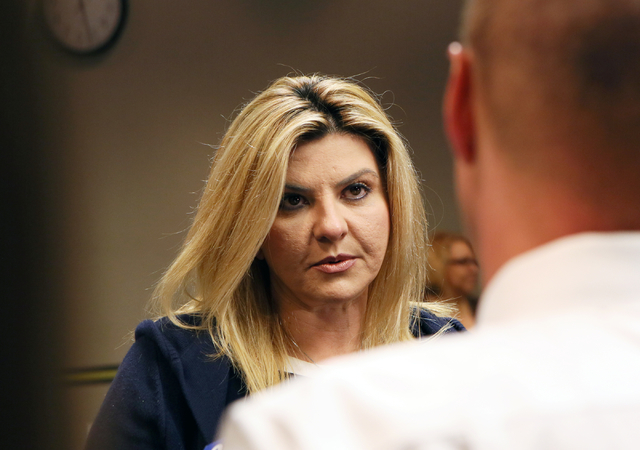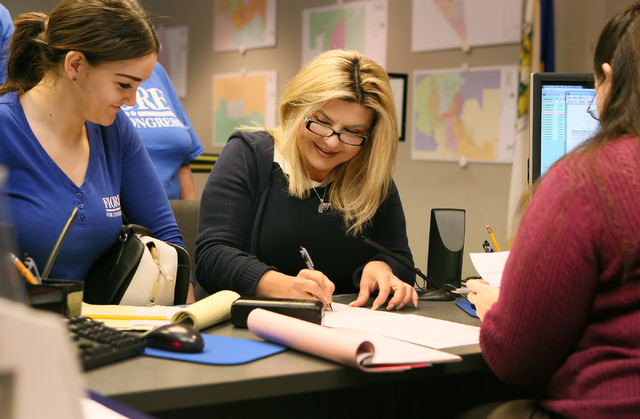 Nevada Assemblywoman Michele Fiore filed on Wednesday to run for the 3rd Congressional District.
The Republican is creating an open Assembly seat to run for Congress at a time when Democrats intend to retake the Assembly and avoid a repeat of the 2014 elections, when the GOP gained control of both legislative chambers.
She is entering an open race for the seat of Rep. Joe Heck, R-Nev., who is is running for U.S. Senate.
Fiore casts herself as an anti-establishment candidate, one who vehemently opposed a tax increase that the GOP-led Nevada Legislature passed in the 2015 session to raise money for public education. She's also well known for her support of gun rights and Cliven Bundy, a Bunkerville rancher facing federal charges for his role in an armed standoff with federal agents who rounded up his cattle in 2014 after he refused to pay grazing fees.
Fiore she fights for constitutional rights and limited government.
"As hard as I fight for the people, I think that we definitely need fighters in DC that stand up for the people and that are not afraid to ruffle feathers," she said.
The race sets her up for a primary run against a slate of candidates that includes state Senate Majority Leader Michael Roberson, a Republican who had a strong hand in getting the tax package through the Legislature. Roberson has announced he's running, but hasn't filed yet.
Five others have filed to run for CD-3: Republicans Kerry Bowers and Annette Teijeiro, and Democrats Barry Michaels, Jacky Rosen and Alex Singer. Republicans Danny Tarkanian, a real estate developer, and Andy Matthews, former president of the Nevada Policy Research Institute, have announced they're running, but haven't filed yet.
Wednesday was an active day for legislative races, too. Democrats spoke at a press conference before filing to run for Assembly seats in Clark County.
The group included former Assemblyman Jason Jason Frierson, who lost his Assembly District 8 seat by 40 votes in 2014. He's running for another term in the seat, now held by incumbent John Moore, who left the GOP and joined the Libertarian Party.
Democrats have 17 seats out of 42 in the Assembly and need a net gain of five seats to reclaim control. They have identified nine seats in which Democrats have an advantage in voter registration. Frierson said it's important to reach out to people, as winning will take more than an edge in voter registration.
He said the party will bring back "integrity and stability" to the body.
Other Democrats who filed Wednesday included Chris Brooks in Assembly District 10, a seat held by incumbent Shelley Shelton, a Republican.
Assemblywoman Irene Bustamante Adams, also chairwoman of the Assembly Democratic Caucus, filed for re-election to her District 42 seat. So did Assemblywoman Olivia Diaz of District 11.
Also Wednesday, Clark County Commission Chairman Steve Sisolak, a Democrat, filed for a third four-year term.
Contact Ben Botkin at bbotkin@reviewjournal.com or 702-387-2904. Find him on Twitter: @seanw801.