Fiore loses license for home health care business
November 3, 2015 - 7:17 pm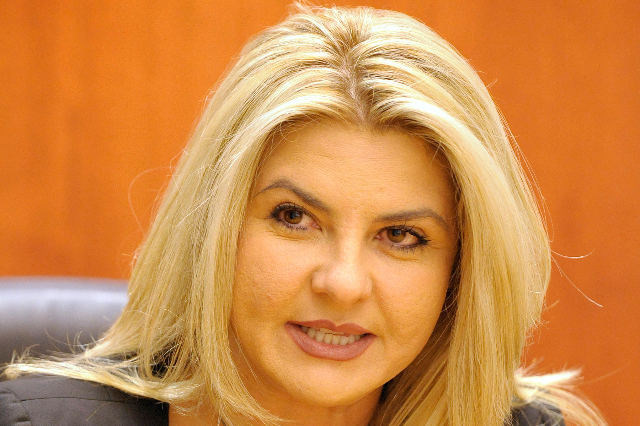 CARSON CITY— State regulators pulled the license of Assemblywoman Michele Fiore's home health care business in Las Vegas on Tuesday after inspectors found the business closed, but were unable to reach her.
Inspectors with the Bureau of Health Care Quality and Compliance said when they attempted to survey the business, Always There 4 You, they found another business setting up operations at that location. Attempts to contact Fiore by phone also were unsuccessful, state officials said.
The bureau said it was "taking action to administratively close the license."
It was at least the third time this year regulators were unable to access the home health care operation.
Fiore, a two-term Las Vegas Republican, was sent a certified letter on Oct. 20 warning that her license was in jeopardy after inspectors on Sept. 17 again found the business dark and the doors locked. The letter said she had 10 days to respond to "avoid an action against your license."
Fiore issued a statement saying she shut down her business, calling it "appalling" that "a state employee would go to the press with this kind of false story without having any details."
She also blamed regulators.
"To put it simply, it happened because 'They,' the army of regulators, bureaucrats, and inspectors, followed by the ever-increasing array of taxes and fees, won," Fiore said.
Fiore is a strong advocate for gun rights. On Friday she filed candidacy paperwork with the Federal Election Commission, setting up a possible run for Nevada's 3rd Congressional District seat being vacated by Republican Rep. Joe Heck, who is seeking to replace retiring Sen. Harry Reid in the U.S. Senate.
Contact Sandra Chereb at schereb@reviewjournal.com or 775-687-3901. Find her on Twitter: @SandraChereb. Contact Ben Botkin at bbotkin@reviewjournal.com or 702-387-2904. Find him on Twitter: @BenBotkin1.