Found a stray dog in Las Vegas? Our info guide will tell you what to do.
Updated September 10, 2023 - 2:11 pm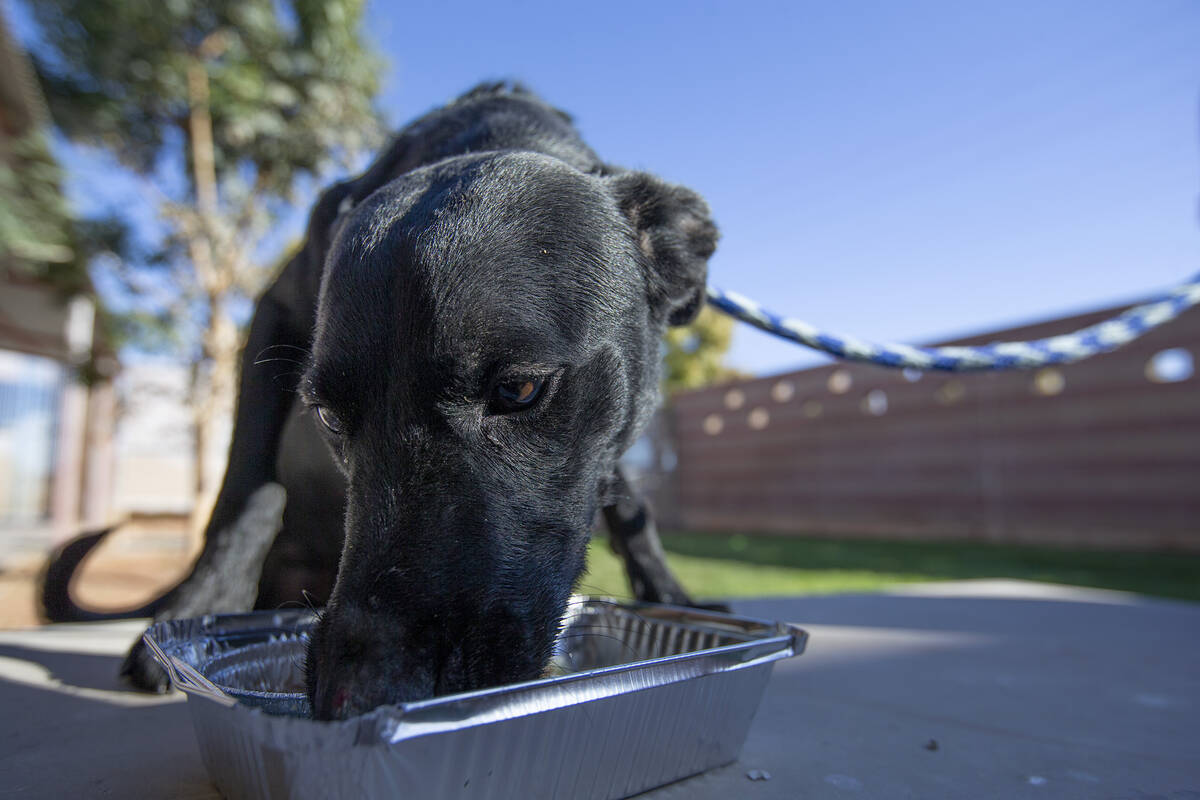 So you've found a stray dog in Las Vegas.
You want to get the dog off the streets and back to their home. Or, if an owner can't be found, into a shelter. Maybe you specifically want a no-kill shelter. Or maybe — and only if it becomes apparent the dog has been abandoned or an owner can't be found — you want to keep the dog yourself.
And there are more stray dogs and lost pets out there, experts say.
"We are seeing more animals out there, whether they're strays, or dumped or abandoned," said Annoula Wylderich, founder of the Las Vegas-based Animal Protection Affiliates, a grassroots animal advocacy organization. "Yes, I think there's an uptick in that."
Wylderich said the contributing factors include inflation, evictions, landlords who don't accept pets or who charge monthly pet rents, and the rising cost of veterinary care.
"I think a lot of people are stuck," Wylderich said. "They don't know what to do."
If you're in the Las Vegas Valley and you find a stray dog, these are your options and the steps you should take:
Evaluate the situation
Never do anything to endanger yourself, others, or the dog. If the dog is aggressive, cornered, or if it's a female dog looking after her puppies, do not approach the animal. Remove yourself from the situation and call animal control. If the dog seems scared, let it approach you.
If you need to call animal control services in Clark County
In unincorporated Clark County, Animal Protection Services can be reached at 702-455-7710.
The Las Vegas' Animal Protection Services is at 702-229-6444.
North Las Vegas' Animal Protection Services can be contacted at 702-633-9111.
In Henderson, Animal Care and Control is at 702-267-4970.
If you call any of the animal control agencies and you're unable to wait until officers arrive, ask a veterinarian's office if it can hold the dog until the animal control agency does arrive.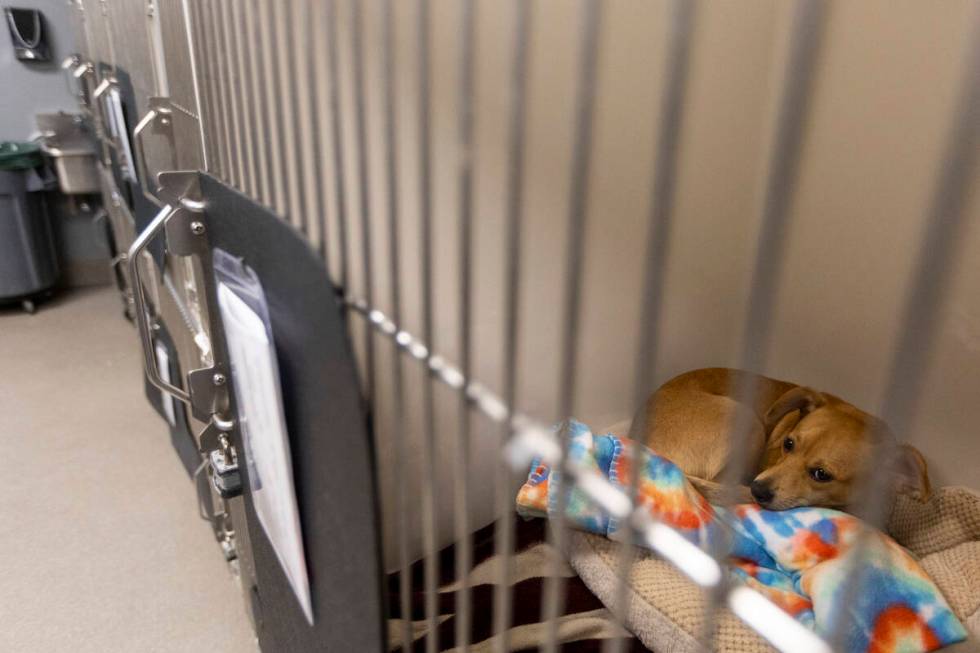 Where stray dogs are brought
Each of the Animal Protection Services agencies in Las Vegas, North Las Vegas, and Clark County will bring the dog to the partially publicly funded shelter they contract with, the Animal Foundation, where the animal could face several different fates. It might be put up for adoption. It might be reunited with its owner. Or, depending on the situation, it might be euthanized.
Once animal control workers take a dog to the Animal Foundation, it will be put on a hold for 72 hours. This allows for the owner to possibly reclaim the dog. Once the animal is processed, it will be listed on the foundation's site as a found dog. After the 72-hold, the dog may be listed for adoption.
The Animal Foundation is not a no-kill shelter. If you want to place the animal in a situation in which it won't be euthanized, check out the rescue organizations listed below in this story.
The Animal Foundation, at 655 N. Mojave Road in Las Vegas, can be reached at 702-384-3333.
In Henderson, Animal Care and Control will bring the dog to the city's Animal Care and Control Shelter, which is a no-kill shelter. Henderson's animal shelter is at 300 E. Galleria Drive. The number is 702-267-4970.
How to scan for a microchip
If you're able to get the dog under your care, doing whatever you can to figure out if the dog has a home is always the most important thing to do. With this, check if the dog has a collar. Does the collar have a name, phone number or address on it? If so, obviously contact the owner.
If not, you'll want to have to dog scanned for a microchip. Check with a local veterinarian, as many do this for free. Or go to Petco or PetSmart, both of which will also do it for free. Animal control workers, if you've called them to come out, will also scan for a microchip. But depending on how busy it is, they can take hours or days to respond to a particular call.
Want to drop the dog off at the Animal Foundation shelter? Think again. (Unless you're in Henderson.)
This is the most controversial part of the whole process, and there is some anger in the community about this. The Animal Foundation doesn't accept walk-ins when you're trying to drop off a stray animal. (Unless it's an obvious emergency situation, a spokesperson said, in which case you should call animal control.)
Instead, appointments need to be made. And the next available appointments are often weeks away. When a reporter tried to drop off a stray dog on Aug. 29, he was told the next available appointment was in October.
Animal Foundation spokesperson Kelsey Pizzi said it helps save shelter capacity for the dogs in dire need, like the abuse or neglect cases. And most stray dogs are found close to home, Pizzi said, citing a study that found that 70 percent of strays were found within a mile of their homes.
"So, a lot of people have an outdated way of thinking of things. They think that they should drive straight to the shelter with the animal, but the shelter should be the last resort," Pizzi said. "They should keep that animal in their neighborhood and they're more likely to find the family or the owner that way."
A Clark County spokesperson said the situation is not ideal.
"The County recognizes that long wait times to drop off found animals is not a best practice to return a dog to its owner," Clark County spokesperson Erik Pappa said in an email. "The County has been working with the Animal Foundation on improving this process in order to better serve the community."
"It's very unfortunate that the Animal Foundation requires appointments," Wylderich said. "For some people, they don't have that luxury of being able to wait that long."
In Henderson, residents of the city can bring stray dogs to the shelter.
Other rescues
There are other shelters and rescue organizations of various size and capacity in the valley. Some are full, some aren't. Google them and call around to see if they will accept the stray. Most if not all rescues are no-kill, but make sure to ask if it's important for you to get the animal into a no-kill situation. Keep in mind it might take a few days to go from finding the stray, to setting up an intake or meeting, and getting that animal into a shelter space or foster home.
If you have time to hold the stray dog until a situation with a rescue agency can be worked out, consider enlisting the help of one of these organizations. They include:
The Nevada SPCA, which bills itself as "Southern Nevada's original no-kill shelter" on its website, generally doesn't accept strays. Instead it accepts surrendered pets.
But exceptions are occasionally made, a spokesperson said. Amy Lee, communications manager for the Nevada SPCA, said in an email that the shelter occasionally accepts stray dogs and has been accepting more since October 2022, she said, out of concern that the dogs will be dumped.
However, when a reporter tried to drop off a stray at the shelter in late August, he was told the shelter wasn't accepting strays. Bottom line: call ahead to check. The Nevada SPCA can be reached at 702-873-7722.
Animal Protection Services picks up animals, but you can't drop off any with Animal Protection Services in Las Vegas, North Las Vegas or Clark County because they don't have shelter facilities.
Post online and in your neighborhood
Get the word out about the dog on social media or online. These sites are good places to start:
Contact the Animal Foundation or the Henderson shelter to see if anyone has reached out to them about the dog you've found.
Post on your own social media accounts. Just get the word out.
In addition to social media posts, consider putting up signs in the neighborhood.
Do due diligence if somebody claims the dog is theirs
If somebody comes forward to claim the dog, make sure they have evidence that proves they're the owner. Most, if not all, dog owners will have tons of pics of their pet. Ask to see them. If the person doesn't comply, that's a red flag. Beware of scammers who might be trying to get a free dog that they will then resell.
Also, don't assume that if a dog looks pretty rough, that their owner doesn't deserve to get it back.
"It is also discouraged to assume that if a dog looks unkempt or malnourished that the owner may be unworthy of their pet's return," Wylderich said. "It's possible that the dog was lost for a long time or has an underlying medical condition."
What if you want to keep the dog?
"It is a best to take the dog to the Animal Foundation to give the owner the greatest chance of reclaiming their pet," Pappa said. "When the dog is taken to the shelter, they can notify the Animal Foundation that they are interested in adopting the dog if the owner does not reclaim it."
Contact Brett Clarkson at bclarkson@reviewjournal.com.