Four vying in primary for Clark County Commission District F seat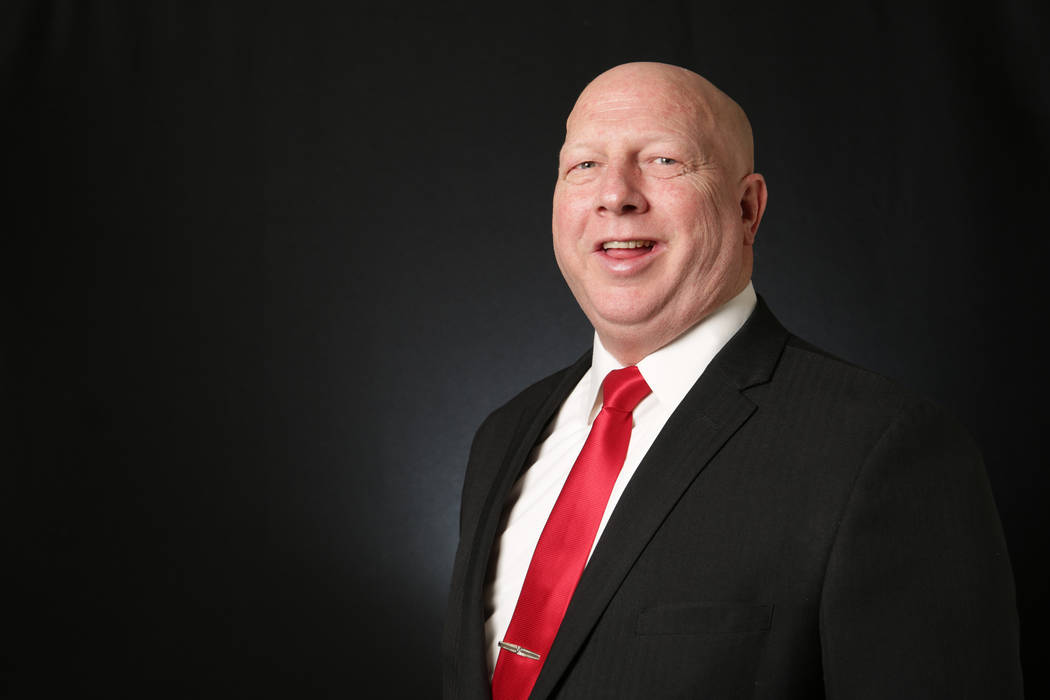 One of the Las Vegas Valley's fastest-growing regions will have a new representative on the Clark County Commission starting next year.
District F lies in the southwest valley and covers land south of Charleston Boulevard and west of Interstate 15. It also includes the communities of Blue Diamond, Primm, Jean, Goodsprings, Mountain Springs and Sandy Valley.
The Democratic and Republican primaries both feature well-funded attorneys with substantial name recognition running against candidates who are largely self-funded.
Susan Brager, the Democrat who has held the seat since 2007, is term- limited. Brager said she will not endorse any candidate during the primary.
Republicans
The Republican primary pits a hard-line conservative against an attorney and business owner who says she votes in Nevada's best interest.
Auto insurance claims adjuster Mitchell T. Tracy is making his third commission bid in as many elections. In 2014 he lost to Brager in the general election by about 5.6 percentage points.
"I'm still the same person I am the last time I ran," Tracy said. "I haven't changed my views, and my core values are the same. District F doesn't want someone who is going to flip-flop."
Tracy said he's been building up trust and his reputation with voters. As of Thursday he's raised some $23,000, about half of it his own money.
If elected, Tracy, 54, said he would fight to open at least three more fire departments in District F in order to reduce call response times. He also wants to launch an independent audit of the county's spending.
On his campaign website, Tracy describes himself as a "Reagan Conservative," "Trump Conservative Populist" and the race's "only real True Republican candidate." He criticized opponent Tisha Black for donating to Democratic candidates in past elections.
"I've never given any money to Harry Reid, I've never given money to (Sen. Catherine) Cortez Masto," he said. "Republicans want a real conservative, and I've always been that way."
Black, a 46-year-old political newcomer and real estate attorney, said her contribution to Cortez Masto's U.S. Senate race came after she worked with the then-Nevada attorney general to stop banks from fraudulently foreclosing on homes.
"I've always voted for what I think is best for Nevada," Black said. "I have been a registered Republican since I was 18, but I'm not a party-ticket voter. I think about the issues.The whole point of being in politics is think and do what's best regardless of what your ticket says."
Black is the daughter of developer Randy Black Sr. She has been a managing partner at her law firm, Black &Lobello, since 2000. Her campaign has raised more than $530,000.
Black said her background in real estate and law makes her the best candidate to properly plan the growth of District F. At the countywide level she wants to cut the red tape she says bogs down the issuing of business licenses.
"I intend to bring my acumen and skill set as a small business owner and business attorney to the county to make it a better environment to bring and sustain business here so we can create jobs," she said.
Democrats
A former state lawmaker will square off with a real estate broker in the Democratic primary election. Each candidate is involved in environmental issues.
Justin Jones, 43, is the attorney representing environmental nonprofit Save Red Rock in its efforts to prevent the development of thousands of homes on Blue Diamond Hill, near the Red Rock Canyon National Conservation Area.
"I'm a proven leader and a known quantity for folks voting in the primary," said Jones, who spent one term in the Nevada Senate. "As a dad, I want to be part of the solution where this is a place my kids will want to come back and raise their families. We've got a lot of excellent things going on here in the valley, and I want to continue making this a more livable community."
Jones added that he's not against growth, but he wants to see sustainable development. He said traffic on Durango Drive and Rainbow Boulevard could be vastly improved.
"I would like to see a little more forethought in when and how projects proceed," he said. "I'd like to see some better coordination to ensure that people are able to move better through the southwest part of the valley."
Jason Hunt, 43, has been spokesman for a group of Spring Valley residents who are protesting the opening of a second asphalt plant in a residential area near Spring Valley High School. The former high school teacher has owned a real estate brokerage for the past nine years and worked in the industry for 15 years.
"There is so much to do with the zoning and planning in Clark County and having a real estate background gives me the upper hand in that field," he said. "I strongly feel that thoughtful planning has to be done so 30 years from now, when my kids are older, they are living in a sustainable community that they want to live in and won't go elsewhere."
Hunt said he's also considering the growth of the whole county.
"Over time if we diversify our economy we can really benefit from our location," he said. "I see us in the future as a central hub for Phoenix, Southern California, Utah."
Candidate finances
Records show that three of the candidates have had financial troubles.
In January 2008, Black and her then-husband, Mike Chernine, received a federal lien from the Internal Revenue Service for more than $2.5 million in unpaid income taxes from 2005 and 2006.
Black said the debts belonged to Chernine, a real estate developer and investor. After property values plummeted he was no longer making enough money to pay his income taxes.
Black said she became solely responsible for the lien after Chernine filed for personal bankruptcy in May 2011 and she did not. The lien was released in November 2014.
"We always kept our finances separate, but we filed taxes together," Black said. "I've personally always been financially responsible. My business survived through the recession where a lot of law firms did not make it."
In April 2010, the couple lost a condo at C2 Lofts near downtown Summerlin to foreclosure with an unpaid debt of about $840,000. The next March foreclosure took their mansion in Summerlin with records showing the unpaid debt on the property was about $5.9 million.
"Looking back I don't think I would make all the same spending choices I did, but I wouldn't say those I made at the time were irresponsible," Black said.
The couple divorced in May 2016. Black says they remain friends.
Tracy and his then-wife, Louise Tracy, received a federal lien in 1992 for close to $5,700 in unpaid income taxes from 1989. Tracy said it was money his wife owed and he didn't find out about it until after they divorced. Tracy also lost a home to foreclosure in July 2008. Paperwork shows he owed $265,700 on the property. He filed for bankruptcy later that year.
Tracy said another ex-wife, Elizabeth Tracy, withdrew all the money from their bank account, leaving him unable to pay the bills.
"It was a bad divorce. A lot of people have them," he said. "But I built myself up bigger and better, and now I've got my own home and cars again."
The IRS filed a federal lien against Hunt in 2012, claiming he owed about $22,000 in unpaid payroll taxes from 2009 and 2010.
Hunt said he received notice about the owed money when he closed his limited liability company to open his brokerage. He paid it immediately, but a government record-keeping error resulted in the liens not being released until Thursday.
"If I had known there was a lien, I would have this taken off years ago because I had paid it," he said.
Contact Michael Scott Davidson at sdavidson@reviewjournal.com or 702-477-3861. Follow @davidsonlvrj on Twitter.