Henderson officers cleared in shooting that left gunman, boy dead.
Updated January 23, 2023 - 4:33 pm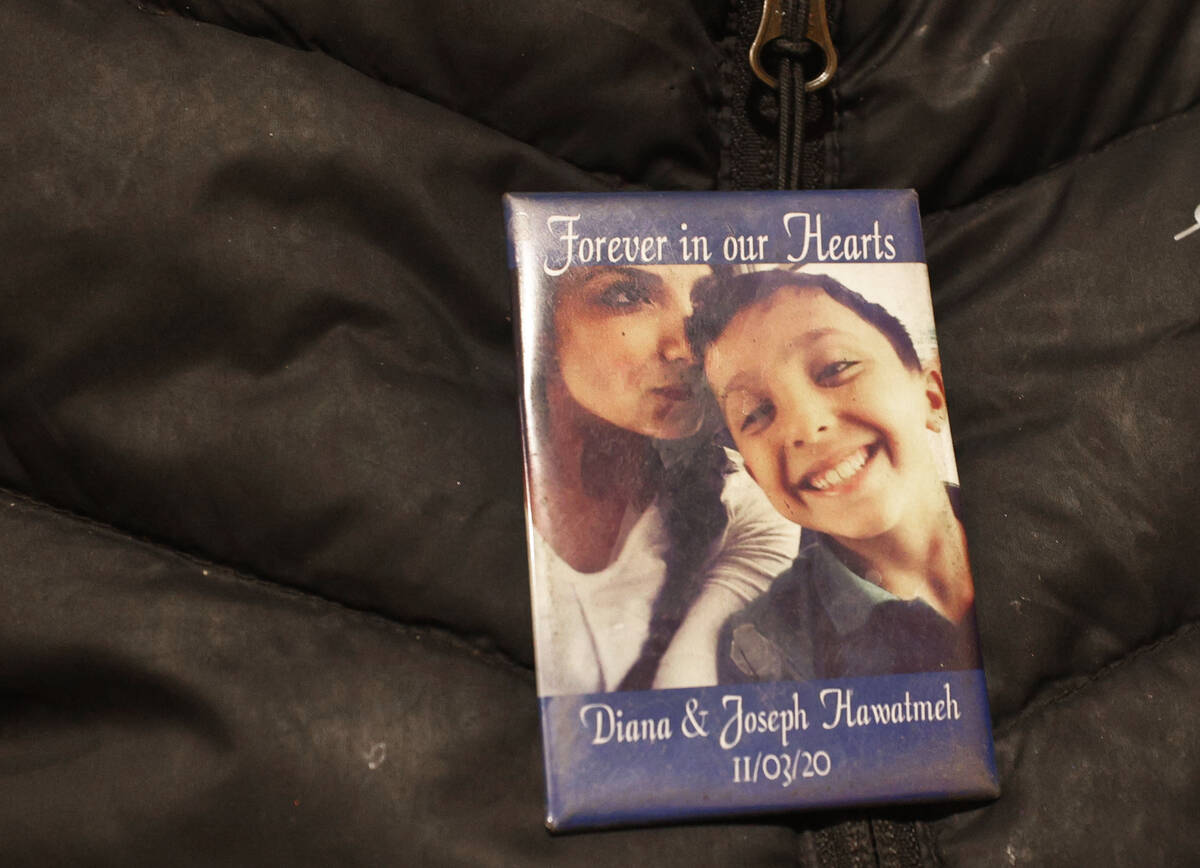 None of seven Henderson police officers who opened fire during a standoff with a gunman holding a 12-year-old boy hostage should face criminal charges, the Clark County district attorney's office ruled Monday, more than two years after the shooting.
The boy, Joseph Hawatmeh, and 38-year-old gunman, Jason Bourne, were shot to death after officers fired 27 rounds on November 3, 2020 outside The Douglas at Stonelake Apartments, 1445 Stonelake Cove Ave.
Henderson police said at the time that Bourne was holding a .40-caliber handgun and had just fatally shot the boy's mother, Dianne Hawatmeh, 38, and housekeeper, Veronica Muniz, 33, and fired at least eight rounds at his sister, Yasmeen Hawatmeh.
Bourne, who lived in an apartment above the Hawatmehs, had followed Dianne and Yasmeen Hawatmeh to their apartment, gun in hand, as they drove home from a nearby gym. He asked who they had voted for, as it was Election Day, but Dianne Hawatmeh refused to answer.
A witness told police that Bourne kicked down their door, killed Dianne Hawatmeh and Muniz, shot Yasmeen Hawatmeh and took Joseph hostage in the family's black Cadillac Escalade.
Joseph's father, Iehab Hawatmeh spoke to the Las Vegas Review-Journal after a fact finding review on Monday, which is held by Clark County officials after prosecutors make a preliminary determination that no officers should be charged in a fatal police shooting.
"The whole situation should have been de-escalated at the apartments," Iehab Hawatmeh said. "They should have given enough time to get somebody in the middle to negotiate and get him calm and get him out of the car. I believe my son would have been alive today."
Hawatmeh argued that 911 dispatchers aggravated Bourne, and that Joseph was not in danger because he had been in the car with Bourne for 23 minutes and had not been injured.
During Monday's four-hour review, Henderson police Det. Rick Christopher presented six 911 calls, 13 witness statements and body camera from five officers involved in the killings.
The calls detailed the dramatic moments when Joseph tried to call for help from the SUV and, at almost the same time, a neighbor discovered Dianne and Yasmeen Hawatmeh and Muniz critically woundedinside the apartment.
"She's laying here," the neighbor said through tears after discovering Dianne Hawatmeh. "She can't breath. She's choking on her own blood."
Bourne's own 17 minute call to police from Joseph's phone directed officers to Bourne's apartment. But Bourne was in the parking lot of the apartment complex, rambling at a dispatcher and periodically threatening to kill the boy.
"No!" Joseph yelled several times. "Please don't shoot me."
Next to Joseph's father, three other family members listened and watched the details unfold at the Clark County Government Center. One woman fell to her knees while she heard the boy's last few words on the 911 calls. Iehab Hawatmeh sat silently.
Authorized to shoot
About 20 minutes after police were first called to the shooting, Sgt. Jaime Clear found Bourne and the boy inside the Escalade and authorized the person who was the "best shot with an AR" to shoot Bourne, according to her body camera footage.
After Officer James Pendleton shot first from 33 feet away, six other officers also opened fire: Jesse Hehn, Philip Duffy, Brett Anderson, Jesse Lujan, Seth Price and Luis Amezcua.
Clear screamed for officers to "cease fire" and several other officers hollered, asking if the child had been hit and if he was still trapped inside the locked SUV.
"Watch the kid," Clear said. "The child has his hands up."
Another officer repeatedly screamed, "There's a kid in the car" while shots rang out.
After police fired 27 shots,Lujan used his rifle to break open the passenger window of the vehicle and pull the child out.
A witness with a first-floor window facing the Escalade cried while recording the moments two people were pulled from the Escalade.
"Come on, save this kid,"the witness whispered while crying from behind their apartment window.
Retried veteran, conspiracy theorist
Christopher said Bourne had retired from the United States Air Force in 2017 after 15 years, including two tours in Iraq.
His ex-wife, roommate, step-father and brother told police he had been acting erratically in the weeks leading up to the shooting. Bourne had returned his leased Toyota and turned off his phone after texting his two daughter on Nov. 1 to say "this would be their last I love you message from him," his ex-wife told police.
Detectives discovered a book Bourne was writing, where he frequently referenced QAnon conspiracy theories.
Bourne changed his name in 2014 from Christopher Curry, and he moved into the Henderson apartment complex in August 2020. He had no criminal history, Chirstopher said, and worked as a civilian at Nellis Air Force Base before he was laid off due to the pandemic.
Detectives found 47 more bullets in the Escalade, sitting between Joseph and Bourne. Christopher said Bourne fired his handgun several times, but authorities could not determine if he fired before he was shot by police.
Joseph was shot six times, including two graze wounds. Bourne was shot seven times.
At the end of the hearing, the presiding officer Ozzie Fumo read questions written by Joseph's family members. Christopher said he could not answer whether Clear had attempted to de-escalate the situation prior to shooting Bourne, or if Bourne had ever pointed his gun at Henderson police.
The Hawatmehs filed a lawsuit against Henderson police in October claiming wrongful death, negligence, failure to train and supervise and the violation of Joseph's civil right to be safe from excessive force. The case is schedule for a hearing in February.
In a motion to dismiss the case, lawyers for the city of Henderson argued the officers acted under qualified immunity, and therefore did not violate Joseph's rights.
Contact Sabrina Schnur at sschnur@reviewjournal.com or 702-383-0278. Follow @sabrina_schnur on Twitter.