Las Vegas gun shops want guidance on expanded background checks
November 21, 2016 - 5:38 am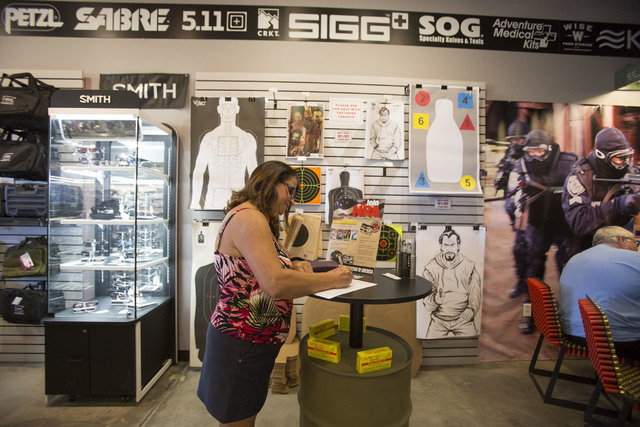 Las Vegas gun shops are looking for guidance after Nevada voters approved a ballot question extending firearm background check requirements.
Question 1 passed on Election Day by a narrow margin — much more narrow than polls predicted — cementing background check requirements for private-party sales and transfers into state law.
The new background checks law takes effect Jan. 1, but some gun store owners said they aren't sure what to do then.
Bob Irwin, owner of the Gun Store on East Tropicana Avenue, was under the impression that the law still had to go through the Legislature before it would take effect.
He said he wasn't sure how it would work with in-store purchases going through a state-run background check system and private sales and transfers going through the FBI system. And he said he hasn't received any guidance.
At this point, he said, his shop is going to refuse to do the new background checks.
"We're just going to tell them no," he said. "We're not going to do it until I get clarification."
David Famiglietti is the owner of the New Frontier Armory on East Centennial Parkway and sits on the board of directors of the Nevada Firearms Coalition, the state's National Rifle Association affiliate. He said he has also heard from a lot of gun shops that are unsure about the law.
The coalition is reaching out to the state attorney general's office to try to get some answers.
"We still haven't received any guidance from anybody," Famiglietti said. "There's a bunch of people in charge (of the new law) on the government level, but no one is taking charge."
Dealers need guidance as soon as possible, because setting up a shop to do checks on the federal system will take some time, he said.
Famiglietti and Irwin said parts of the new background check law conflict with federal regulations. Both men asked the same question: What happens when a background check on a private sale comes back as a denial?
The new state law reads as if it's OK to just give the gun back to the private seller, the men said, but the new law requires them to book the firearm into their own inventory. And that means that federal law requires them to do a background check before they can give it back to the seller, Famiglietti said.
"I'm not going to lose my license," he said. "I'm going to follow federal regulations over state law any day."
Under the new background check law anyone who purchases a firearm outside of a brick-and-mortar store will have to pass an FBI background check done through a federal firearm licensee. That includes online sales, gun show purchases, and sales between friends.
There are more than 250 federally licensed gun dealers in the Las Vegas Valley, and about 90 percent of them are businesses, according to August numbers from the Bureau of Alcohol, Tobacco, Firearms and Explosives.
Nothing in the new law requires a licensed dealer to perform the new background checks. And the law doesn't define the "reasonable fee" a dealer can charge.
Irwin said he has heard from some of his friends in the industry that they may charge as much as $100.
New Frontier Armory will perform the new background checks as a convenience for its customers for between $20 and $25, Famiglietti said.
Contact Wesley Juhl at wjuhl@reviewjournal.com and 702-383-0391. Follow @WesJuhl on Twitter.