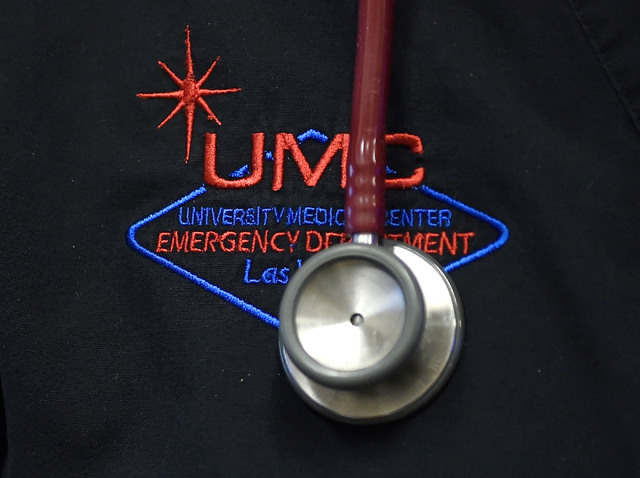 University Medical Center's largest union has accused hospital management of interfering with the union's labor-management committee, according to a complaint filed Monday with the state's Employee-Management Relations Board.
The complaint is the latest development in a monthlong fight between Service Employees International Union Local 1107 president Cherie Mancini and UMC Chief Human Resources Officer John Espinoza over Mancini's removal of two elected union officials from the committee.
The hospital did not immediately respond to a request for comment about the EMRB complaint.
For more than 20 years, the hospital's rank and file have been represented at the weekly meetings by union officials they have elected. The union represents about 3,200 UMC employees.
Mancini changed that Dec. 13, leaving thousands of hospital employees without their usual direct representation.
The union president removed executive board members Patricia Greaux and Deetra Revels, hospital employees and chief stewards of the UMC's ancillary and ambulatory workers, respectively. Revels has served as a chief steward for more than three years, Greaux more than six. Both secured another three-year term in July after running for re-election unopposed.
Two other elected union officials were allowed to keep their seats on the committee, a weekly forum where union representatives and hospital management hash out employee complaints to avoid filing formal grievances.
According to a Dec. 16 memo obtained by the Las Vegas Review-Journal, Espinoza took issue with Mancini's decision and wrote that continuing committee meetings without Revels and Greaux would be a waste of time.
"To remove the Chief Steward of Ancillary Support and the Chief Steward of Ambulatory Care eliminates representation of approximately half of the UMC employees," Espinoza wrote.
In a followup email, Espinoza complained that Mancini was "unable or willing to explain" why Revels and Greaux were removed the committee. He wrote that he planned to invite the two chief stewards to the next labor-management committee meeting despite their removal, which prompted the EMRB complaint.
Mancini said her authority to add and remove members to or from the labor-management committee is written in the union's contract with UMC, which states that "Union committee members shall be appointed by the Union."
In an email to the Review-Journal last week, Mancini said Revels and Greaux were removed from the committee because it "lacked structure" and had issues with transparency and accountability.
"We have received numerous complaints from members who insist their issues have not been addressed by Ms. Greaux and Ms. Revels, including complaints of broken equipment and equity workload issues," union spokeswoman Dana Gentry wrote in an email. "We have no agenda nor minutes to confirm, which is why the failure to maintain them is significant."
Revels disagreed.
"We got a lot done in those meetings," she said. "It's not even about structure or anything like that, it's personal. It's personal against Pat (Greaux) and myself."
Greaux did not respond to requests for an interview.
Gentry said the union's vice president at UMC and the hospital's chief steward of nursing "are doing good work," and will remain on the labor-management committee. Both were elected in July.
Mancini replaced Revels and Greaux with clinical laboratory assistant Thomas Nicholson and union organizer Romina Loreta, a SEIU Local 1107 staff member since September. Nicholson has worked full time at the hospital since 1998 but does not hold an elected office with the union. Loreta is not a UMC employee and reports to Mancini.
Union executive vice president Sharon Kisling said Mancini's move stripped historical duties from her political opponents.
"If she feels like you don't support her … she then tries to replace officials with staff," Kisling said. "No other president has really put themselves in the shops like the way she's attempting to do."
UMC has since moved the committee meetings to a monthly schedule, emails show. They also state that all three chief stewards will continue to meet with hospital management at separate weekly meetings. Those meetings began after the committee shake-up, Revels said.
MOUNTING TENSIONS
The removal of Revels and Greaux from the labor-management committee was the closing chapter in a half-year of rocky relations between Mancini and the union's leadership at UMC.
In an interview last month, Mancini accused Greaux, Revels and Kisling, a Clark County employee, of working with an organization openly campaigning for the dissolution of SEIU at the hospital.
Revels and Greaux were among members of the union's UMC bargaining team who demanded Mancini's resignation in July after she postponed a contract ratification vote.
Elizabeth Boulhouse, the chief steward of nursing who remains on the labor management committee, also signed the letter demanding Mancini's resignation. Boulhouse remains on the labor-management committee.
UMC employees approved the bargaining contract shortly after Mancini tried to thwart it.
The president was trying to block passage of a contract provision that barred union representatives who don't work at UMC from entering the hospital to meet with employees unless accompanied by a chief steward.
"They had agreed to limit, severely limit, the access of the union to the hospital," Mancini said last month.
Revels and Greaux have retained their elected offices and still represent unionized UMC workers at SEIU's executive board meetings, on the union's bargaining team at UMC and in front of hospital's governance board.
Gentry wrote Revels and Greaux will remain on the bargaining team because of union policy and that Mancini remains "remains committed to working with" both chief stewards.
However, Revels said she expects the worst from the union president.
"Whatever she can take me and Pat (Greaux) off of, she will," Revels said.
Contact Michael Scott Davidson at sdavidson@reviewjournal.com or 702-477-3861. Follow @davidsonlvrj on Twitter.
RELATED
SEIU president resigns in Vegas, cites 'toxic environment'