New Sheriff Kevin McMahill aims to reduce crime 10% in '23
Updated February 8, 2023 - 2:52 pm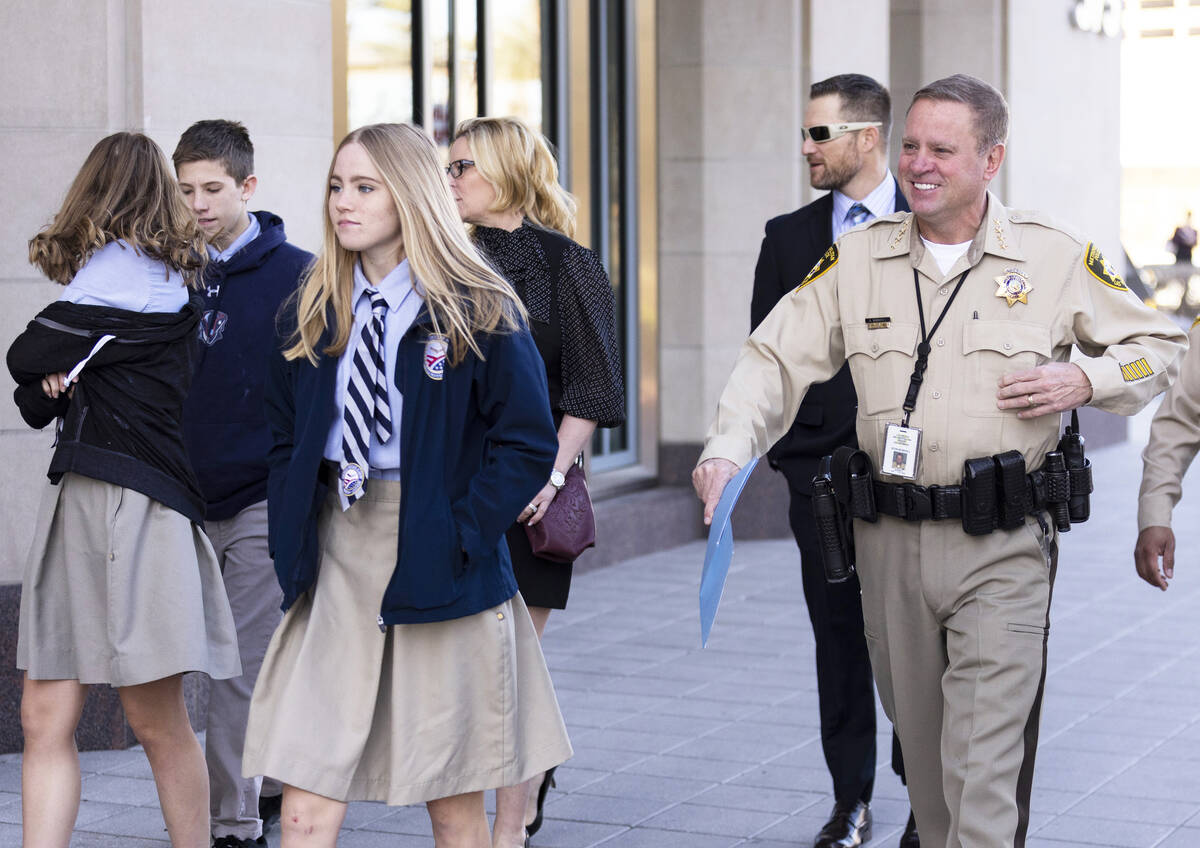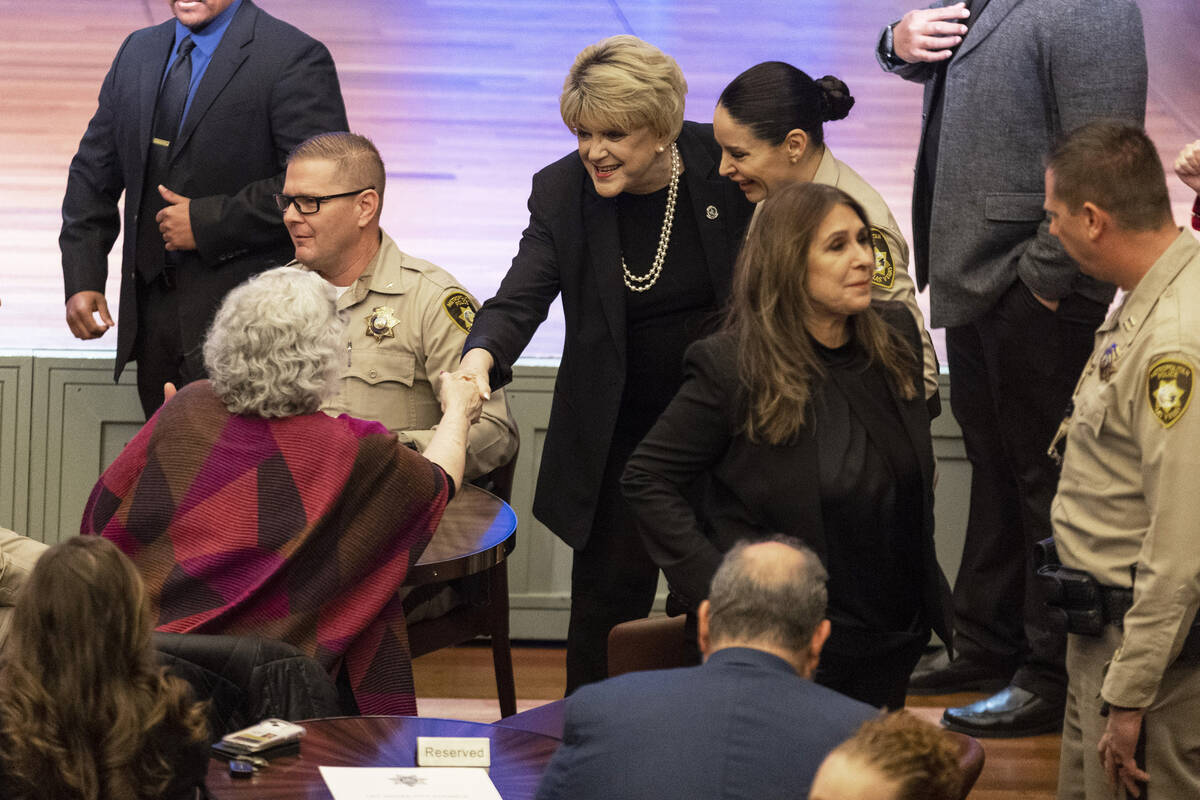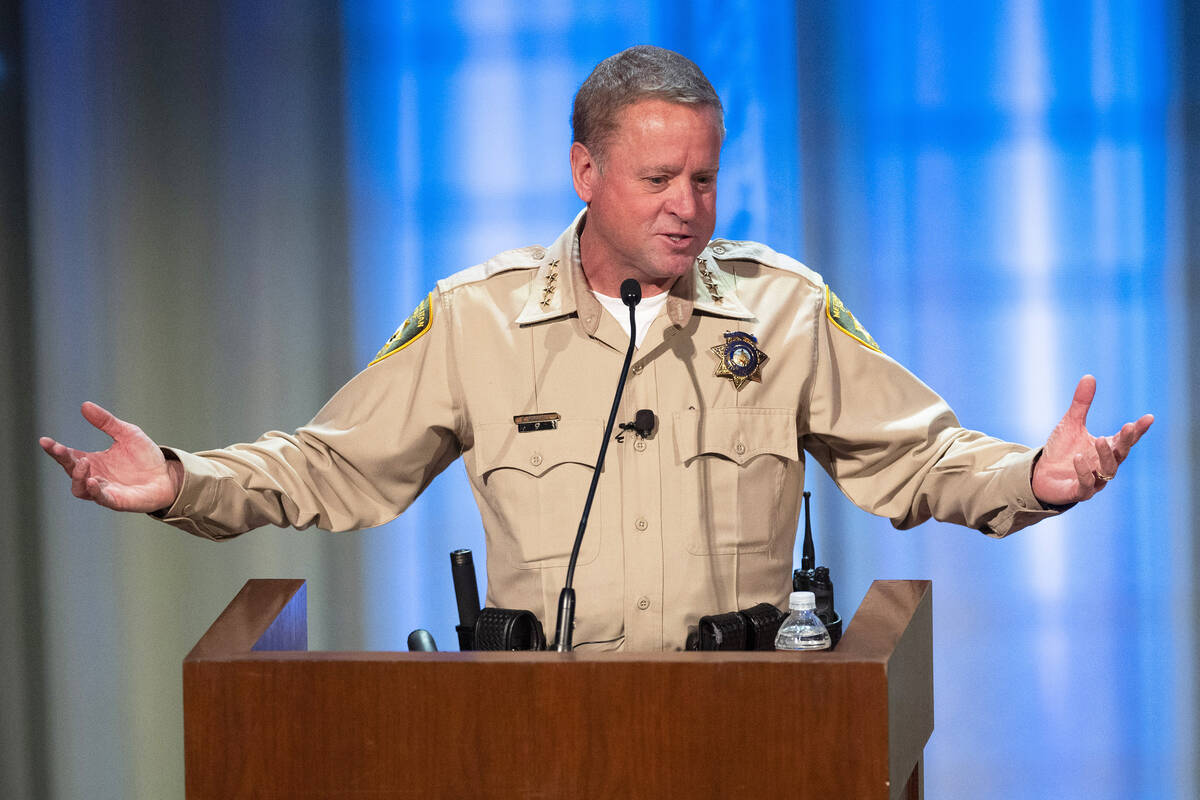 Clark County Sheriff Kevin McMahill laid out his goals to reduce crime by 10 percent this year and build bridges between communities to reduce crime and possibly recruit residents.
"We have a great police department, but we still have problems and I want to make it even greater," McMahill said during a State of the Department speech Wednesday morning.
Elected last year, McMahill was officially sworn into office on Jan. 2.
He said the first few weeks were rocky, with multiple major case protocols, 11 homicides in 11 days, two men robbing nine banks in 20 days and several casino cage robberies.
"Every day I was waking up thinking, 'Hell, is this ever going to stop?' " he said. "Crime is sort of running rampant and the police department is trying to figure me out, and I'm trying to figure them out."
All crimes, except for one homicide and the casino cage robberies had been solved, McMahill said. Records maintained by the Las Vegas Review-Journal showed arrests were made in six of the 11 homicides.
Campaign promises
McMahill spent most of his 36-minute speech discussing what he called "injecting humanity." He said he hoped to make a better life for officers by fulfilling his campaign promises, and a better life for residents by providing safer neighborhoods and good officers patrolling their streets.
He said he would convert shifts for the department's 5,784 civilians and officers to four 10-hour days.
"It's not as much about the money as it is about the opportunity to enjoy your life," he said. "When you're stressed and working a job like we work in, the ability to have time with your family and your friends and your loved ones can never be overstated."
Keeping with his campaign promises, McMahill changed department policy to allow beards, and said officers could soon be wearing a different color uniform as the new sheriff does away with wool pants.
"We've been wearing the same wool pants for years and years," he said. "It was one of the things I thought about not running for sheriff for, so I never had to put these pants on again."
Former convention center area command Capt. Joshua Bitsko will lead the department's new wellness bureau, McMahill announced, but it remained unclear when the bureau would open.
Police brutality
McMahill showed videos of news coverage after the murder of George Floyd in 2020 and the fatal beating of Tyre Nichols last month. He said that there was no humanity in the officers involved in the deaths and that Metro made multiple policy changes after Floyd's death and the subsequent protests.
In the days after Floyd's murder, Metro officer Shay Mikalonis was shot at a protest and left paralyzed. Hours later, four officers fired 19 rounds at Jorge Gomez while he ran downtown. None of the officers was criminally charged.
"Jorge Gomez was shot on the steps of the courthouse and lost his life," McMahill said. "His family will never be the same. We made policy changes, we made mistakes, we made more policy changes."
McMahill said the deaths of Floyd and Nichols resulted in low recruitment and retention of police officers nationwide. He planned to fly to Washington, D.C., on Wednesday afternoon to attend a national discussion on the issue hosted by the Major Cities Chiefs Association.
"Because of events like this that I just showed you, we have a 70 percent drop in the number of people applying to come into our organization," he said.
At the beginning of the year, Metro had 300 unfilled positions and dispatch staffing was half full, resulting in two-hour wait times for 311 calls.
McMahill hoped that building bridges with the community could help the department recruit people between 18 and 21-years-old, ideally from minority communities.
Vulnerable communities
As part of his promise to "inject humanity," McMahill said he would like officers to stop referring to "problem neighborhoods," "high crime areas" and "persistent hot spots." He said some neighborhoods had been referred to by those terms since he started with the department 23 years ago.
He asked officers to consider the northwest area command, which was referred to as a "baby ghetto" before officers worked with local church groups to stop crime in the area.
"We didn't do it by arresting our way out of the problem," McMahill said. "We did it by investing and injecting humanity into those neighborhoods. What you want to hear from me instead of hearing chronic persistent hot spot, problem neighborhoods, we're going to start looking at them as vulnerable communities. Start looking at them as a way that we as a police department can go in there and have dramatic outcomes that are different than what it is that we've always had."
He cited Sportsman's Royal Manor, a housing complex on Boulder Highway, as a former crime hot spot that officers are rarely called to now, but a Review-Journal analysis of Metro dispatch data in January 2022 found that officers recorded roughly 44,000 service calls and patrols at Siena Suites, The Suites and Sportsman's Royal Manor in the past five years.
Metro Capt. Reggie Rader, who oversaw police operations in the area, said at the time that the extended stay motel was considered a success story after it became the first and only extended stay motel to complete Metro's crime-free multi-housing program. The owners invested in a fence, security cameras and license plate readers.
McMahill showed crime statistics for the valley comparing 2022 and 2021. Homicides, sex offenses, assault and overall crimes against persons were down.
He finished his speech by telling the officers he would take care of their health, and in turn he hoped they would be better officers for their communities.
"We're not as great as we think we are yet," he said. "We have a ways to go. We have a lot of things to improve upon. We have the right people, we have this opportunity laid out in front of us to go out and make people in this community wonder how in the hell did this police department do what it's been doing."
Contact Sabrina Schnur at sschnur@reviewjournal.com or 702-383-0278. Follow @sabrina_schnur on Twitter.