No new mask mandate under consideration in Clark County
Updated June 30, 2021 - 7:32 pm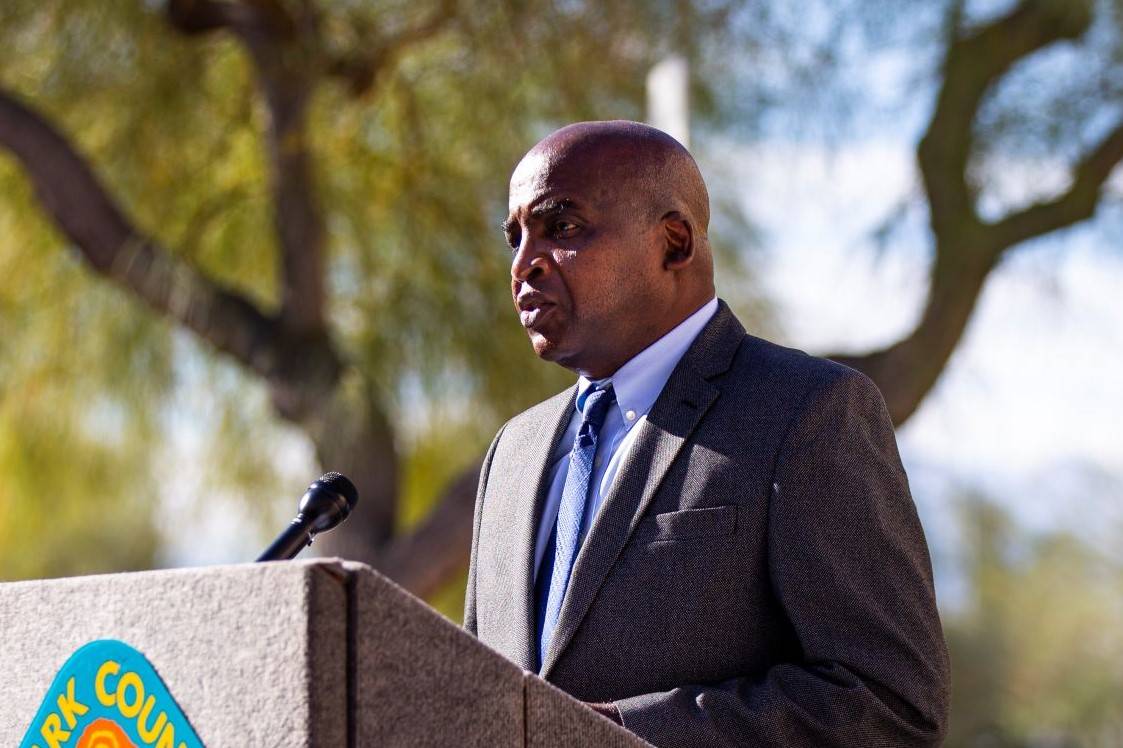 Despite a recent rise in new COVID-19 cases and hospitalizations, Clark County officials said Wednesday there has been no discussion of reimposing a mask mandate or placing new restrictions on large gatherings.
"There is no discussion about increasing restrictions to business and social life in Clark County," Dr. Fermin Leguen, district health officer with the Southern Nevada Health District, said at an online news briefing in response to a question from the Review-Journal.
The health district instead will focus on its campaign to get more people vaccinated, which it regards as "the solution to this problem at this point," Leguen said.
Leguen's comments came amid a spike in Nevada's COVID-19 cases that has lasted more than three weeks. As of Wednesday, Nevada had the highest rate of new cases per 100,000 people in the country, according to data from the Centers for Disease Control and Prevention.
The comments also came as Las Vegas prepares to host potentially hundreds of thousands of visitors over the long July 4 weekend, as well as major events such as the first concert at Allegiant Stadium, featuring electronic dance music star Illenium.
Meanwhile, officials in Los Angeles County this week recommended that everyone — vaccinated or not — wear masks again in public indoor settings.
Trying not to 'go backward'
More than 61 percent of adults in Clark County, and 56 percent of those 12 and older, have received at least one dose of vaccine. Both figures are below the national average of nearly 67 percent of adults and 64 percent of those 12 and older who have gotten at least one dose.
"We encourage people to go get vaccinated so that we don't run into a situation where hospitals are overrun and we don't run into a situation to where we have to go backward," said Marilyn Kirkpatrick, chair of the Clark County Commission and vice-chair of the health district's governing board.
For the past three months, 95 percent of both hospitalizations and deaths from COVID-19 in the county have been of unvaccinated individuals, Leguen said.
The health district Wednesday reported 529 new cases in Clark County, bringing the local cumulative case total to 259,885. It also reported all three of the state's deaths, increasing the county total to 4,494.
The county's 14-day positivity rate climbed from 5.5 percent as of Tuesday's report to 5.8 percent.
Major metrics keep climbing
Meanwhile, the state as a whole reported 558 new coronavirus cases and the three deaths, as its major COVID-19 metrics continued to climb.
Updated data posted by the Nevada Department of Health and Human Services on the state's coronavirus website pushed the case total to 333,712. It also showed the two-week average of new COVID-19 cases increasing to 268 per day.
The state's death total increased to 5,681. The three deaths reported were above the two-week average of two per day.
The state's two-week positivity rate, which essentially tracks the percentage of people tested for COVID-19 who are found to be infected, increased sharply by 0.4 percentage point to 5.5 percent, according to state data.
The rate has been increasing since it hit a recent low of 3.3 percent June 9.
It is now higher than the 5 percent threshold recommended by the World Health Organization to prevent the virus from spreading.
The data also showed that 431 people with confirmed or suspected cases of COVID-19 were hospitalized in the state, an increase of 41 from the last update Tuesday.
State and county health agencies often redistribute the daily data after it is reported to better reflect the date of death or onset of symptoms, which is why the moving-average trend lines frequently differ from daily reports and are considered better indicators of the direction of the outbreak.
Information on vaccination sites can be found at www.snhd.info/covid-vaccine and at www.NVCOVIDFighter.org.
Contact Mary Hynes at mhynes@reviewjournal.com or 702-383-0336. Follow @MaryHynes1 on Twitter. Contact Jonah Dylan at jdylan@reviewjournal.com. Follow @TheJonahDylan on Twitter.