North Las Vegas constable missing certification asks for law to be changed
February 24, 2017 - 3:57 pm
Updated February 24, 2017 - 8:13 pm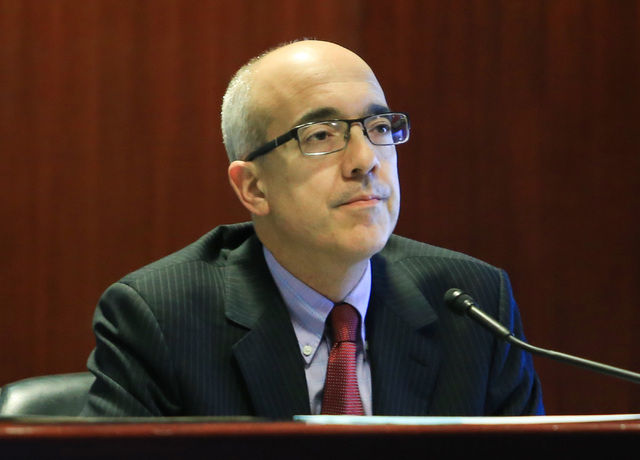 After two years without a state-required certification, the constable of North Las Vegas may not have to worry about the obligation much longer.
That's because state Sen. Mo Denis, D-Las Vegas, wants to remove the law requiring constables of urban areas to become certified peace officers.
Denis said he got the idea after speaking with Constable Robert Eliason, who is in violation of the law.
"The POST certification doesn't make sense for the constables," Denis said Friday. "Currently those guys are administrators, and they don't even go out in the field."
Denis submitted a bill draft request this month. The bill has not been drafted, and there is no timetable for when it will be introduced.
Eliason has held the elected office since January 2015 but has not applied for peace office certification. He oversees four deputy constables and makes about $100,000 a year.
Under Nevada law, Eliason had until July 4 to become certified or forfeit his office. County commissioners have the authority to remove Eliason from office but have taken no action to do so.
Denis said Eliason suggested a change in the law, which does not apply to constables of townships in Clark County with populations under 100,000.
"As far as I can tell, he's doing a great job. The fact that he doesn't have the POST (certification) doesn't impact that he's doing a great job," Denis said.
Eliason, a former North Las Vegas city councilman, did not return the Review-Journal's request for comment Friday.
Mike Sherlock, executive director of POST, which certifies Nevada's peace officers, said Denis did not contact his office before filing the bill draft request.
Sherlock noted that the certification requirement was made law in 2013 after county commissioners abolished the office of the Las Vegas Township Constable.
"We were told the reason they wanted to create minimum standards for constables is due to the fact that there was some perceived wrongdoing at a constable's office," Sherlock said. "We agree there should be minimum standards for peace officers, but (defining) who is a peace officer is up to the Legislature."
Contact Michael Scott Davidson at sdavidson@reviewjournal.com or 702-477-3861. Follow @davidsonlvrj on Twitter.