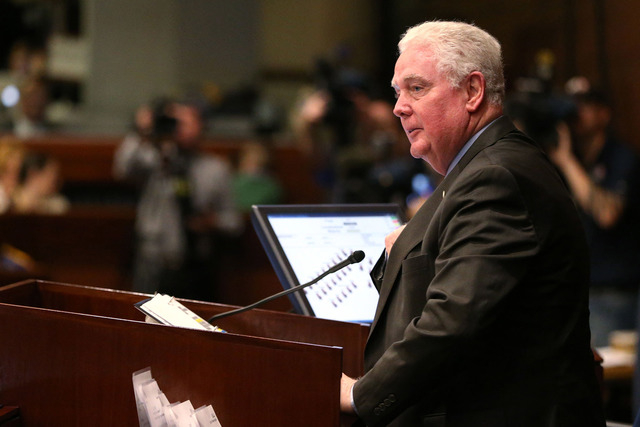 Only 17 percent of voters in Nevada Assembly Speaker John Hambrick's Las Vegas district approve of an effort to recall the Republican, according to a poll released Monday.
Some 54 percent in Assembly District 2 disapprove of the effort, which began Feb. 15, and another 28 percent are unsure, the poll found.
The findings are good news for Hambrick, who is being targeted by conservatives opposed to his open-minded stance on new taxes.
Hambrick has said he's open to approving GOP Gov. Brian Sandoval's proposed $1.1 billion tax package that's part of his $7.3 billion biennial budget request to the Nevada Legislature.
A group of about half a dozen Assembly Republicans, however, campaigned on a promise not to raise taxes and have vowed to block any revenue hikes to fund education reforms.
The GOP Assembly infighting led to a leadership struggle in which Hambrick prevailed before the session began Feb. 2.
Republicans were more likely to oppose the recall against Hambrick (58 percent) than Democrats (48 percent), the survey found.
Among the entire Nevada electorate, only 13 percent indicated they would sign the petition to trigger a recall, while 61 percent suggested they would not sign such a petition, and 26 percent were unsure.
Only 18 percent of voters surveyed said they believe the recall to be "a legitimate effort," according to a polling memo.
The poll also found that Sandoval is highly popular in Hambrick's district, with 84 percent giving him a favorable rating and 79 percent approving of the job the governor is doing.
The survey was taken last month of 200 people who voted in the 2014 election. They are the only Nevada voters allowed to a sign the petition to recall Hambrick. They have 90 days to gather 4,116 signatures, which represents 25 percent of those who cast ballots in the election.
The poll had a margin of error of plus or minus 7 percentage points.
The Tarrance Group conducted the survey, which was commissioned by the Nevada Jobs Coalition, a political action committee aligned with Sandoval. The PAC helped Republicans take control of the state Senate in the 2014 election, winning a slim 11-10 seat majority.
The survey held good news for Sandoval, too. Some 62 percent "believe that things in Nevada are going in the right direction" with 29 percent saying the state is on the wrong track.
Sandoval's proposed budget also enjoys support with more than half, or 52 percent, favoring his budget and 37 percent opposed.
Contact Laura Myers at lmyers@reviewjournal.com or 702-387-2919. Find her on Twitter: @lmyerslvrj.