Segerblom gets narrow win for Clark County Commission
Updated June 13, 2018 - 12:38 am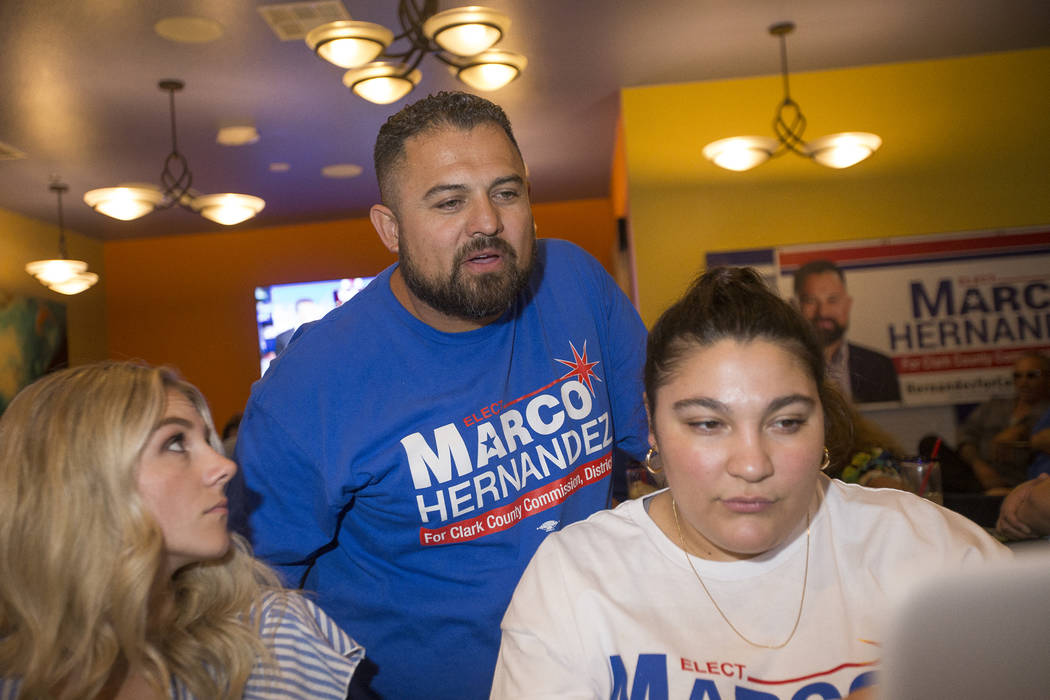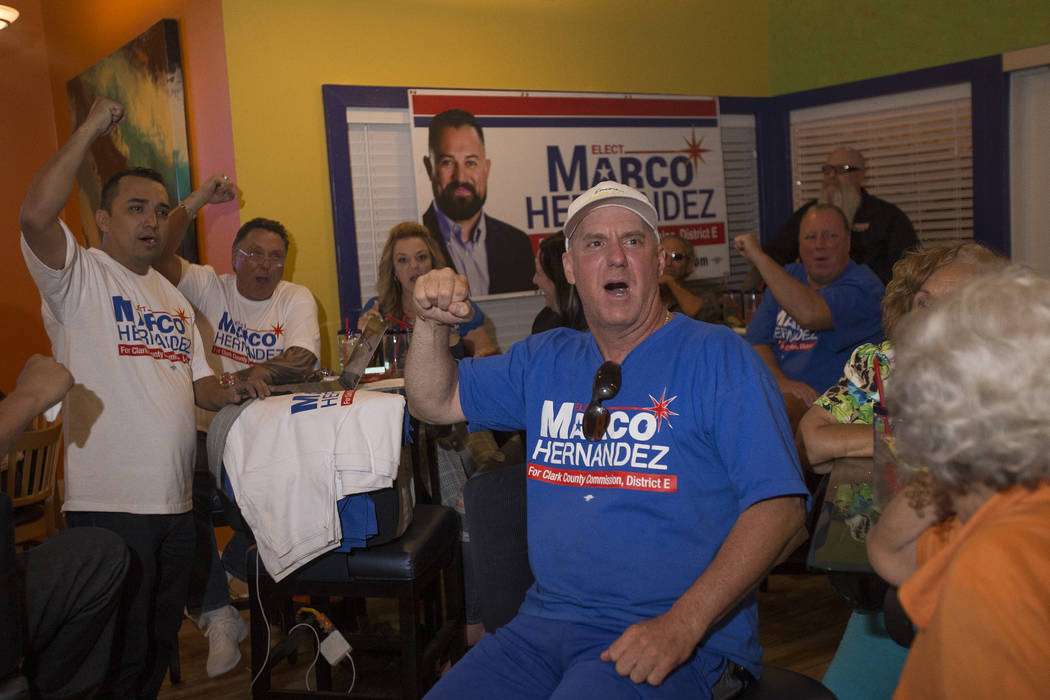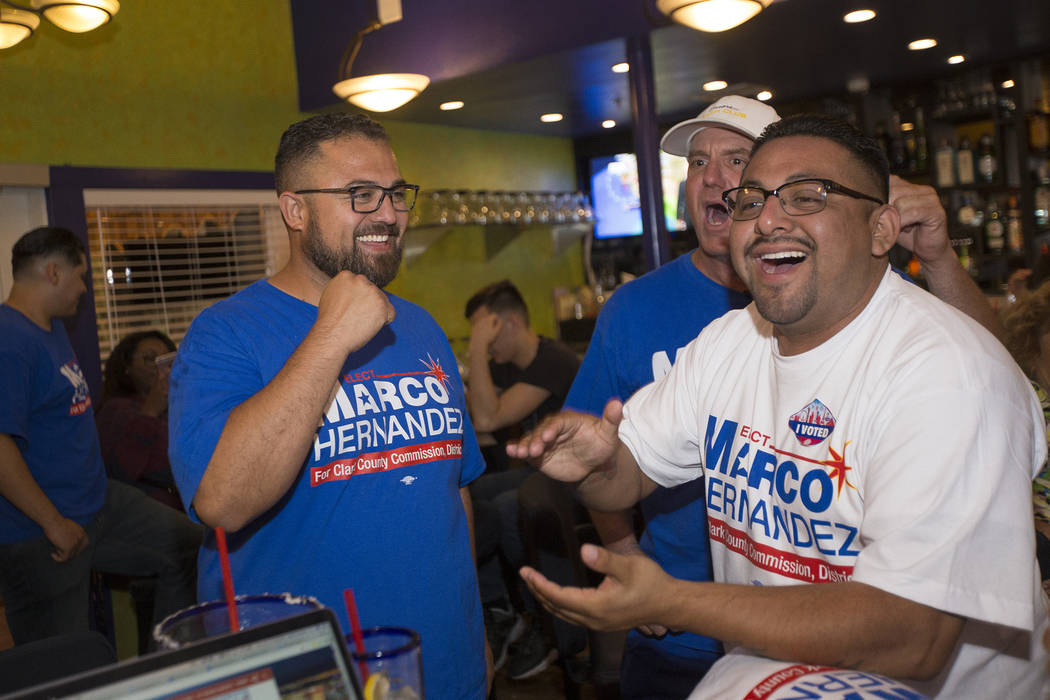 State Sen. Tick Segerblom spoke in a somber tone late Tuesday night as the final votes trickled in for his Democratic primary.
As the clock neared midnight, most candidates were confident in their ' results, but Segerblom was focused on too-close-to-call race with his opponent for Clark County Commission's District E seat, which covers portions of the Strip, the city of Las Vegas and the eastern Las Vegas Valley.
"It's a large, diverse district, and my hat's off to Marco because he ran a great campaign," he said. "The fact he was able to do as well as he did is pretty amazing."
Segerblom, a fourth-generation Nevada representative, eked out a 181-vote victory against union leader and political newcomer Marco Hernandez, according to unofficial election results.
With some 12,000 vote cast, Segerblom won by fewer than 2 percentage points.
"I support working people. I support unions. I support teachers," he said. "At the end of the day, I think representing the majority of people against big interests is who I am, and I think that's who voters want."
For as tiring an evening as it was for Segerblom and his campaign, it likely was for Hernandez as well.
The vice-president of the Laborers Local 872 union watched the results with family, friends and coworkers at the La Cabaña Mexican Restaurant on West Sahara Avenue.
It was the culmination of a half-year of hard work. Hernandez said he and his campaign canvassed every day until dark for the past four months.
"I did my part going out every day, listening to people, understanding what their issues are," he said. "I understand what needs to be created in this town, which is jobs."
Hernandez said the slim margin speaks an undeniable truth.
"It sends a message that voters are ready for a change, and there's a whole community that wants change," he said. "I'm not going to go away. I still live in the district."
In District E's Republican primary. Trish Marsha beat Randy Rose by 16 points.
District F
Two attorneys who have received significant financial backing in their races for the commission's District F seat put forward strong showings in the Democratic and Republican primaries.
Republican real estate attorney Tisha Black, 46, beat her primary against auto insurance claims adjuster Mitchell T. Tracy by about 12 percentage points.
Tracy, 54, won the seat's Republican primary in 2014 but lost in the general election.
Democratic litigator and former state Sen. Justin Jones, 43, bested Jason Hunt by about 32 percentage points.
"We've been knocking on doors and making phone calls for months now," Jones said.
"People know me. They know I fight for them, and they want to see a fighter on the County Commission."
Hunt, 43, owns a real estate brokerage and is a political newcomer.
District F lies in the southwest valley and covers land south of Charleston Boulevard and west of Interstate 15.
It also includes the communities of Blue Diamond, Primm, Jean, Goodsprings, Mountain Springs and Sandy Valley.
District G
Former Clark County Republican Party Chair Cindy Lake, 54, crushed against her Republican primary opponent for District G.
Lake, a real estate agent, held a 44-point lead against Fred Van Dover.
Lake attributed the lead to her campaign's ground game and well-educated voters.
"They know who I am and what I stand for: transparency, less taxes, less government and more freedom," she said.
The winner will face Libertarian candidate Doug Marsh and seated Commissioner Jim Gibson, a Democrat who had no primary opponent.
Gibson, a former Henderson mayor whom Gov. Brian Sandoval appointed to the commission in June, said he was eager to begin campaigning. He's raised more than $720,000.
"I'm kind of relieved that the wait is over," he said. "In the next couple weeks we'll be full-blown."
District G covers portions of the eastern Las Vegas Valley, Henderson and Boulder City.
Contact Michael Scott Davidson at sdavidson@reviewjournal.com or 702-477-3861. Follow @davidsonlvrj on Twitter.