Southern Nevada health officials urge COVID vaccine for kids 5-11
Updated November 12, 2021 - 6:03 pm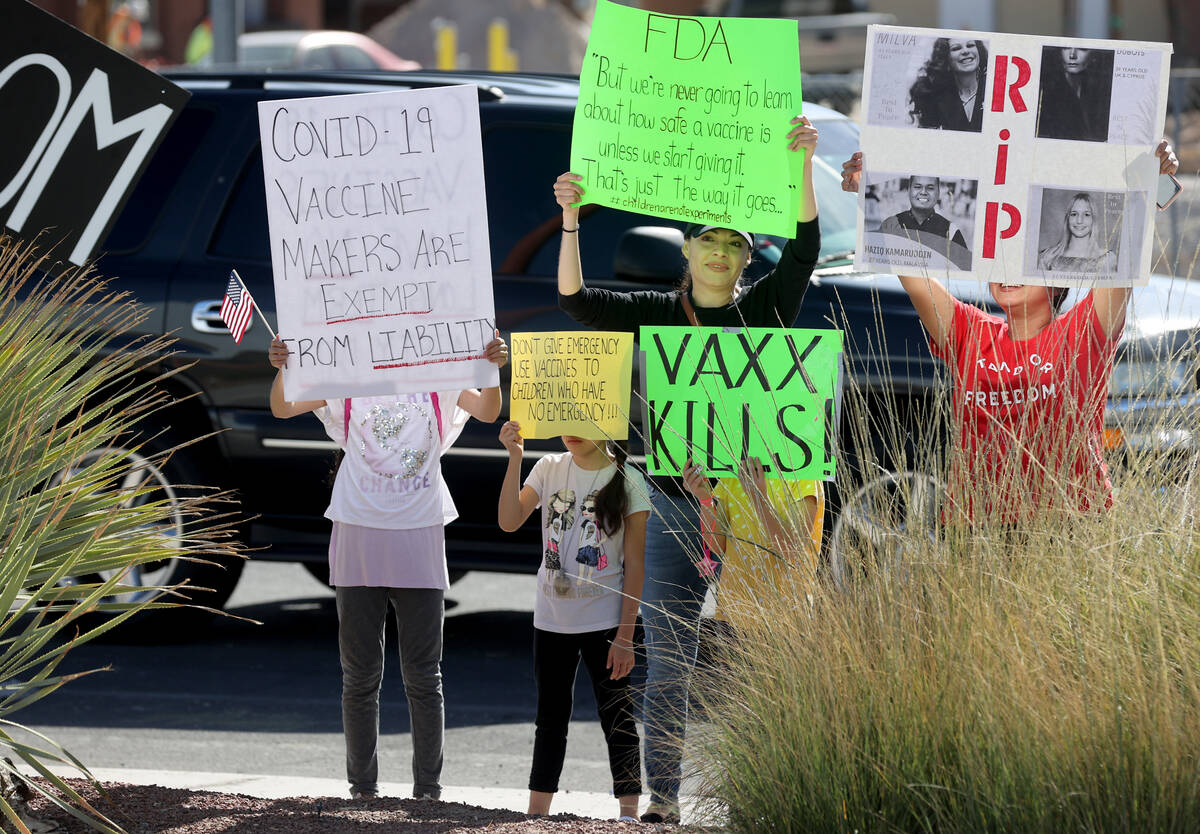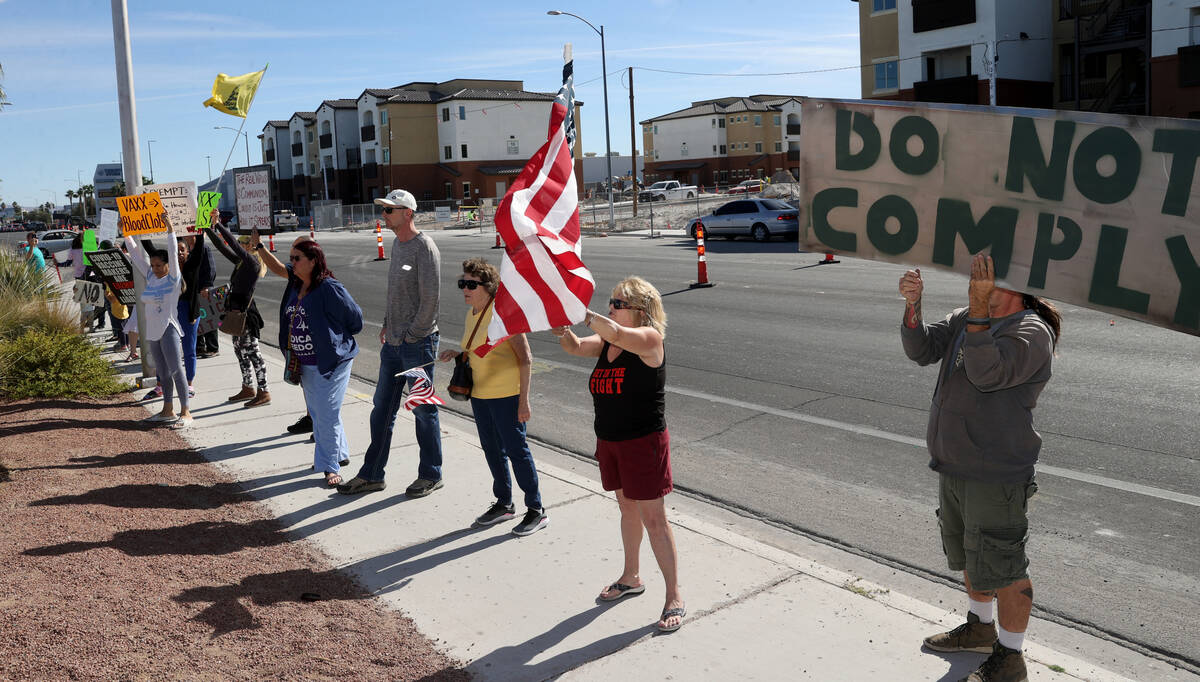 Southern Nevada Health District officials urged parents to get their children inoculated against COVID-19 as community clinics Wednesday began administering pediatric vaccine doses to kids as young as 5.
Speaking at a morning news briefing, Las Vegas City Councilman Brian Knudsen said that after learning that infectious-disease doctors are getting their own children vaccinated, he would be bringing in his 6-year-old son to get a shot that afternoon.
Knudsen said he knows parents have questions, just as he did.
"You want to make the very best decision for your child," said Knudsen, vice chairman of the district's governing Board of Health. "You have to agonize over everything you do and question everything you do because you're thinking about what is in the best interest of your child."
His comments and those of other speakers at the outdoor briefing were at times drowned out by the shouts of about two dozen anti-vaccination protesters outside the vaccination site at the health district's headquarters on Decatur Boulevard.
"People won't wake up until children start dropping dead," shouted one of the protesters from a sidewalk near the briefing area.
Get the shots, medical experts say
Officials said the disease itself poses the greater risk. There have been 37,544 cases of COVID-19, 270 hospitalizations and four deaths in children ages 5 to 17 in Clark County, according to health district officials.
During a separate COVID-19 briefing in the afternoon, state officials and a Las Vegas pediatrician also urged vaccination.
"It's important for children to receive the protection that this vaccine will give them," said Las Vegas pediatrician Dr. Terence McAllister. "COVID-19 vaccines have undergone, and continue to undergo, the most intensive safety monitoring in U.S. history. In clinical trials of about 3,000 children, serious side effects were rare. The COVID vaccine for children ages 5 through 11 is safe and effective."
Typical side effects, which can last a couple days, include soreness at the injection site, fatigue, headache and fever.
"It's important to remember that vaccines have the power to stop epidemics," said McAllister, secretary-treasurer of the Nevada chapter of the American Academy of Pediatrics. "Children make up a significant portion of our population. And vaccinated children must be part of our strategy to control this virus so it cannot continue to spread."
There are 277,000 children in the 5-11 age group in the state, said Karissa Loper, a health bureau chief with the Nevada Department of Health and Human Services. About 4,300 doses administered to this age group have been reported in Nevada's vaccination database. The pediatric dose of the Pfizer-BioNTech vaccine, which is one-third of the regular adult dose, was approved for use by federal regulators last week.
Some pharmacies began administering the pediatric doses over the weekend. The pediatric vaccine is expected to become more widely available at doctor's offices in the coming weeks.
Getting ready for holiday visits
Kathuy Alonso took her sons Diego, 13, and Dario, 10, to get their first dose of the two-dose pediatric vaccine as soon as it was availabile at the health district.
"We talked about it as a family," she said, and her kids were onboard. "We always get visits from the grandmas or elder extended family. And now that the holidays are approaching, we thought it was very important to keep them safe" and to enjoy a more relaxed holiday.
Protesters shouted "child abuse" at one man as he walked into the vaccination site with his two daughters, ages 8 and 3. The man, who declined to give his name, said he was there to get a booster shot for himself after vaccination was required at his workplace, the Nevada Test Site.
As for getting his older daughter vaccinated against COVID-19, "I don't trust the shot yet. It's only been a year" since its rollout, the 43-year-old Las Vegas resident said. "We got the flu shot. The flu shot's been around 50 years."
Marie Scaife, 62, got a dose of COVID-19 vaccine accompanied by her 18-year-old granddaughter, Aliya Une, who has been vaccinated.
Scaife said she wants all six of her grandchildren to get the vaccine.
"I want all of them to get vaccinated because I want to be around them for a long time," she said.
The health district is offering pediatric doses of COVID-19 vaccine to children ages 5 to 11 at its community clinics on a walk-in basis. More information is available at snhd.info/covid-vaccine.
An earlier version of this article misstated some COVID-19 statistics for children ages 5 to 17 in Clark County.