Southern Nevada water agency ups incentive to get rid of lawns
The Southern Nevada Water Authority is pumping more green into one of its signature conservation efforts.
The authority will now pay residents and business owners $3 for every square foot of thirsty grass they rip out and replace with desert landscaping.
The $1 increase, approved by authority board members Thursday, represents the first significant change to the agency's Water Smart Landscapes Program in three years.
Agency officials hope raising the rebate will spur more participation in the 19-year-old program, which has seen a steady decline in turf conversions over the past decade.
"We're really coming at this as a need to reinvigorate the whole (conservation) program," said authority general manager John Entsminger, who noted a recent uptick in per capita water use.
The problem isn't that the valley is running out of grass to replace, said Colby Pellegrino, director of water resources for the authority.
She said there could be as much as 200 million square-feet of purely ornamental turf still out there, not including the stuff that actually gets used at parks and schools and people's yards.
Targeting 'aesthetic' turf
"We've sort of hit the low-hanging fruit," Pellegrino said. Now they're targeting the people who really love their lawns but might be willing to part with them for the right price.
"We have never taken the stance of getting rid of all the turf in the valley," she said. "What we want to get rid of is the stuff people are just looking at for aesthetic reasons."
Participants in the program must apply and submit to site inspections before and after their landscape conversion. More information is available on the authority's website at https://www.snwa.com/rebates/wsl/index.html.
Since 2015, the agency has paid $2 per square-foot for the first 5,000 square feet of grass removed. Now participants will get $3 each for the first 10,000 square feet and $1.50 for every square foot after that, up to a total rebate of $300,000.
Pellegrino said it remains to be seen how the community will respond to the change, but she would love to see so much rebate money going out that she has to ask the board for more.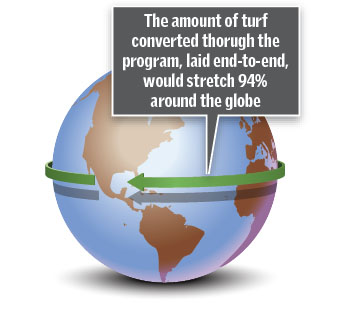 "I hope we see amazing participation — enough so we have a budget problem. I would be thrilled with that," she said.
The Water Smart Landscapes Program is one of several conservation measures adopted by the authority in the early 2000s in response to drought on the Colorado River, which supplies about 90 percent of the community's water. The authority and its member utilities also restricted landscape watering to certain assigned days, banned front lawns at new homes, limited grass in backyards and at commercial properties, and clamped down on water use for fountains, misters, golf courses and car washes.
Those once-temporary measures have since been made permanent.
Taking aim at open space
The turf-rebate program alone is credited with saving more than 119 billion gallons of water so far, enough to supply the entire community for roughly 18 months.
Pellegrino said the initiative will eventually run its course, but she thinks it has another five to 10 good years left in it.
As part of this latest effort to jump-start the program, Entsminger said he favors more targeted outreach to homeowners associations and commercial property owners. He also wants the authority to work more closely with municipal governments on development codes that don't inadvertently lead to water waste.
Entsminger said in some cases, developers are meeting their open-space requirements by planting grass in medians, traffic circles and pocket parks no one ever uses.
"If the turf is in places where the only people walking on it are the landscapers who mow it, we shouldn't be forcing people to put it in," he said.
Contact Henry Brean at hbrean@reviewjournal.com or 702-383-0350. Follow @RefriedBrean on Twitter.
(Almost) around the world in 19 years
Since it launched the Water Smart Landscapes Program in 1999, the Southern Nevada Water Authority has paid out more than $200 million in rebates to residents and business owners who have removed roughly 185 million square-feet of lawn.
If you put all that turf into a single 18-inch-wide strip of sod and rolled it out along the equator, it would stretch about 94 percent of the way around the Earth.
"We're going to have a circumference party when we get there," said Colby Pellegrino, director of water resources for the authority. "You'll be invited."