Trash, lawlessness targeted at shooting range near Las Vegas
December 2, 2017 - 11:20 pm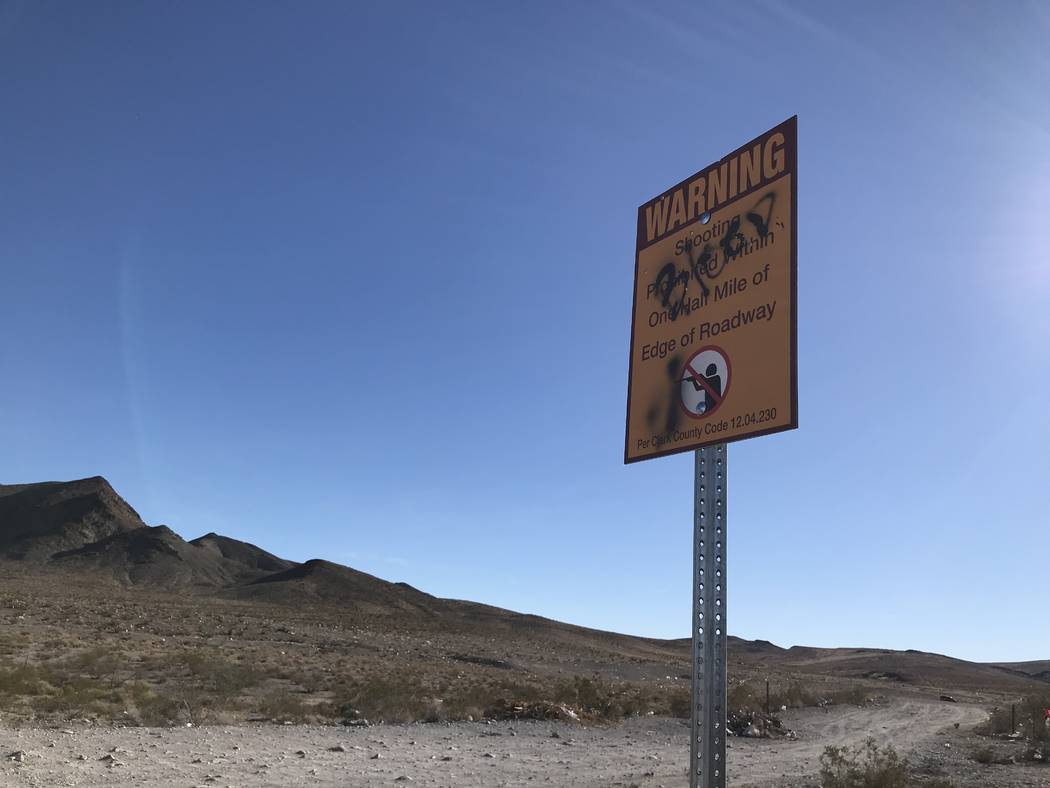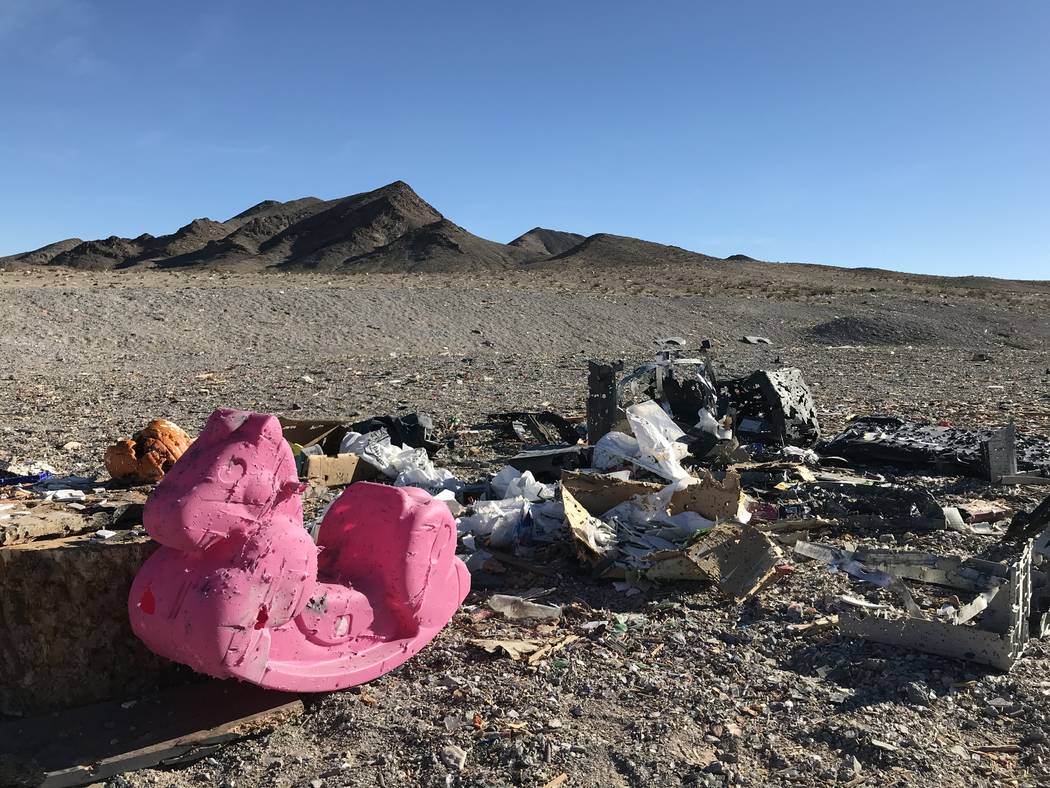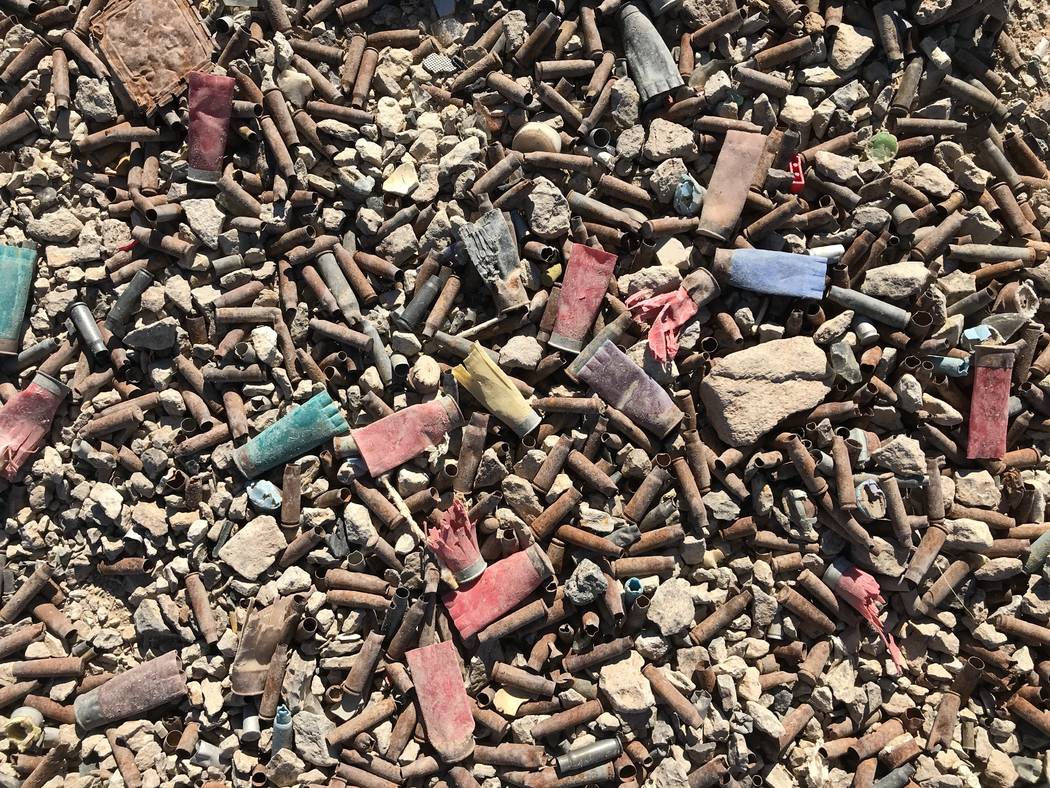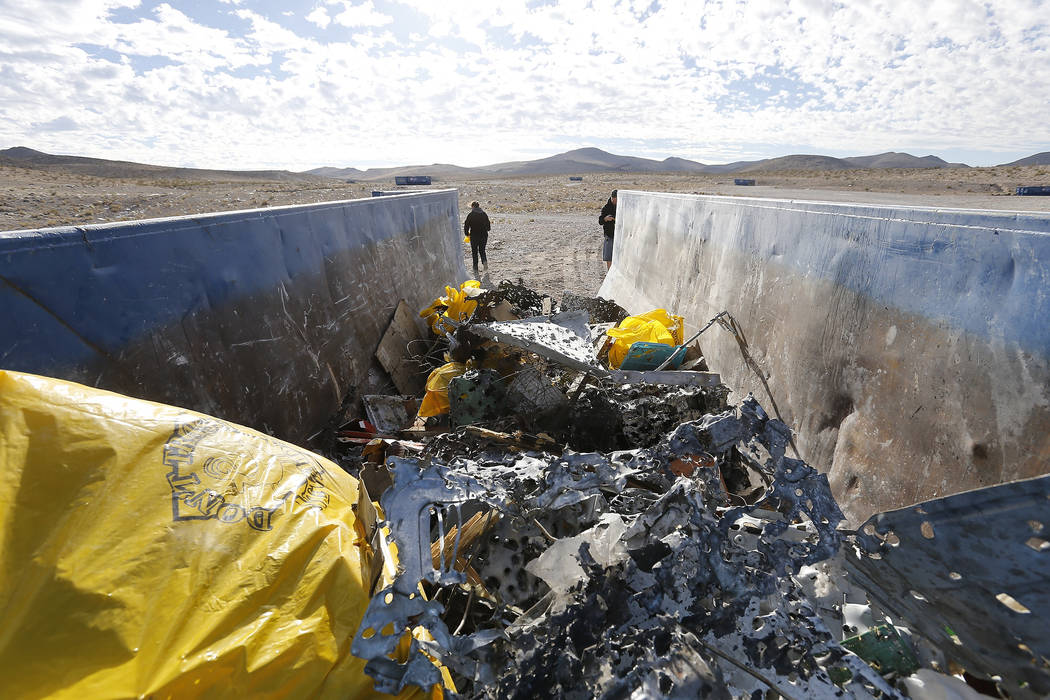 It's just after 10 a.m. on a blustery Tuesday, and the sound of gunfire already fills the air at Southern Nevada's most popular spot for target shooters.
More than a dozen people are blasting away at the surrounding hillsides with handguns and rifles as traffic streams by in the distance on South Las Vegas Boulevard and Interstate 15.
This patch of public land about seven miles south of M Resort, just outside the Las Vegas Valley, has been used for target practice for the past 20 years at least, and it shows. The desert is littered with broken glass and old junk shot full of holes. In places, the ground is carpeted with tens of thousands of spent shotgun shells and bullet casings.
It looks more like a landfill than a gun range. Strictly speaking, very little of what goes on here is legal.
Federal regulations prohibit both littering and the use of glass targets on public land. County ordinances, adopted in October 2015, ban shooting within half a mile of a highway or within 500 feet of a public or private road, improved trail or designated campground or picnic area.
Almost everyone out shooting on this Tuesday morning was well within a half-mile of the highway known as Las Vegas Boulevard. Some of them were firing into hillsides in the direction of the road and the interstate beyond.
The federal Bureau of Land Management has launched a new effort to address the growing trash and safety problem, with little success so far.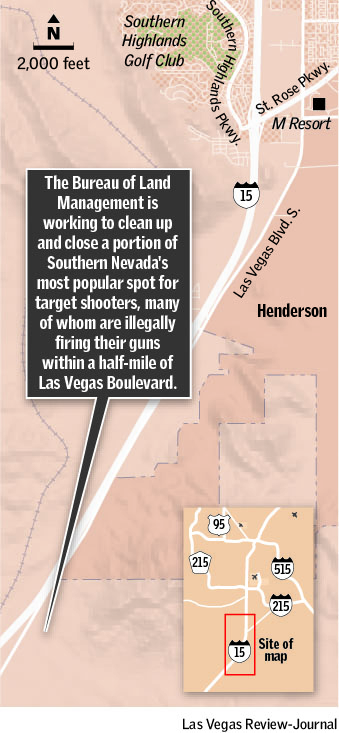 Steph Clark, chief law enforcement ranger for the BLM in Southern Nevada, said it will take "a culture change" to get the mess cleaned up and get shooters where they are supposed to be.
So far this year, the bureau has hosted a pair of volunteer cleanups at the site, one in May with the National Rifle Association and another in early November. The agency also has teamed with the Metropolitan Police Department and the Nevada Highway Patrol to step up patrols in the area.
"We can't clean up an area without putting people out there to be visible," Clark said.
For the moment at least, the goal of the law enforcement effort is to educate the public, not hand out a stack of citations, she said.
Few signs, lots of trash
It's no wonder some target shooters are confused about where to go.
There is only one sign outlining the county rules at the entrance to the shooting area, and part of it has been painted over with graffiti.
Other signs at the site advise against littering and warn against the dangers of wildfires sparked by shooting.
On a small hillside in the distance, the BLM has marked the edge of the highway buffer zone with a concrete road divider painted with the words "1/2 mile" on one side and "no shooting" on the other. Discarded targets, bullet casings and debris blanket the desert on both sides of the divider.
Longtime local conservationist John Hiatt said the problem is much bigger than just one site. He knows of several other popular shooting areas outside the valley that have evolved into illegal dump sites.
But nothing he has seen so far compares with the shooting gallery off South Las Vegas Boulevard.
Hiatt said he took part in the BLM's Nov. 4 cleanup, and he was shocked by what he saw.
"Literally if it can be hauled out there, it's there," he said. "Television sets are pretty popular."
The cleanup crew also collected the remnants of children's toys, appliances, fire extinguishers and propane tanks. Some of the stuff was so shot up that it was hard to tell what it used to be.
The group of about 50 volunteers filled seven dumpsters with more than 200 cubic yards of trash, "without making much of a dent in it," Hiatt said.
"It didn't really look significantly different than when we started," he said. "It's almost unbelievable."
Cyclist hit by stray bullet
This is more than just a trash problem, Clark said.
The area off South Las Vegas Boulevard also has seen a handful of accidental shootings, including reports of stray bullets hitting vehicles on I-15. In September, a bicyclist was shot in the leg as he pedaled past the shooting range during a memorial ride.
Despite such trouble, Clark insists that the BLM has no plans to close the site to shooting altogether.
"We're a multiuse public agency," she said. "If you're smart users of the land and you're doing it safely, we have no concern with that."
John Hoge was one of the few people obeying the rules on Tuesday.
He parked his pickup just beyond the BLM's concrete half-mile marker, then faced away from the interstate to fire his two mid-century, bolt-action rifles into the hillside.
Hoge said he goes shooting in the desert a few times a month, and he's always careful to clean up after himself when he does. Increasingly, though, areas like this one are being overrun by "trigger pullers" who seem to have lost their respect for the land and for one another, the Vietnam veteran said.
Looking at the trash all around him, Hoge said he can't imagine how the area will ever be cleaned up.
"I don't know where you'd start here. It's so bad," he said as he packed up his rifles to leave. "People just don't care. I'm beside myself about it."
Contact Henry Brean at hbrean@reviewjournal.com or 702-383-0350. Follow @RefriedBrean on Twitter.
Choose your targets carefully
While target shooters seem to prefer a handful of popular — and increasingly trashed — sites in Southern Nevada, most public land in the state is open to shooting, according to the Bureau of Land Management.
The BLM requires shooters to be at least 1,000 feet from roads and houses and carry out all their targets, shell casings and other litter. The agency prohibits the use of glass targets.
Shooters should always set up in front of a safe backdrop and never fire from or over any road or highway, the BLM said.
Clark County ordinances ban shooting within half a mile of a highway or within 500 feet of a public or private road, improved trail or designated campground or picnic area.
Except for established gun ranges, shooting is not allowed in the Las Vegas Valley or on BLM-managed land within Red Rock Canyon and Sloan Canyon national conservation areas, Apex, Nellis Dunes, Sunrise Mountain, Stuart Ranch and the southern edge of the Pahrump Valley.