UMC: Don't seek drive-thru COVID-19 tests without symptoms or exposure
Updated July 23, 2020 - 11:09 pm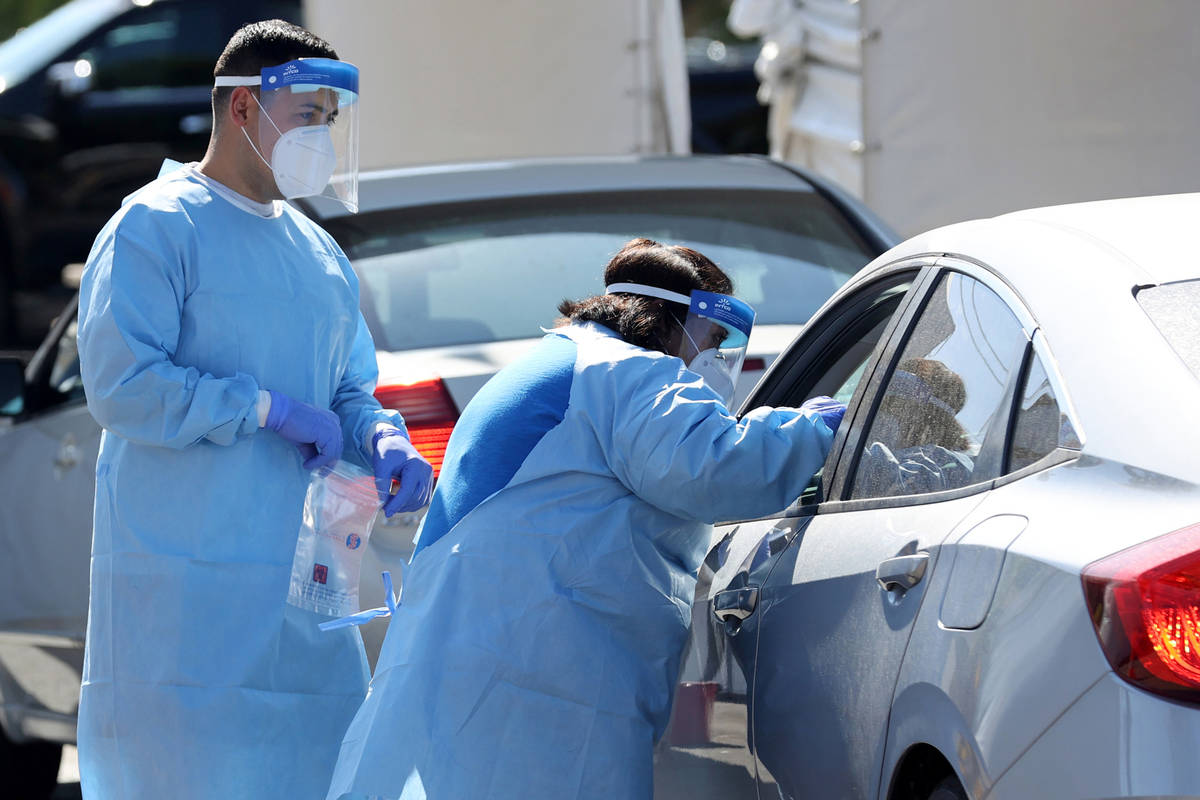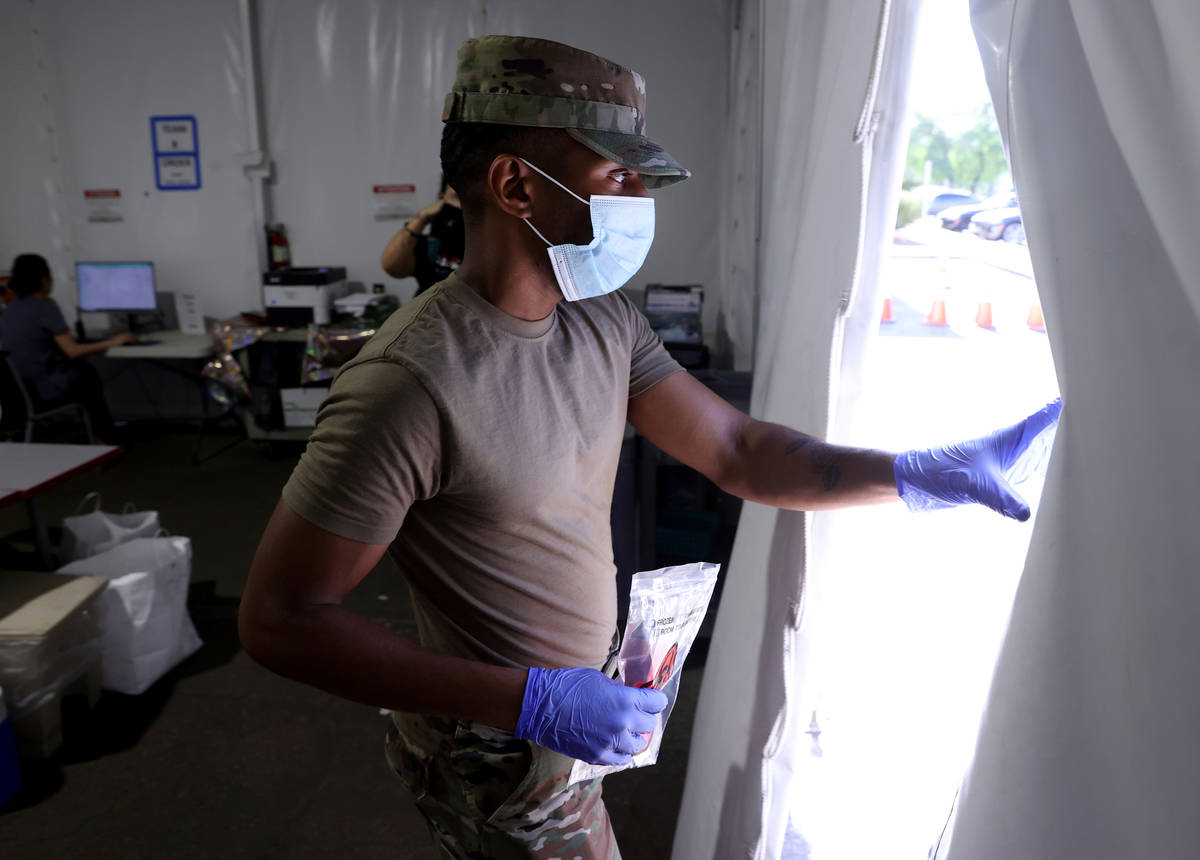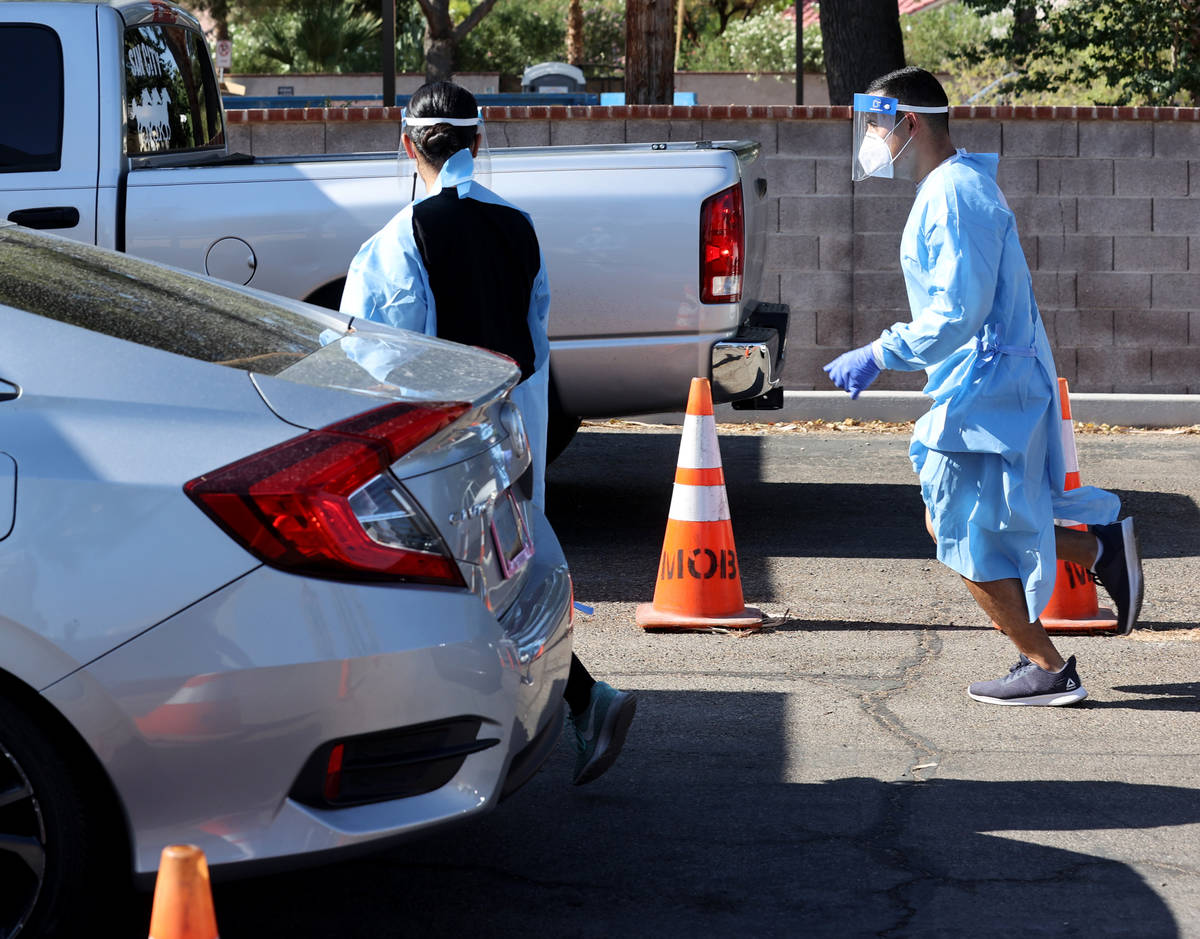 University Medical Center is reversing course by asking members of the public without COVID-19 symptoms or exposure to a confirmed case of the disease not to make an appointment at one of its large drive-thru testing sites.
"This will ensure that patients at the highest risk maintain convenient access to testing," UMC spokesman Scott Kerbs said in an email this week.
After nationwide testing shortages in March and April, UMC and the UNLV School of Medicine ramped up capacity in Southern Nevada to the point where, by early May, anyone who wanted a test could get one, often within a day. But with appointments getting harder to come by, and results taking longer to obtain, there is again evidence that the testing system here, as in much of the country, is under strain.
Checks of the UMC website used to schedule tests repeatedly showed this week that no appointments were available at the Thomas & Mack Center and Texas Station testing sites run by the county hospital with Clark County government and the Nevada National Guard.
On Thursday morning the site showed appointments were available at Texas Station as soon as Friday. A couple of hours later, however, all were gone.
UMC is scheduling appointments a few days in advance, and the slots fill quickly, Kerbs said.
Amid rising demand for COVID-19 testing, "whenever possible, UMC asks community members to please save the available public testing appointments for community members with symptoms of COVID-19 and those who have been exposed to the virus," the hospital said in a news release Thursday.
However, UMC stopped short of requiring symptoms or exposure for an individual to be tested.
Meanwhile, UNLV Medicine, which with the Nevada National Guard runs a drive-thru testing site, is still scheduling appointments one or two days out, spokesman Paul Joncich said. Individuals are not required to have symptoms to be tested, he said.
Testing leveling off
The number of daily COVID-19 tests reported by state government reached what was then an all-time high of nearly 13,000 tests on July 7, following the long holiday weekend. After that, the numbers leveled off, with a high of more than 10,000 daily tests to a low of less than 5,000. On Thursday, a high of more than 15,000 tests was reported after a system upgrade eliminated a backlog in processing laboratory records but not actual tests.
The leveling off in July reflects that laboratories industrywide are at capacity for processing tests, said Mark Pandori, director of the Nevada State Public Health Laboratory in Reno, which processes a large number of the tests conducted in the state.
Lab capacity issues also are resulting in delays in obtaining test results of a week or longer in some instances.
"When labs are operating at capacity, specimens have to start to wait in line to be tested," Pandori said Thursday during a telebriefing for reporters. "Suddenly a test which normally took one to three days, takes anywhere from four to eight, for example" to be processed.
New UMC testing policies
In a move that could ease some of the strain on testing capacity, UMC also announced new policies Thursday aimed at reducing unnecessary repeat testing and ensuring that "patients at the highest risk maintain convenient access to testing."
These include no longer providing repeat testing after an initial positive test result, which "has not shown to be an effective tool in determining when patients can safely discontinue isolation," UMC said.
The new policies reflect the latest guidance from the Centers for Disease Control and Prevention, which instead of repeat testing recommends isolation for at least 10 days after the appearance of symptoms. Also, a patient should go at least 24 hours without a fever and experience improvement of symptoms such as cough and shortness of breath before ending quarantine.
Many patients who are without symptoms may end self-isolation safely 10 days after a positive test. Patients with compromised immune systems should speak with their physician.
Also, an individual who tested negative must now wait 10 days before testing again with UMC. If the individual develops symptoms during the waiting period, the hospital recommends seeking medical care at a physician's office to determine whether a test is needed. All who believe they've been exposed to the virus are asked to isolate at home during the waiting period.
Also, UMC has introduced a five-day waiting period following a negative test for health care workers and first responders without symptoms.
Contact Mary Hynes at mhynes@reviewjournal.com or 702-383-0336. Follow @MaryHynes1 on Twitter.