Yvanna Cancela chosen to fill Ruben Kihuen's Senate District 10 seat
December 6, 2016 - 4:36 pm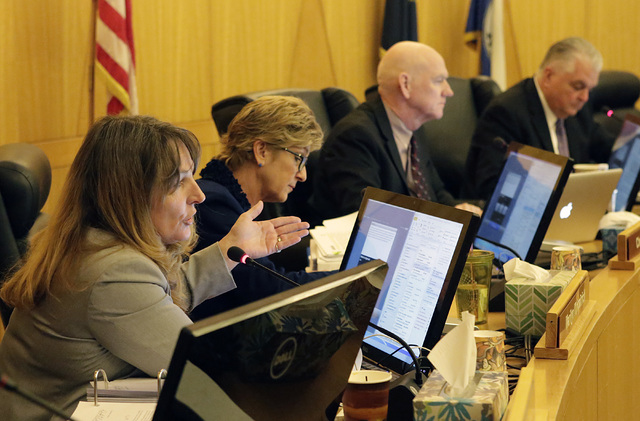 Had you asked Yvanna Cancela earlier this year how she planned to spend 2017, afternoons spent visiting relatives, catching up with childhood friends and lounging along the south Florida coastline would have ranked high on her list.
After six years as the Culinary union's political director, the 29-year-old believed she was ready to leave Las Vegas.
"I've been away from Miami and my family for almost 11 years now, and I'm someone who grew up very close to my family," Cancela said. "I was prepared to move back home."
But her mindset changed Nov. 8, during an election watch party in an Aria ballroom. Donald Trump's presidential victory stirred something deep inside her.
"I realized after the election, and over the years, that while I may miss my family there is so much work to be done in Nevada," she said. "I really didn't feel like I could walk away from the state."
Cancela will continue crusading for working-class families during the 2017 Legislature in a new role: as Nevada's first Latina state senator.
Clark County commissioners voted unanimously Tuesday to appoint Cancela, a Democrat, to the recently vacated Senate District 10 seat. She will serve until the 2018 general election.
Fellow Democrat Ruben Kihuen, 36, left the seat last month when he was elected to the U.S. House of Representatives. On Tuesday, he released a statement calling Cancela his friend and ally.
"Yvanna isn't just a skilled organizer and brilliant tactician — she's also a warm-hearted and engaging leader who I believe is uniquely positioned to work in Carson City to represent the voices of immigrants and working families," Kihuen wrote. "I can't think of anyone better to replace me in the State Senate , and I know Yvanna has what it takes to hit the ground running and be a fighter for our district and all Nevadans in the 2017 legislative session ."
The other applicants for Kihuen's seat were a 34-year-old Veterans Affairs Department project manager and a local law firm's 36-year-old marketing and technological services director.
Commissioner Chris Giunchigliani, a Democrat, noted Tuesday that all three candidates were qualified to hold the office, but she ultimately suggested the commission appoint Cancela because of her political and community work.
"She knows the (state Legislature's) players, she knows the process, she knows how to walk in the door and not be a complete novice at all of that," Giunchigliani said of Cancela. "I think that set her apart."
As the Culinary's political director from 2010 until last month, Cancela led political outreach for 57,000 union members and lobbied at three sessions of the Nevada Legislature.
She is the daughter of Cuban immigrants and the first natural-born U.S. citizen in her family. She's been recognized by both the American Civil Liberties Union of Nevada and the White House for helping to coordinate a statewide campaign for comprehensive immigration reform.
Today, Cancela is the executive director of the Immigrant Workers Citizenship Project, a local nonprofit helping immigrant families naturalize free of charge.
Cancela plans to continue being a champion for immigrant families during the 2017 Legislature by prioritizing "sanctuary cities and figuring out how we can work to model what's being done in California to protect immigrants and families from being destroyed because of unjust deportation."
She also wants to increase transparency in the oversight of the health care and pharmaceutical industries, and to invest more resources into Nevada's struggling public education system.
Nevada Senate Majority Leader Aaron Ford, a Democrat, wrote Tuesday that he looked forward to working with Cancela.
"Throughout her career, Yvanna has proven herself to be a passionate advocate for working people in our community, and I applaud the County Commission for appointing her to the State Senate," Ford wrote. "Yvanna will be an important voice in Carson City, particularly for underrepresented Nevadans. With her leadership, we will continue to build a Nevada where everyone has a fair shot to succeed."
Contact Michael Scott Davidson at sdavidson@reviewjournal.com or 702-477-3861. Follow @davidsonlvrj on Twitter.