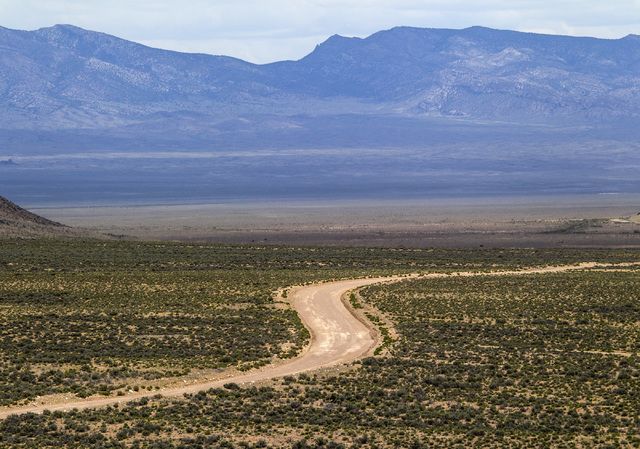 WASHINGTON — Congress on Tuesday opened hearings on whether federal law allowing presidents to declare national monuments — some the size of entire states — should include restrictions on acreage and require input by local stakeholders.
The hearing by the House Natural Resources subcommittee on federal lands was focused on recent monument designations in Nevada, Utah, Oregon, California and Maine that have drawn opposition from some state officials.
It comes amid a review by Interior Secretary Ryan Zinke of presidential designations of national monuments over the past 21 years ordered last month by President Donald Trump.
Former President Barack Obama was responsible for many of those designations, using the Antiquities Act of 1906 a total of 34 times to protect 554 million acres, including the Basin and Range and Gold Butte national monuments in Nevada. Both figures were the highest for any president since the law was enacted.
Republican lawmakers, especially those from Utah, have been highly critical of the designations, saying they usurped state decision-making on the best uses of the land.
'Size matters'
Rep. Doug LaMalfa, R-Calif., said one the overriding concerns of the committee is the growing size of the recent national monuments, While, Gold Butte set aside 335,000 acres, Bears Ears encompasses 1.3 million acres — larger than the state of Delaware.
"Size matters," he said.
Utah Rep. Rob Bishop, chairman of the Natural Resources Committee, said Tuesday that environmental groups spent more than $37.5 million on a campaign to win designation for Bears Ears, which was announced Dec. 16 with Gold Butte.
Bishop also said local tribes were not consulted, stating that "no local tribe in San Juan County, Utah, where the national monument is located, supported this designation."
But Bruce Ignacio, a councilman for the Ute Tribe who attended the hearing, told the Review-Journal that all the tribes in the area supported the designation, saying that tribal members on the San Juan County Commission were opposed.
The Bears Ears Commission, which includes representatives of five Native American tribes with ancestral ties to Bears Ears — the Navajo nation and the Hopi, Uintah and Ouray Ute, Ute Mountain Ute and Zuni tribes — announced plans to hold a news conference on Wednesday to highlight the tribal support for the monument.
It also has been critical of the review ordered by Trump.
Democrats on the panel said they would oppose efforts to curtail current designations, and fight restrictions on future monument declarations.
Rep. Raul Grijalva of Arizona, the ranking Democrat on the full committee, introduced into the record a letter to Trump administration officials from 450 organizations in 38 states opposing "attacks on national parks, public lands and waters."
Critic sees attack on public lands
Randi Spivak, director for the Center for Biological Diversity's public lands program, said the hearing is part of a larger effort by House Republicans to weaken protection of public lands. The aim of this assault on national monuments is to rescind or shrink their boundaries and open them to industrialization, Spivak said.
The time-frame on Trump's executive order was a nod to Utah, which has overwhelmingly opposed older presidential designations, including President Bill Clinton's decision on Grand Staircase-Escalante National Monument in 1996.
The reaction to the national monuments in Nevada broke down mostly along party lines.
Sen. Dean Heller, R-Nev., and Rep. Mark Amodei, R-Nev., have filed a bill in the Senate and House that would require local input and approval for future designations.
But former Sen. Harry Reid, D-Nev., and Rep. Dina Titus, D-Nev., praised the Obama decision on both Basin and Range and Gold Butte to protect habitat for the desert tortoise and other wildlife.
The Nevada designations also sought to shield cultural artifacts from Native Americans, Spanish explorers and early European settlers from vandalism.
Contact Gary Martin 2022-662-7390 or gmartin@reviewjournal.com. Follow @garymartindc on Twitter.
Related
Conservationists grouse about Heller bill aimed at Endangered Species Act