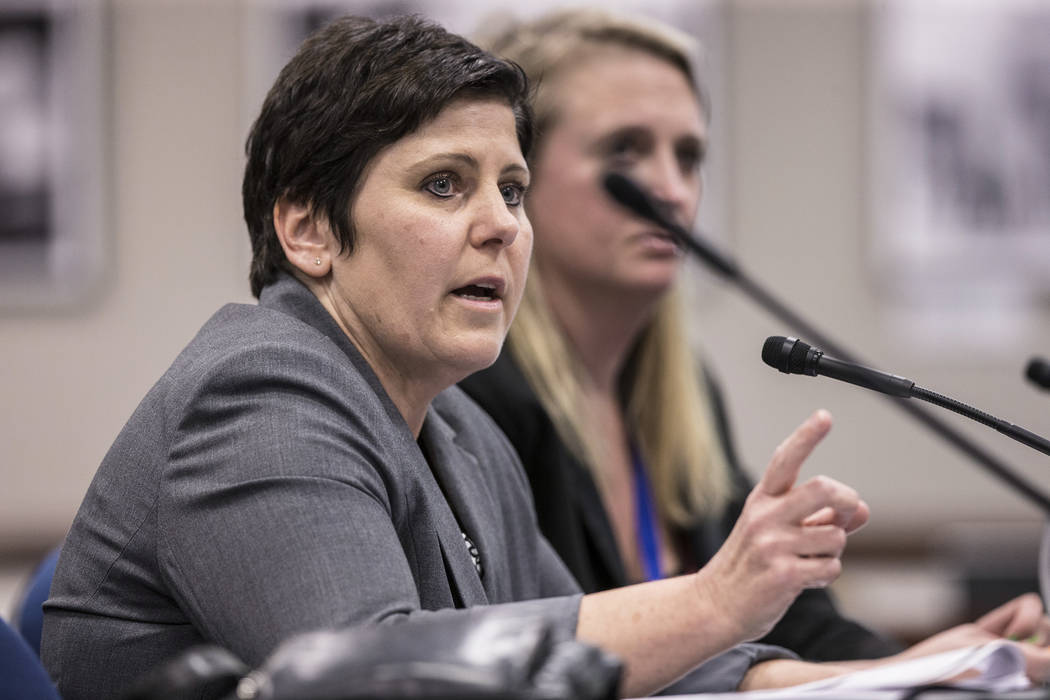 Deonne Contine, the departing director of the Nevada Department of Taxation, announced this week that she is running for an open Assembly seat in Reno.
Contine, whose pending departure from her state post was announced last week, is going to work for the Kaempfer Crowell law firm's Reno office. Her last day with the Tax Department is Feb. 9.
"I feel like I could be part of a thoughtful and intelligent conversation on a wide variety of issues," she told the Las Vegas Review-Journal.
Contine said she was planning to resign as director before the end of the year and that an Assembly run wasn't on her mind until she heard that Assemblywoman Amber Joiner was not running for re-election in District 24.
"I think the opportunity to run in the seat maybe prompted me to leave a little sooner," Contine said.
Gov. Brian Sandoval tasked Contine with creating regulations after Nevadans voted to legalize recreational marijuana in 2016, and to do it in just eight months — a significantly shorter timeline than any other state had used to form a marijuana market.
Contine and her staff delivered. Sales started across the state July 1, 2017, with lines at virtually every store and no serious issues.
Contine, a Democrat, said she would like to continue working on marijuana regulations from the legislative side.
"It's been a very important part of my life for the last year," she said. "We need to do whatever we can to make this a good program and to keep eyes on the issues and determine how it's going to affect the state over time."
Campaign finance
Wednesday marked the deadline for candidates for federal office to file campaign finance reports for the final quarter of 2017. Here are highlights from Nevada's Senate and House candidates:
Senate
In one of the country's hottest Senate races, Republican Dean Heller's leading Democratic opponent outraised him nearly two to one, fueling Democrats' fight to flip the seat from red to blue and take back control of Congress.
U.S. Rep. Jacky Rosen raised $1.5 million from October through December, according to her campaign, with $1.8 million in cash on hand. Heller raised $820,687 during the same time period, his camp said. The senator reported $4.2 million on hand.
"Sen. Heller is toast in 2018 — and here's more proof," said Danny Kazin, Rosen's campaign manager. "The grass-roots energy and momentum keeps growing behind our campaign, and Dean Heller's blind loyalty to Mitch McConnell clearly won't be enough to save his job."
Heller's Republican opponent, Danny Tarkanian, who lost to Rosen in a bid for Congress in 2016, raised $331,000 — but only after giving himself a sizable loan. Tarkanian said he has $455,000 on hand and took a shot at Heller's "anemic" fundraising numbers.
"There's no doubt he's losing support," Tarkanian said. "He's the most likely GOP senator to lose his seat."
Democrat Jesse Sbaih, who touts himself as the most progressive candidate in the race, could not be reached. He has loaned his campaign $2 million and raised about $3,000 in the last quarter. Sbaih also ran for Congress in 2016 but lost to Rosen in the primary.
Heller's campaign said his support is growing.
"Thanks to strong grassroots support, our campaign is in the best position it has ever been," spokesman Keith Schipper said. "Whether it's delivering on middle-class tax cuts, ensuring the Senate confirms President Trump's conservative judges or fighting for our veterans, Nevadans trust Dean Heller to be their voice."
CD3
Democrat Susie Lee reported raising more cash in the fourth quarter than all the Republican candidates combined. She raised about $388,000 from Oct. 1 to Dec. 31, according to her filing, and entered the election year with more than $600,000 in cash on hand.
Lee's closest primary opponent was Jack Love, a Las Vegas businessman, who raised $3,000 in the fourth quarter.
On the Republican side, state Sen. Scott Hammond led the way in raising $100,000 in the fourth quarter. Former television journalist Michelle Mortensen raked in just over $81,000, followed by former Assemblywoman Victoria Seaman's $61,000 and former Clark County Republican Party Chairman Dave McKeon's $16,000.
Hammond has spent the most of the four candidates, and his $69,000 in cash on hand trails both Seaman ($139,000) and Mortensen ($78,000). McKeon reported $10,500 in remaining cash.
CD4
Both major candidates who raised money last year are no longer running for the seat.
Republican Stavros Anthony raised $92,000 in the final fundraising period of 2017, but he announced in January that he was bowing out of the race because of health concerns.
Meanwhile, Democratic U.S. Rep. Ruben Kihuen raised about $120,000, with most of that coming before Buzzfeed News published a story Dec. 1 detailing sexual misconduct allegations against Kihuen from a former campaign staffer.
Democrats Patricia Spearman and Steven Horsford and Republican Cresent Hardy all filed paperwork to run in January, meaning there was no campaign fundraisng to report.
News and notes
Emily's List, the national group aimed at electing women to office, endorsed Democratic Clark County Commissioner Chris Giunchigliani in the race for Nevada governor.
Democrat Steve Sisolak, also a Clark County commissioner and governor candidate, was endorsed by a trio of progressive Democrats: Erin Bilbray, Jose Solorio and Kristal Glass. The three sit on the board of Nevada Progressive Coalition PAC.
Democrat Kate Marshall received endorsements from the Nevada State Education Association and the Coalition of Law Enforcement in her run for lieutenant governor.
Democratic attorney general candidate Aaron Ford received an endorsement from the International Brotherhood of Electrical Workers Local 357.
Contact Colton Lochhead at clochhead@reviewjournal.com or 702-383-4638. Follow @ColtonLochhead on Twitter. Contact Ramona Giwargis at rgiwargis@reviewjournal.com or 702-380-4538. Follow @RamonaGiwargis on Twitter.