Cortez Masto, Flake propose bill for education aid tax break
October 25, 2017 - 8:34 am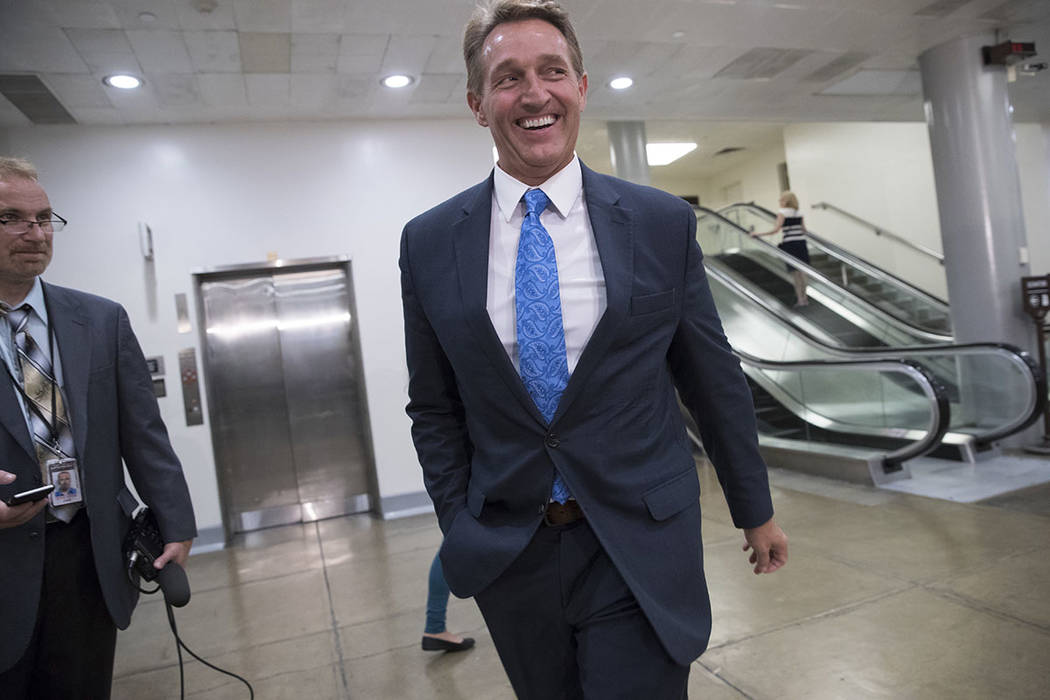 WASHINGTON — One day after his bombshell announcement that he is leaving the Senate, Arizona Republican Jeff Flake is teaming up with Democrat Sen. Catherine Cortez Masto of Nevada on legislation to aid students who receive educational benefits from their employers.
Cortez Masto and Flake were filing the Upward Mobility Enhancement Act on Wednesday.
The bill would eliminate a tax penalty paid by students who receive benefits from employers to help cover costs of higher education. Its sponsors say the bill would provide an incentive to instead invest and retain a more-skilled workforce.
Cortez Masto said the tax code needs to be updated to help families achieve educational goals to provide a better life for themselves and their families.
"Education costs have increased by nearly 700 percent over the past 40 years, but our tax code has not been updated to reflect this change," Cortez Masto said.
The bipartisan bill is endorsed by Thom Reilly, chancellor of the Nevada System of Higher Education, who said it would reduce student debt and promote student success.
"College affordability is one of the biggest barriers for college participation among Nevada's students," Reilly said.
Some businesses have implemented tuition assistance benefits programs. The Starbucks College Achievement Plan currently covers costs of tuition at Arizona State University's online bachelor degree program for eligible employees.
Kathleen Coulombe, a senior adviser at the Government Relations for the Society for Human Resource Management, said the bill provides employers a chance to provide assistance at a rate that keeps up with current costs for education. She applauded the effort as one would help the United States economically competitive on a global scale.
Flake announced Tuesday that he would not seek re-election in 2018, citing the toxic political discourse coming from the executive branch.
Contact Gary Martin at gmartin@reviewjournal.com or 202-662-7390. Follow @garymartindc on Twitter.
Upward Mobility Enhancement Act
Under current law, if an employer provides more than $5,250 in tuition assistance benefits, the employee is required to pay taxes on all benefits above that threshold. This threshold was last updated in 1978, when $5,250 was often enough to cover the annual cost of college tuition. But the threshold now functions as a tax penalty that discourages employees from taking full advantage of employer-provided educational assistance.
The bill ends this penalty by updating Section 127 of the Internal Revenue Code to reflect higher tuition costs. Under the revised code, employers would have an incentive to provide their employees with up to $11,500 in tax-exempt benefits, which would be adjusted for inflation.
Source: Sen. Catherine Cortez Masto