Deadline nears for attempts to recall Nevada senators
October 20, 2017 - 6:58 pm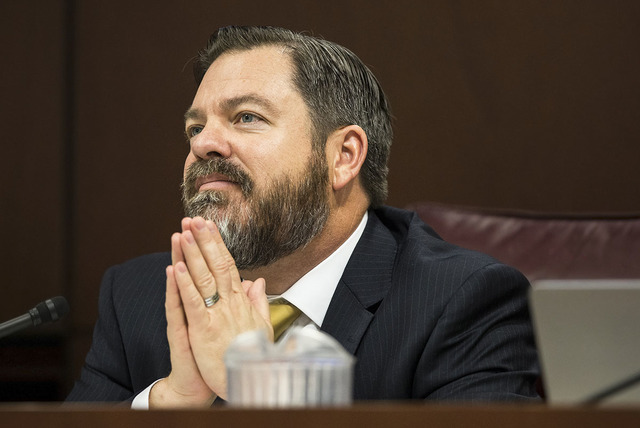 Deadlines are fast approaching for signatures to be submitted for a trio of recall petitions, but the groups behind the efforts remain shrouded in mystery.
The petition targeting state Sen. Joyce Woodhouse, D-Henderson, is due Oct. 31 and must have at least 14,412 signatures to force a recall election. The recall petitions targeting Sens. Patricia Farley, I-Las Vegas, and Nicole Cannizzaro, D-Las Vegas, are due Nov. 9 and 14, respectively.
But more than two-and-a-half months into the efforts, those involved remain mum on their reasons. Phone numbers listed for two of the three committees were disconnected as of Friday, and a third goes directly to a voicemail that says it has not been set up.
That lack of a public face or even public campaign is odd, said Eric Herzik, chairman of the political science department at University of Nevada, Reno.
"This recall has been unusual in multiple aspects," Herzik said, noting the secrecy behind the operation and financing of the efforts.
In Nevada, accusations of misconduct or malfeasance aren't required when attempting to recall an elected official. And the documents filed for the three recall committees simply say they want to recall the respective senators.
The recall committees' presidents — Stephen Silberkraus, Claire Roth and Annalise Castor — did not respond to requests for comment.
State Senate Minority Leader Michael Roberson, R-Henderson, said days after the petitions were filed that he wasn't surprised to see Democrats targeted after a "pro-felon and anti-business" legislative session in 2017.
Many, including Woodhouse and some political operatives, believe Roberson is involved in the recall efforts, given his outward backing of them. When asked Friday if he is leading the efforts, Roberson repeated much of his earlier statement.
"The recalls were initiated by concerned voters in Senate Districts 5, 6 and 8. After witnessing the most pro-felon and anti-jobs Legislature in Nevada history, I fully support these recall efforts," he wrote in an email.
Democrats fight back
While the recalls seem to have no public face, Democrats are very publicly attempting to rebuke the effort.
Democrats launched a "Decline to sign" campaign, and the senators at the center of the recalls have been knocking on doors on a weekly basis encouraging people to either not sign the petitions or have their signatures removed.
Cannizzaro told the Las Vegas Review-Journal that she believes the recall workers have lied to voters in her district by saying things such as the petitions were to support the Democratic Party or show support for U.S. Sen. Catherine Cortez Masto, D-Nev.
"The falsehoods being given to voters to sign this petition are astonishing," Cannizzaro said.
Woodhouse said she's heard similar complaints in her Henderson-based district as she has gone door-to-door to tell her side of the story — much like she did during the 2016 campaign. And she's trying to respond to every email, phone call and Facebook message she gets from people asking about the recalls.
"It's a one at a time," Woodhouse said. "But it's what we can do."
Local Democrats aren't alone in fighting back against the recalls, either. Democratic National Committee Deputy Chairman Keith Ellison and Woodhouse are hosting a canvassing event Saturday to encourage people to knock on doors and promote the "Decline to sign" campaign.
Little chance for '18 flip
To Herzik, the recalls are a chance for Republicans to regain control of the state Senate outside the typical election process.
After the 2016 election, Democrats held a 11-10 majority in the upper chamber. That margin became 12-9 after Farley switched her party from Republican to independent shortly after the election and caucused with Democrats.
But for the GOP, trying to regain that majority through the 2018 election seems less than promising.
Of the 11 Senate seats up for grabs next year, six are held by Republicans. Only four are held by Democrats, and those districts aren't exactly swing districts, with each having at least 10,000 more Democratic than Republican voters, registration statistics show.
The last seat is Farley's, who was elected as a Republican in 2014 and has said she will not seek re-election. It wouldn't be surprising to see that seat flip back to GOP control, Herzik said. But it still wouldn't give Republicans the majority.
Enter Woodhouse and Cannizzaro.
Both won in close elections in 2016, with Cannizzaro beating Republican Victoria Seaman by fewer than 2 percentage points, and Woodhouse edging out GOP challenger Carrie Buck by less than a percentage point.
"It's almost like they want a do-over," Herzik said of the Republicans' recall effort. "The underlying strategy is that Republicans believe, with good reason, that their voters are more likely to turn out in a low-turnout, low-visibility election."
But Herzik said he worries that, if these efforts are successful, recalls seeking simply to "redo" an election might become the norm. And that's bad news for a system that many already disdain.
"As a longtime observer of the process, this is not good for the process," Herzik said. "People already have a lot of dissatisfaction with the election process. This just throws more fire on it."
Contact Colton Lochhead at clochhead@reviewjournal.com or 702-383-4638. Follow @ColtonLochhead on Twitter.
Fighting the recalls
Democrats are hosting an event Satuday with Democratic National Committee Deputy Chair Keith Ellison to encourage people to knock on doors and promote the "Decline to sign" campaign.
Where: Desert Bloom Park, 8405 S. Maryland Parkway
When: 2:30-5:30 p.m.