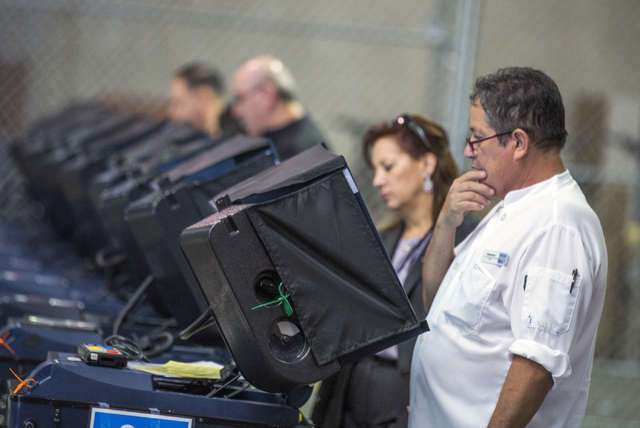 The percentage of voters who cast early ballots through the first 11 days of early voting is down both statewide and in Clark County this year.
About 562,000 Nevadans have cast a ballot since early voting began Oct. 22, up from 518,000 at the same point in 2012. But with about 200,000 more active voters this cycle than 2012, voter participation has dropped from 41 percent in 2012 to 38 percent this year.
In Clark County, that discrepancy is even wider. About 386,000 residents, or 38 percent of the 1,018,000 active voters, have cast a ballot. In 2012, that number reached 363,000 through the first 11 days, or about 43 percent of 852,000 active voters that year.
Democrats hold a 30,500 raw-vote lead statewide over GOP voters with three days of early voting remaining. That translates to a percentage margin of 43-37, which is the same margin seen on the prior day and matches the early-vote partisan margin for 2012.
Independent and third-party voters make up the remaining 20 percent of votes, accounting for roughly 115,000 votes in Nevada so far.
In Clark County, the Democrat lead is just over 50,000 votes. Republicans make up 33 percent of the votes, Democrats make up 46 percent, and independents and third-party voters make up the remaining 21 percent.
Early voting ends Friday.