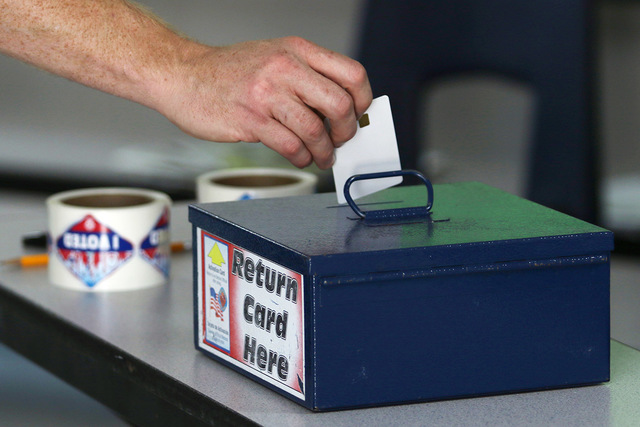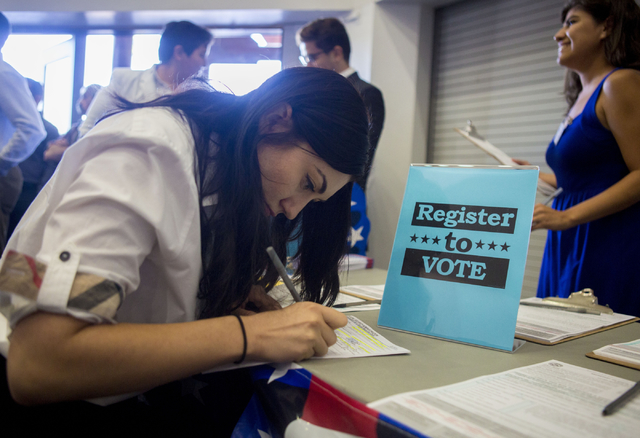 Some candidates on the Nov. 8 general election ballot need just one vote to secure victory.
Others won't even appear on the ballot. They sewed up their elections months ago, either by drawing no opposition or capturing most of the votes in the closed, June primary.
Seven incumbent state legislators and one newcomer don't have to sweat the election.
State Sen. Kelvin Atkinson, D-Las Vegas, essentially clinched re-election when he won the Democratic primary in June against a lone challenger. Because no Republican, third-party or independent candidate filed for Senate District 4, Atkinson's name will appear on the ballot as the only candidate.
The same goes for Republican Assembly Majority Leader Paul Anderson in Assembly District 13; Assemblyman Chris Edwards, District 19; and Republican candidate Lisa Krasner in Washoe County's Assembly District 26. They all won in the primary and there were no opposing party or independent candidates who filed. They all need only one vote in the general election to win.
Assembly members Olivia Diaz, D-North Las Vegas; Nelson Araujo, D-Las Vegas; Ira Hansen, R-Sparks; and John Ellison, R-Elko, drew no opposition and will appear on the ballot as the only candidate in their races.
Assemblywoman Maggie Carlton, D-Las Vegas, is also skating to re-election, though she will have an opponent on the ballot. Republican candidate Melody Howard informally withdrew from the Assembly District 14 race in September after she moved out of the district. But Howard's name will still appear on the ballot because she missed a July 22 deadline to officially remove her name from contention.
Two of Nevada's Supreme Court justices up for re-election this year also escaped without opposition, as did all three members of the recently created Court of Appeals. Chief Justice Ron Parraguirre, Justice James Hardesty, and appellate judges Jerry Tao, Michael Gibbons and Abbi Silver have only "none of these candidates" as opponents on the ballot. Because "none" can't win, they are assured new six-year terms on the bench.
"None" is a unique, quirky option in Nevada for statewide races.
In nonpartisan races for the state Board of Regents, two candidates — Mark Doubrava in District 7 and John Moran in District 13 — garnered more than 50 percent of the vote in the primary to win their seats. Jason Geddes in District 11 and Cathy McAdoo in District 8 were unopposed and took 100 percent of the vote in the primary. None of the four will appear on the November ballot.
Two Clark County School District trustees also won in the primary by getting most of the votes cast and will not be on the ballot next month. They are Chris Garvey and Linda Young.
Likewise, three Las Vegas justices of the peace who received the most primary votes were declared winners and will not be on the ballot — Melissa Saragosa, Department 4; Joe Bonaventure, Department 9; and Amy Chelini, Department 14.
Contact Sandra Chereb at schereb@reviewjournal.com or 775-461-3821. Follow @SandraChereb on Twitter.