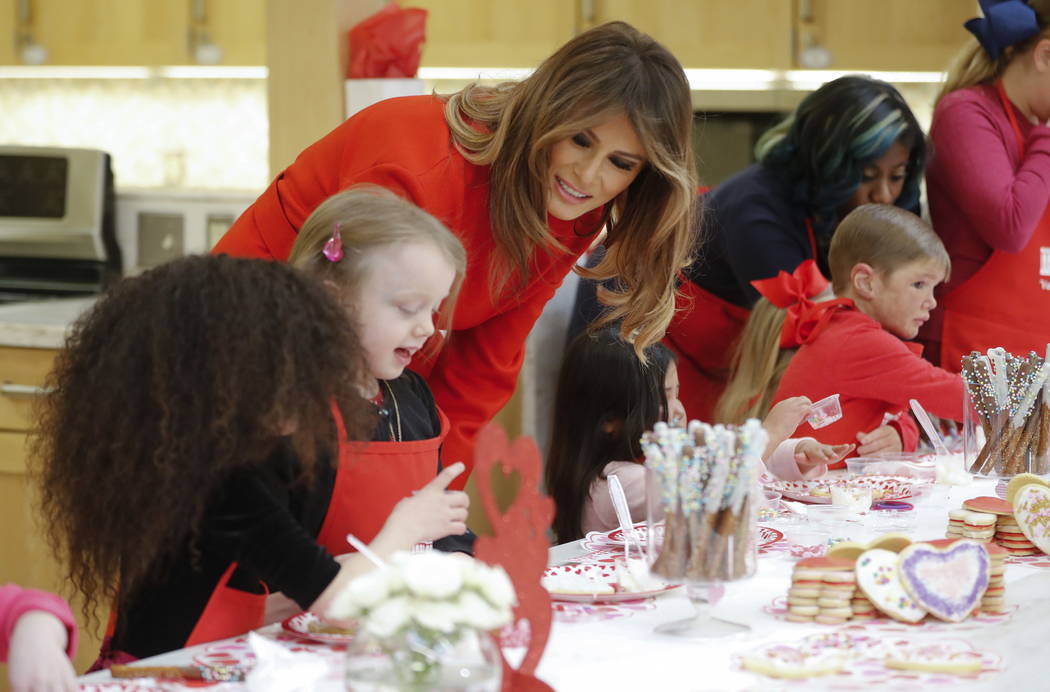 BETHESDA, Md. — First lady Melania Trump marked Valentine's Day with a visit Wednesday to The Children's Inn, a National Institutes of Health nonprofit residence in Maryland for seriously ill children participating in clinical trials.
The first lady spent close to an hour at the facility and helped nine children decorate cookies, including Amber Negrete, 8, of California. Amber has giant axonal neuropathy, a rare genetic disorder affecting the central and peripheral nervous systems.
According to Stephanie Grisham, the first lady's director of communications, Negrete asked Mrs. Trump what she likes most about being first lady. Mrs. Trump replied that she especially enjoys meeting children like Amber.
Later the first lady visited a group of 22 patients, ages 4 through 25, making Valentine's cards and assembling gift bags. A little boy presented her with a Valentine's bag. She asked young patients how they felt and if they were making cards for their parents.
Mrs. Trump also talked with Daulton Zschunke, 19, of Pennsylvania who later talked with the media. Zschunke said he has spondylarthrosis, which he described as having noncanercous tumors in his spinal column. He hopes the research on him will help develop gene therapy that will benefit others. He wants to be a journalist.
News of the Florida school shooting broke as the first lady's motorcade made its way to Bethesda. Mrs. Trump did not talk with the children about the shooting, but she did issue a tweet during the trip home. She wrote, "My heart is heavy over the school shooting in Florida. Keeping all affected in my thoughts &prayers."
Contact Debra J. Saunders at dsaunders@reviewjournal.com or 202-662-7391. Follow @DebraJSaunders on Twitter.