Florida Gov. DeSantis gives Nevada 'freedom blueprint' during book tour
Updated March 11, 2023 - 8:36 pm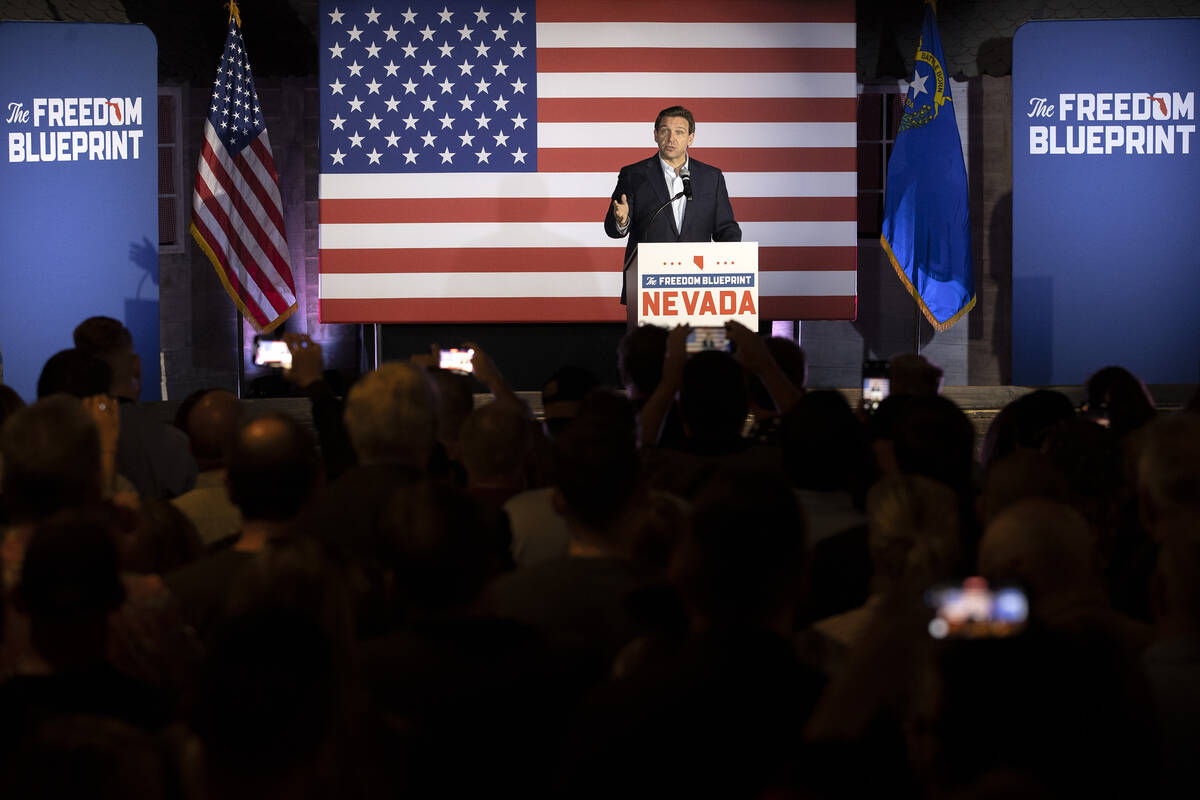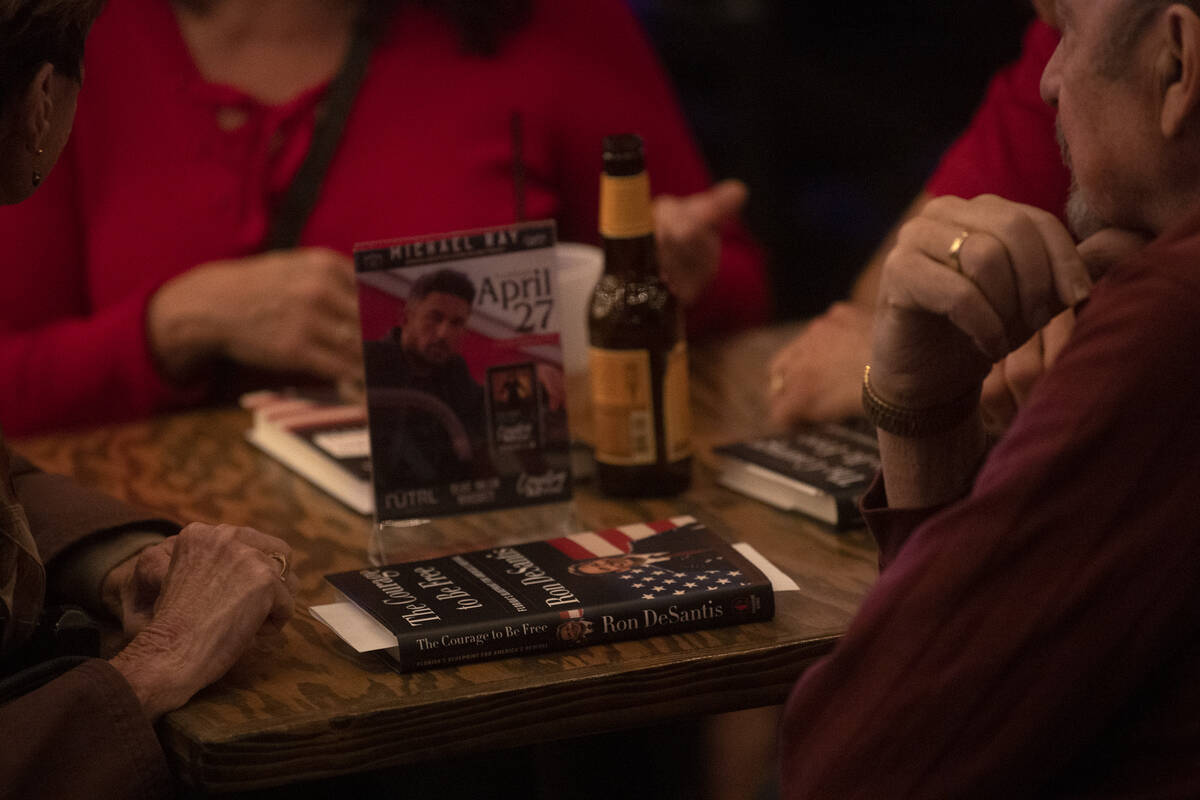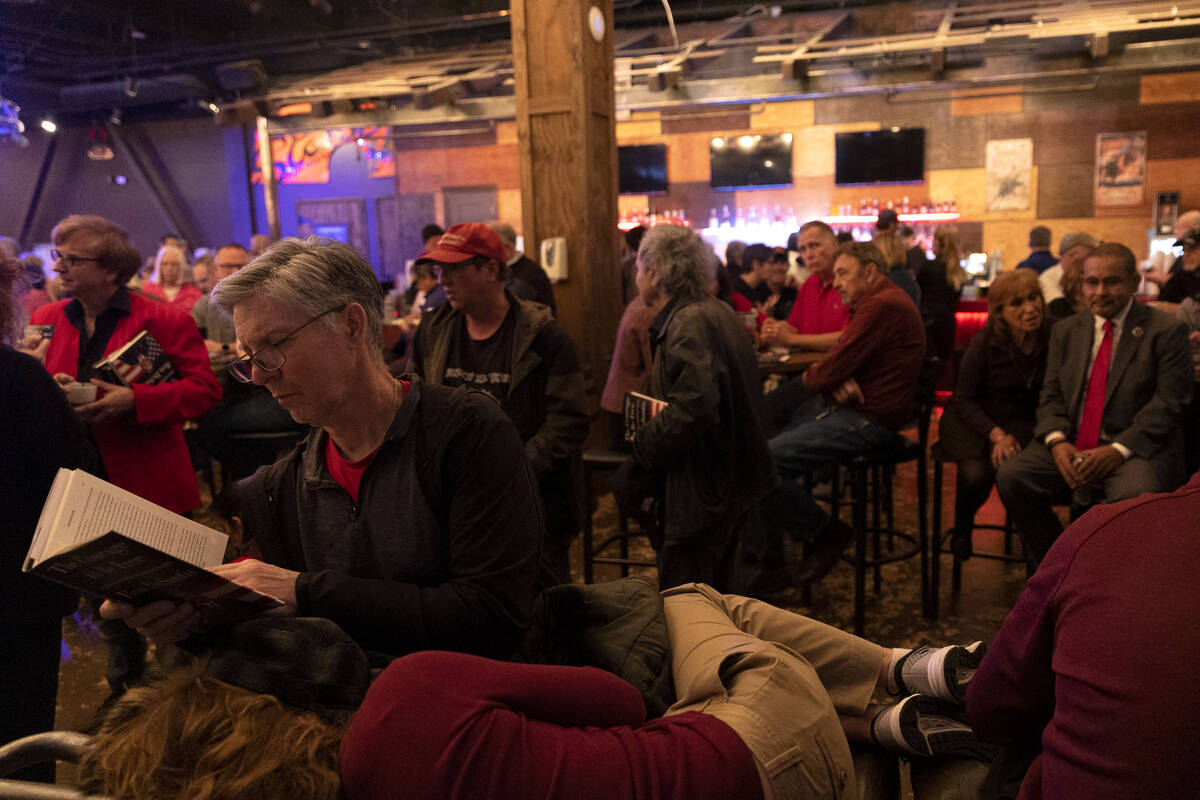 LAS VEGAS — Florida Gov. Ron DeSantis addressed roughly 1,200 people at Stoney's Rockin' Country on Saturday afternoon, advising them on how Nevada and the rest of the country could take a page out of his state's playbook.
DeSantis has not officially declared a run for president, although he is widely considered to be a potential Republican candidate for the 2024 election. As many politicians do ahead of formally announcing a bid for office, he stopped by Las Vegas as part of his book tour for "The Courage to Be Free: Florida's Blueprint for America's Revival."
If he does announce his candidacy, DeSantis will join a field that includes former President Donald Trump and former South Carolina Governor Nikki Haley. Trump has taken to criticizing DeSantis on his social media app "Truth Social," calling him "Ron DeSanctimonious." Polls have consistently put Trump in the lead, followed by DeSantis and Haley, according to political polling analysis website FiveThirtyEight.
Former Nevada Attorney General and failed U.S. Senate candidate Adam Laxalt, Desantis' old roommate from the Navy, introduced the Florida governor on Saturday.
Laxalt said DeSantis became the most "consequential governor in our lifetime" when he was elected in his early 40s.
"He spent the first four years of his 40s with little kids, fighting for all of us across the country," Laxalt said. "Whether it was COVID, whether it was Disney … every time he was faced with the left trying to restrict liberty and freedom, he stood up each and every time."
DeSantis did not allow time to answer questions from the press Saturday.
"Washington said it was the duty of Americans to preserve what he called the sacred fire of liberty," he said to the gathered crowd. "This falls to people like us in Florida. Also the freedom-loving people in Nevada like yourselves. It's a responsibility. … I'm very confident that if we step up and do it and we never back down, that we will be able to turn this country around."
Bringing Florida accomplishments to the White House
When, or if, he announces his candidacy, DeSantis may already have a campaign slogan ready to go. "Make America Florida," a Florida motto that is mentioned in his book, has already been emblazoned on T-shirts.
DeSantis said Saturday that as governor of Florida he did not "sit around like some potted plant" and instead "went on the offense" on several issues, including giving parents more rights in education, rejecting "woke" culture and banning COVID-19 vaccine mandates.
"In Florida, nobody has to choose between the job they need and a shot they don't want," DeSantis said.
He also touted Florida's refusal to follow the rest of the country's strict COVID-19 lockdowns and kept schools and businesses open.
Florida had the 13th-highest death rates from COVID-19 per 100,000 people in the country, according to Statista and the New York Times. Nevada ranked 16th.
"I got to do what I think is right," he said. "My responsibility is to the people that I represent. I got to care more about preserving their jobs than I do about protecting my own political career."
DeSantis also signed an anti-riot law that aimed to stop violent protests, a move that drew concern from a United Nations committee — concern that DeSantis said Saturday he "wears as a badge of honor." However, that legislation was ultimately blocked by a federal judge for infringing on First Amendment rights of free speech and assembly.
DeSantis also spoke about the controversial move last fall to send approximately 50 undocumented immigrants living in Texas to Martha's Vineyard because of its status as a sanctuary jurisdiction that claimed to be welcoming to migrants.
"Did they take them? No," DeSantis said. "They called out the army and deported them the next day."
However, the migrants were sheltered in a church on the island before being voluntarily taken to a nearby military base for support and to a hospital for medical care. The migrants were also assisted by civil rights attorneys with their immigration court proceedings.
Previous stances on Yucca go against Nevada Republicans'
Ahead of Saturday's event, the Nevada Democratic Party held a news conference calling DeSantis "too extreme for Nevada," calling attention to some of the governor's stances that have put him at odds with Nevadans as well as Nevada Republicans.
When he served in the U.S. House of Representatives from 2013 to 2018, DeSantis repeatedly voted in support of Yucca Mountain and against attempts to stop the Yucca Mountain nuclear waste project. In 2018, he also sided with the Trump Administration, which supported the plan to store nuclear waste in Yucca Mountain.
Nevada Republicans, however, including then-Gov. Brian Sandoval, Sen. Dean Heller and current Rep. Mark Amodei opposed the efforts to start Yucca Mountain back up again.
Turning Yucca Mountain into the nation's nuclear waste basket is a move that is widely opposed by most Nevadans, according to statewide polling, and is something both Democrat and Republican lawmakers in the Silver State generally agree on.
"DeSantis has proven to be one of the most extreme Republicans in the party, they've ever seen to date," newly-elected Democratic Chairwoman Daniele Monroe-Moreno said during the news conference.
Contact Jessica Hill at jehill@reviewjournal.com. Follow @jess_hillyeah on Twitter.