Gabby Giffords talks with gun violence survivors at UNLV
October 2, 2018 - 10:51 am
Updated October 2, 2018 - 4:19 pm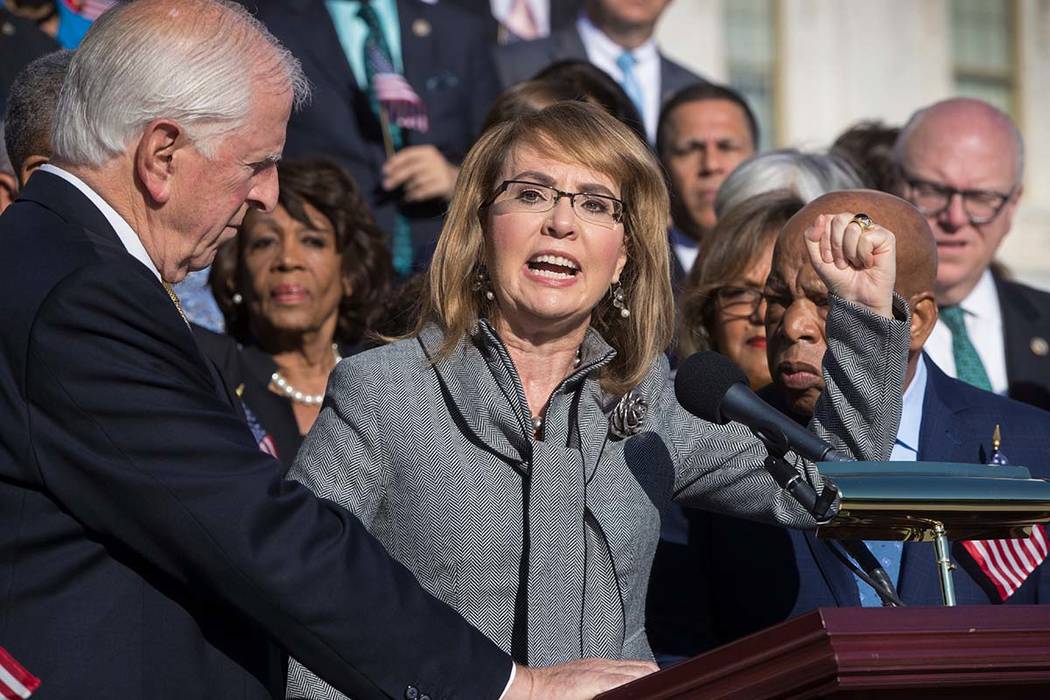 Chris Davis and his wife Debbie have found "little glimpses of light" to help them come out of the depth of darkness following the death of their daughter Neysa Tonks.
Seeing gun violence reform could be another.
They attended a roundtable discussion with former Democratic congresswoman and gun control advocate Gabby Giffords and her husband Capt. Mark Kelly on Tuesday — the day after the one-year anniversary of the Oct. 1, 2017, shooting on the Las Vegas Strip.
"We admire Capt. Kelly and Gabby, and we know they have a story similar to ours," Davis said. "I want to see where they stand and where our politicians stand, and what they're going to do about gun violence."
Giffords and Kelly spoke with gun violence survivors, students and local politicians at UNLV on Tuesday as part of the kickoff to their "Vote Save Lives" tour.
Kelly said it's been an "incredibly difficult year" for most in the room, while also acknowledging that it's been nearly eight years since Giffords and 18 others were shot during a constituent event in a grocery store parking lot in Tucson, Arizona. Giffords was shot in the head.
Kelly said that he visited two Las Vegas hospitals in the week that followed the Route 91 Harvest festival shooting and was amazed by how the facilities were able to handle the injuries of so many people after a massacre that killed 58 people and wounded hundreds more
"It's just a tough, tough situation," Kelly said. "But we want to leave you with a message of hope, and that we can do better as a country. We're like no other developed nation on the planet when it comes to gun violence, and we can do better."
Doing better requires electing different people to office, especially Congress, Kelly said. They vocalized support for Susie Lee, the Democratic candidate for Nevada's 3rd Congressional District, and Steven Horsford, the Democratic candidate for Nevada's 4th Congressional District.
Lee said that when her son was asking her questions about the Oct. 1 shooting last year, she said she couldn't say, "It's OK, it will never happen to you."
"I think we've woken up as a country to understand that first and foremost, we have to vote," Lee said. "And we have to vote for people who are going to stand up. And then we have to hold them accountable."
Sandy Phillips, whose daughter Jessi was killed in the 2012 movie theater attack in Aurora, Colorado, said she's frustrated that there have not been more gun law reforms on the national level, but that she's seen movement elsewhere — especially in Colorado.
"State by state we've been working with politicians for a long time, now for six years, and we have seen change, and we have seen good gun laws get passed," she said.
As the roundtable discussion ended, Giffords encouraged people to vote.
"It's time to stand up for what's right," Giffords said. "We must do something, we must stop gun violence."
Following the discussion NextGen America President Tom Steyer arrived on campus for a canvass kickoff event. Las Vegas is the first stop for the "Vote Save Lives" tour, with other events planned for Irvine, California, Seattle, Portland, Oregon, Minneapolis and Houston.
Contact Natalie Bruzda at nbruzda@reviewjournal.com or 702-477-3897. Follow @NatalieBruzda on Twitter.