GOP's Paul Ryan visits Las Vegas Valley to boost Hardy, Tarkanian
October 29, 2016 - 7:20 pm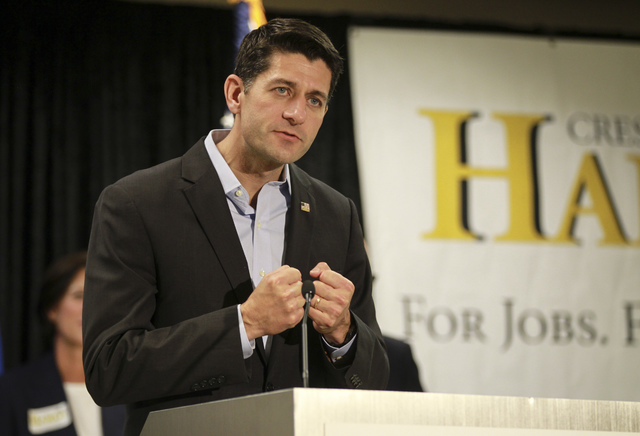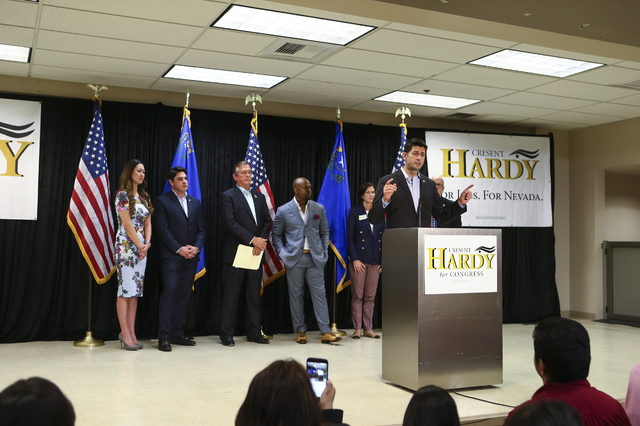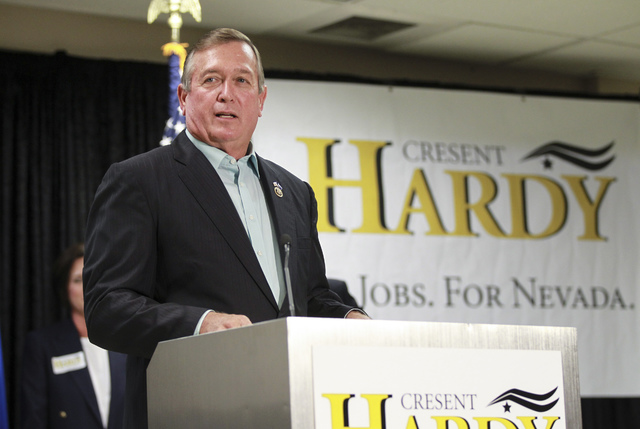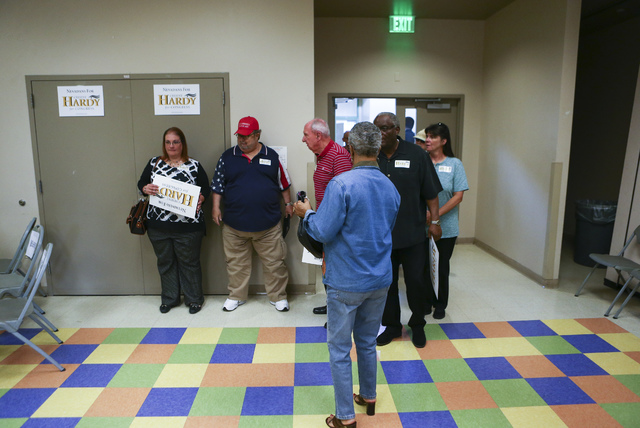 House Speaker Paul Ryan campaigned Saturday in Southern Nevada at separate events for congressional candidates Danny Tarkanian and Cresent Hardy.
The two Republican candidates are in the midst of competitive races that could flip to the Democratic column. Tarkanian faces Democratic candidate Jacky Rosen in the 3rd District race for the open seat created when U.S. Rep. Joe Heck, R-Nev., chose to run for Senate. Hardy, the incumbent in the 4th District, faces a competitive challenge from Democratic state Sen. Ruben Kihuen for his seat.
At the Pearson Community Center in North Las Vegas, the Wisconsin Republican thanked Hardy for his role helping craft his "Better Way" plan, which lays out a policy agenda on multiple fronts, including poverty.
"Cresent Hardy is one of the architects of this plan," Ryan told an audience of about 90 people gathered at the center. "Cresent Hardy is the man with the big heart who says, 'I don't have all the answers, but I'm going to go find out where they are, and where I see these great things happening, I'm going to get behind them."
In an interview with the Review-Journal, Ryan said he's seen strong grassroots support for congressional candidates as he's traveled throughout the U.S.
"What I see in Cresent's case is people know him, know his heart, and know how sincere he is," Ryan said.
He said Tarkanian will be a "great member of Congress" who is "running a really good race."
Ryan's visit came on the same day as Vice President Joe Biden stopped in Las Vegas to campaign for Hillary Clinton and down-ballot Democratic candidates.
Speakers at Hardy's event included Kevin Hooks, president and CEO of the Las Vegas Urban League, a nonprofit community action agency. He spoke of his good working relationship with Hardy and the need to eradicate poverty, which impacts people regardless of race or gender.
U.S. Rep. Greg Walden, R-Ore., and chairman of the National Republican Congressional Committee, talked about the need for supporters to knock on doors until Election Day.
At Tarkanian's campaign headquarters, Ryan praised him as a man of conviction who is needed in Congress.
Ryan, who has endorsed Donald Trump, didn't mention the GOP nominee at either event. Ryan did take aim at Hillary Clinton, whose campaign was rocked Friday by word that the FBI is investigating additional emails potentially linked to her use of a private server as secretary of state.
"This is what life is like with the Clintons," Ryan said. "It's scandal after scandal, after scandal. Right around the corner another investigation. You don't know what's coming next; playing by a different set of rules using the system to help themselves, not to help us. … Do we want four years of this?"
He stressed the importance of permanent solutions to poverty that are based on results, not levels of federal spending.
"We know what we need to do to turn this country around," Ryan said. "Look, we're running on an agenda. We're telling you here's what you need to do to get this country back on track."
Contact Ben Botkin at bbotkin@reviewjournal.com or 702-387-2904. Follow @BenBotkin1 on Twitter.
RELATED
Donald Trump, looking to right campaign ship, endorses Paul Ryan, senators