Hillary Clinton talks drug addiction in Las Vegas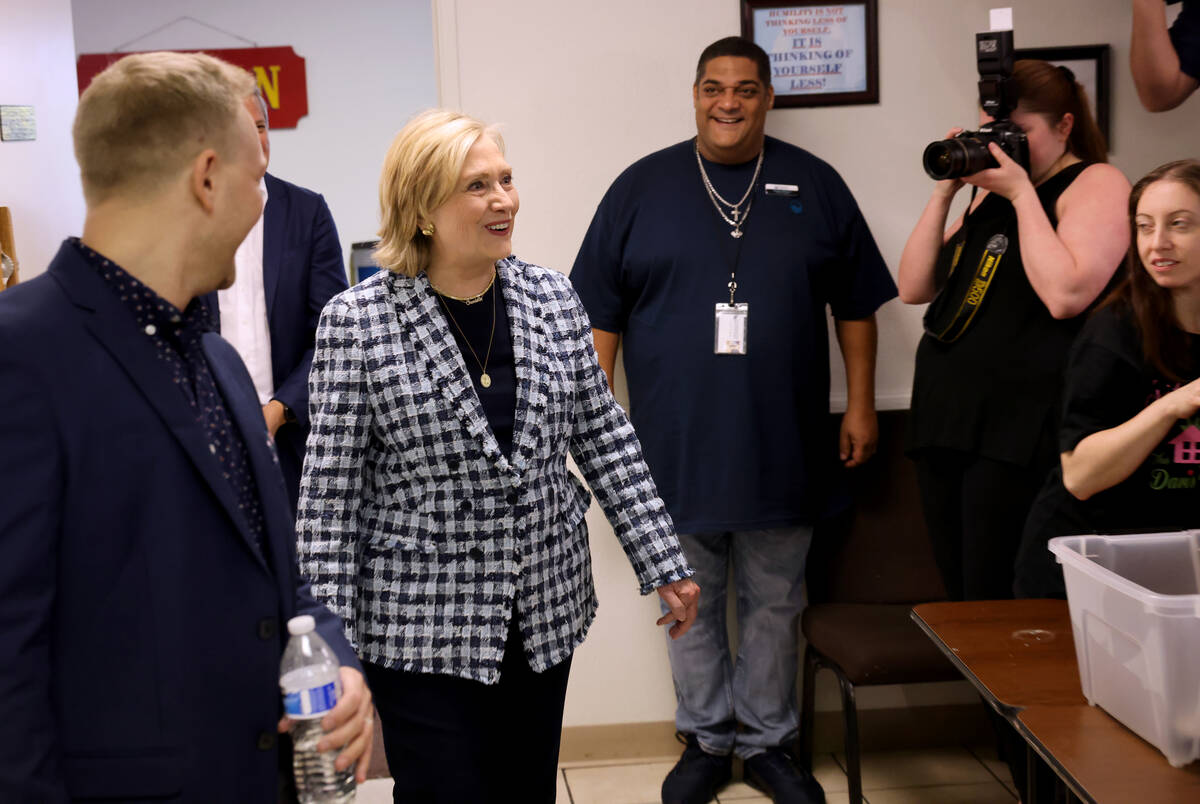 Robert Banghart's life was saved by naloxone twice in one evening when he overdosed from heroin.
Banghart, a 47-year-old Las Vegas resident, was living under a bridge at the time when he took his usual dose of heroin and overdosed. Luckily the people he was with had naloxone, an opioid overdose reversal drug that a recovery foundation had provided. After he woke up from the hospital, he left, only to overdose again hours later.
Banghart spoke about the importance of naloxone at the Foundation for Recovery in Las Vegas on Wednesday, where former Secretary of State Hillary Clinton visited to highlight her foundation's efforts to improve access to the overdose antidote.
Banghart had felt "completely lost" and disconnected from everybody in his life, he said. Now, he is "free."
"Today I live a really amazing life," said Banghart, now the outreach director for Shine a Light, a nonprofit organization that helps the Las Vegas homeless community. "I'm really thankful for the work that's being done."
The Foundation for Recovery is a statewide recovery community organization and was the first group to partner with the Clinton Global Initiative to distribute the life-saving drug. Since 2019, the foundation has distributed 20,000 doses of naloxone that were donated by the Clinton's organization, which has given out 720,000 doses to foundations across the country.
"It's a tragedy for every single person, and it has to be addressed," Clinton said during her visit. "And it has to be addressed effectively, and that's been our mission."
Across the country overdose deaths are high, with the Appalachian region the hardest hit. In 2022, an estimated 109,680 people died in the U.S. from drug overdoses, the highest on record, according to data released by the Centers for Disease Control and Prevention. Clinton said she and her husband know five of those people personally.
"Really, it was the number five that got us so motivated to be able to figure out ways to help," Clinton said.
Last year, 549 Clark County residents died from a drug overdose, 330 of which were from opioids, according to data provided by the Southern Nevada Health District. In 2021, there were 613 drug overdose deaths, and 560 in 2020.
The Southern Nevada Health District alerted the public last year to the risk fentanyl poses to the community when six suspected drug-related overdoses occurred during a 36-hour period in Clark County.
Organizations like the Foundation for Recovery aim to provide businesses, community centers and Las Vegas residents with naloxone so that they can administer the drug and save the person's life while waiting for emergency responders. They also work to educate the public to destigmatize addiction and raise awareness.
"We know firsthand the impact that this medication and this program has had on the lives that have been saved all across our state," said Foundation for Recovery Executive Director Sean O'Donnell.
Anyone can come to the center to pick up a kit if they know how to use it. Each kit comes with a bag, three syringes, three alcohol wipes, three vials of naloxone and one pair of gloves. If they don't know how to administer the drug, they can go through a quick training, said Sara Cerruto, director of training.
Joe Kiani, founder, CEO and chairman of the medical technology company Masimo Corporation, also highlighted two new technologies that aim to help people struggling with an addiction.
The "Opioid Halo," for instance, is a wearable sensor that connects to mobile phones, monitors physiological data of the person and in the event of an overdose will alert emergency dispatch and loved ones. Another device called "Bridge" is worn behind the ear and helps reduce withdrawal symptoms for those in recovery, Kiani said.
Contact Jessica Hill at jehill@reviewjournal.com. Follow @jess_hillyeah on Twitter.
Kiara Adams contributed to this report.
Quick Facts about naloxone:
Signs of an overdose:
Breathing: During an overdose breathing is shallow, gurgling, or absent
Lips: Lips, and even fingertips, turn blue due to lack of oxygen
Unresponsive: Victim will not respond to verbal or physical stimulation
Eyes: Pupils are pinpoint due to opioids constricting the pupil to a small size
How to administer:
Administer naloxone through the nose if in a nasal spray form or inject in fattiest part of arm or thigh
Put person in recovery position
Wait two minutes before taking further action
Storage tips: Do not expose to direct sunlight or warm temperatures
There is a two year FDA expiration date, but the drug could still help after expiration date