Hillary Clinton urges supporters to vote early
November 2, 2016 - 7:24 pm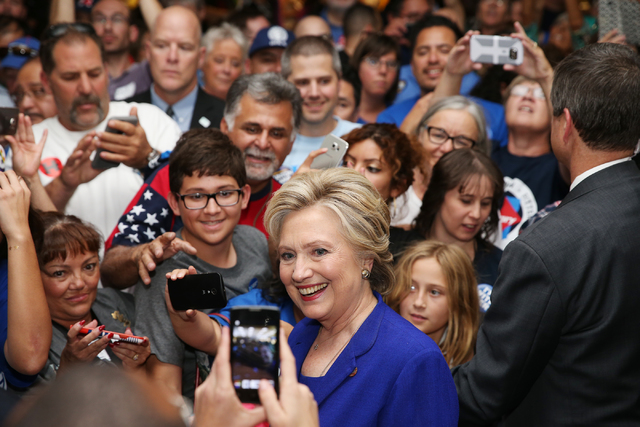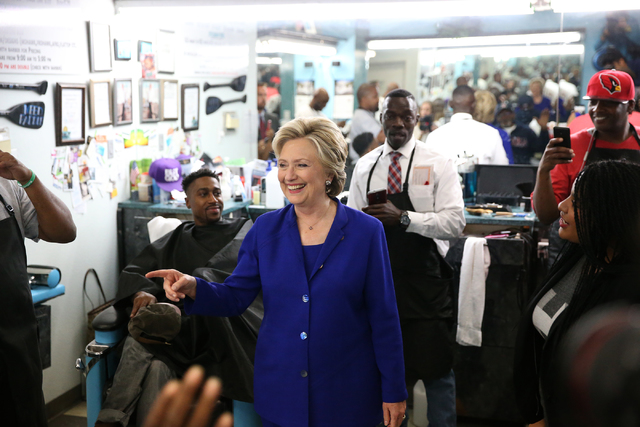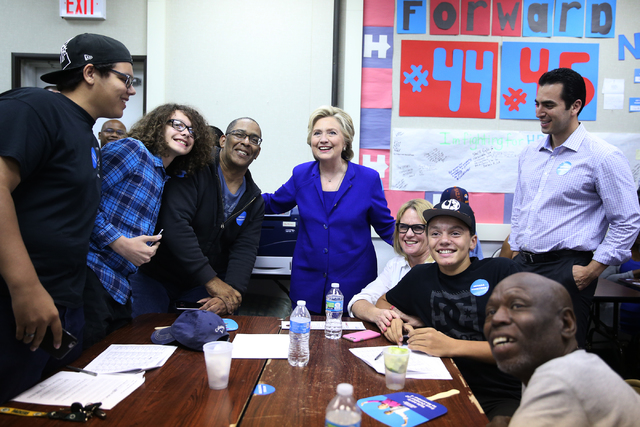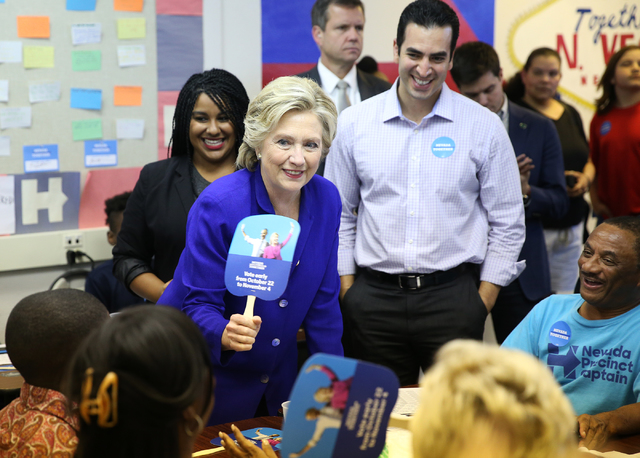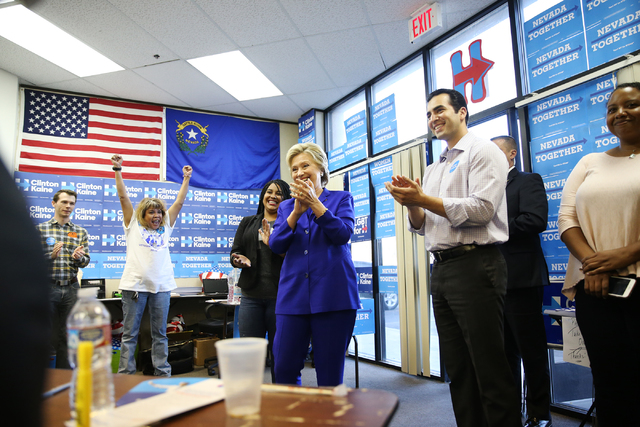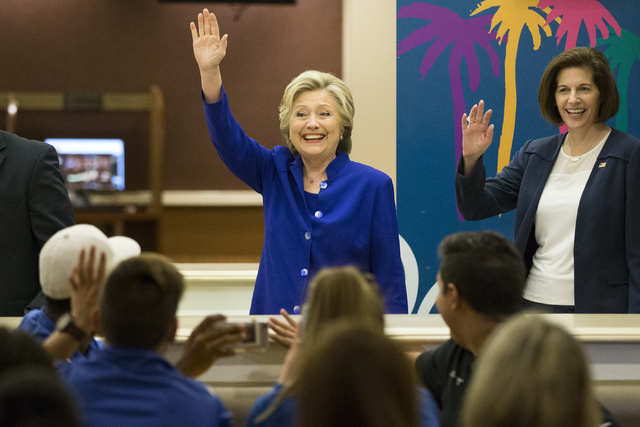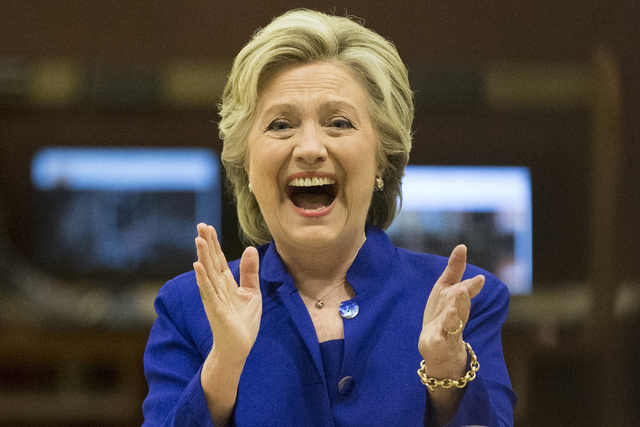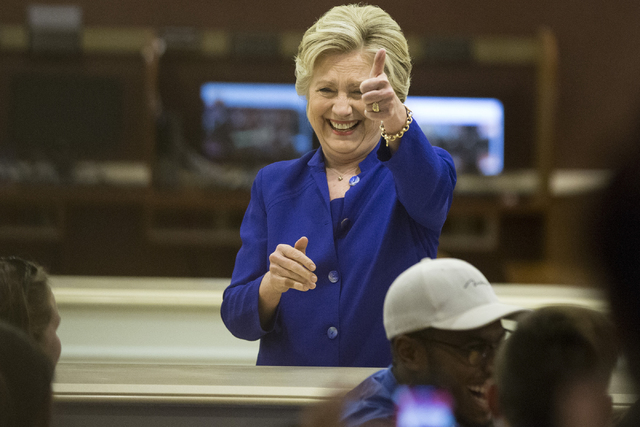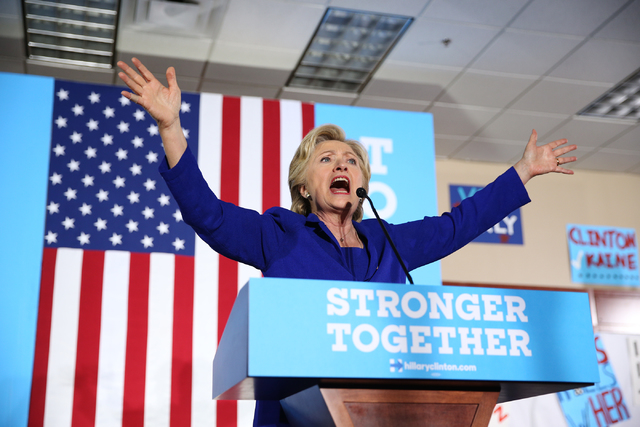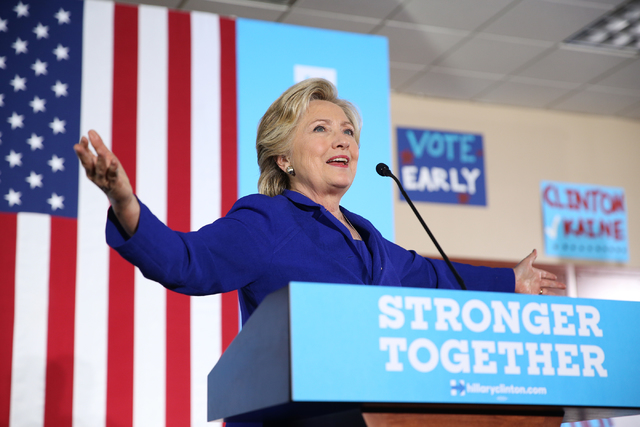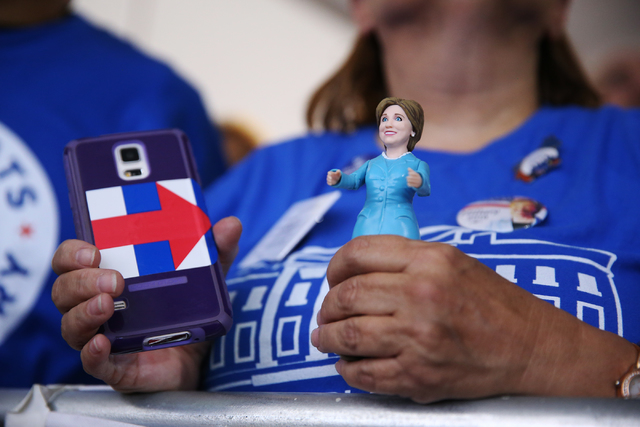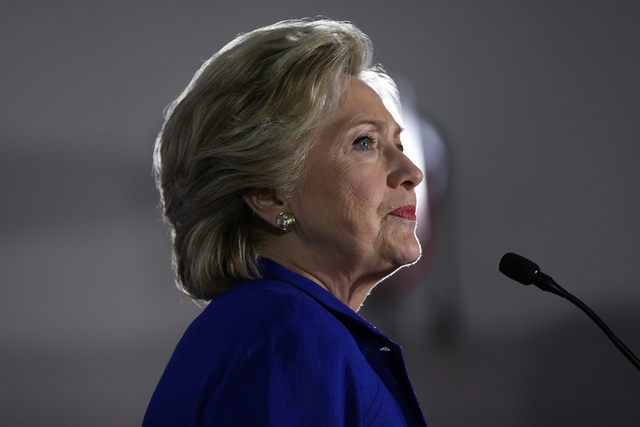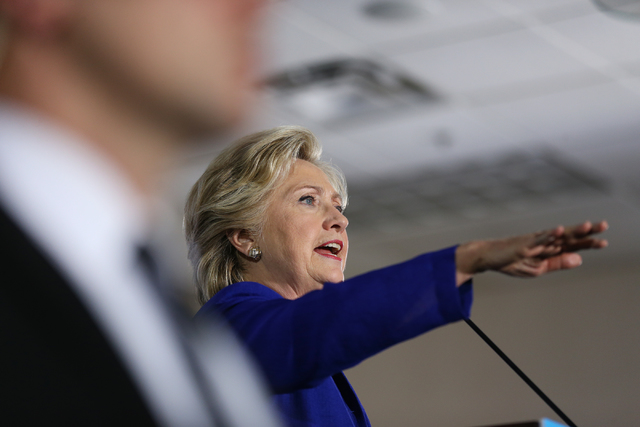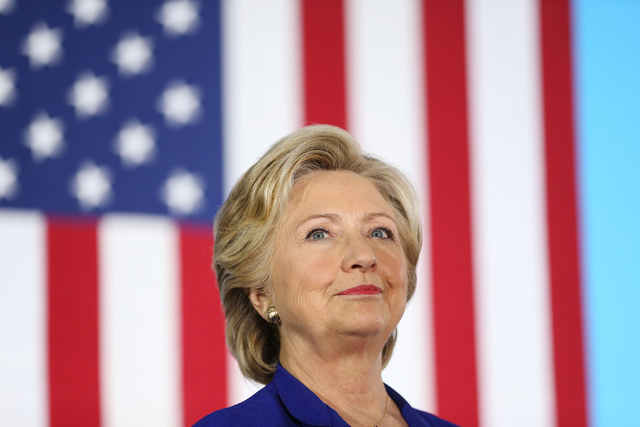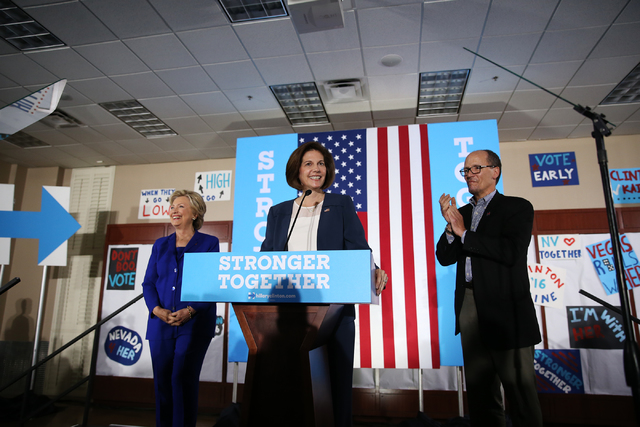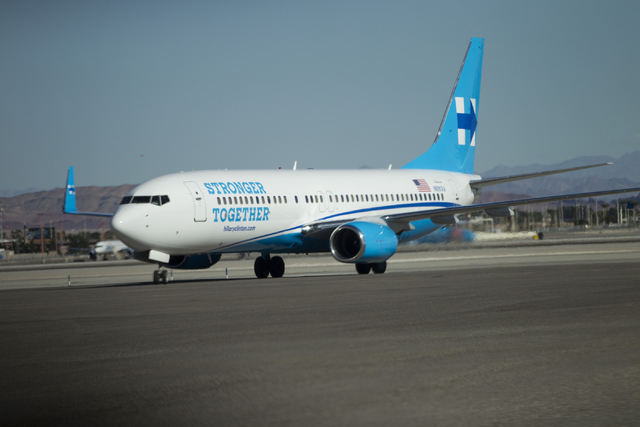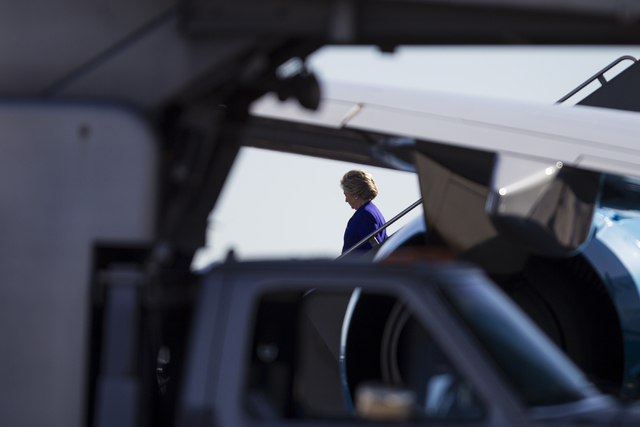 Hillary Clinton went on the offensive against Donald Trump at a Wednesday rally in Las Vegas, hoping to squeeze as many votes as possible from Nevada's early voting period.
The trip comes amid a strong Democratic effort to get people to the polls during early voting, which started Oct. 22 and ends Friday.
"Nevada has a big role to play in choosing our next commander in chief," Clinton told the crowd Wednesday afternoon at the Plumbers and Pipefitters Training Center, 760 N. Lamb Blvd. The Democratic presidential candidate took the stage after an introduction from Democrat Catherine Cortez Masto, who is running for Senate Minority Leader Harry Reid's open seat against U.S. Rep. Joe Heck, R-Nev.
Clinton asked supporters to contemplate what things would look like if Donald Trump were to win the election and to imagine him sitting in the Oval Office after Jan. 20.
She railed at the billionaire hotel magnate for his comments about immigrants, African-Americans, Muslims and especially women, noting how he bragged on an "Access Hollywood" bus in 2005 about groping and kissing women without their consent.
"Our girls would grow up with a president who proudly ranks women by their looks. Who brags about doing things to them without their consent," Clinton said. "Just imagine what that he might do to young girls' and women's confidence in this country."
Clinton also blasted Trump for not saying he'd accept the election's results when asked at the third debate in Las Vegas.
"He refused to say," Clinton said. "That has never happened in American history before. Donald Trump has shown us the kind of person he is and the kind of president he would be."
Clinton urged attendees to remind fellow voters "what's at stake in this choice — everything."
"You have six days to convince everybody you can talk to to get out and vote," Clinton said.
The choice to hold Wednesday's rally at the labor union training center could seem odd, given Clinton's opposition to the Keystone XL Pipeline, a project most labor unions, including the Plumbers and Pipefitters, favor as a catalyst for job creation.
As secretary of state and last year in her early campaign, Clinton avoided taking a stance on the pipeline. In September 2015, Clinton publicly declared opposition to the project.
Tony Mathis, a 44-year-old pipefitter and union member in Las Vegas who attended the Clinton rally, said he knows his union supports the pipeline, but added that her opposing the project wasn't a deal breaker.
"The Keystone Pipeline is not the only job," Mathis said. "I'm a union pipefitter but I am an American, and I'm very much about people's rights above all."
The Clinton campaign's push to get out the vote has included visits to Nevada from President Barack Obama, Vice President Joe Biden and former President Bill Clinton. The former president plans to return to Las Vegas on Thursday; he'll appear with Steve Aoki for a concert and get-out-the-vote event.
On Wednesday, a few sign-carrying protesters, including Heather Panozzo, stood on a street corner outside Hillary Clinton's rally.
The 27-year-old Las Vegan said she switched from the Democratic to the Green party, because she felt as if the Democratic Party colluded against her first choice for president, Sen. Bernie Sanders, I-Vt. Although Jill Stein was running on the Green Party ticket, Panozzo said she planned to vote for "none of these candidates."
"I don't see any types of my beliefs that resonate with Hillary Clinton," Panozzo said. "None of them have worked to earn my vote, so that's why I'm voting this way."
After the rally, Clinton made several campaign appearances in North Las Vegas, visiting a Democratic field office with state Sen. Ruben Kihuen, the Democratic candidate in the 4th Congressional District race.
Clinton shook hands and thanked volunteers, some of whom have campaigned for her since before the February caucus. In the same North Martin Luther King Boulevard shopping plaza as the field office, Clinton visited Nicky's African Hair Braiding and Love's Barbershop.
"It is an absolute honor," owner Nichole Nelson told Clinton.
GOP presidential nominee Donald Trump campaigned in Las Vegas on Sunday. His son Donald Trump Jr. and former Republican House Speaker Newt Gingrich are scheduled to campaign in Southern Nevada on Thursday.
Contact Ben Botkin at bbotkin@reviewjournal.com or 702-387-2904. Follow @BenBotkin1 on Twitter. Contact Colton Lochhead at clochhead@reviewjournal.com or 702-383-4638. Follow @ColtonLochhead on Twitter.