House of Representatives District 3
October 29, 2016 - 11:50 am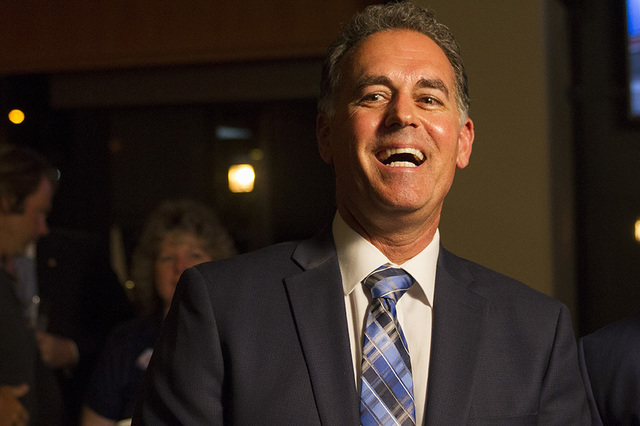 A perennial candidate and a political newcomer are facing off in one of the nation's most competitive — and well-funded — congressional races.
Republican Danny Tarkanian is in a tight race with Democrat Jacky Rosen for the open seat previously held by Rep. Joe Heck, who is running for U.S. Senate.
Two minor-party candidates, independent David Goosen and Independent American Warren Markowitz, are also running.
Nevada's 3rd Congressional District is a true swing district, and both national parties have pinpointed it as one primed for a fight.
Republicans see it as a district that has historically leaned Republican, while Democrats see the vacancy left by Heck as their best shot in years at making Nevada's congressional seats at least half blue.
A Republican has won the seat in six of the past seven elections, but the district also voted for Barack Obama in the 2008 and 2012 elections. Three of the past four presidential elections in the district have been decided within a single point.
Of Nevada's four congressional districts, the 3rd District is the closest in terms of voter party affiliation. Thirty-eight percent of active voters are registered Democrats, while 36 percent are Republicans.
Over $6 million in outside money, most from the national Republican and Democratic parties, have poured into the race.
DANNY TARKANIAN
While Rosen has been working to make herself known to voters, her opponent doesn't lack for name recognition. The son of legendary UNLV basketball coach Jerry Tarkanian, Tarkanian is also quite familiar with Nevada elections: This is his fifth run for office in Nevada since 2004.
His unsuccessful runs were for state Senate in 2004, secretary of state in 2006, U.S. Senate in 2010 and Nevada's 4th Congressional District in 2012. Tarkanian said he opposes amnesty for immigrants who are in the country illegally and wants to build a secure border wall between the U.S. and Mexico.
He wants the U.S. to become energy self-sufficient. His solution rests in local oil drilling such as the Keystone XL pipeline, an oil pipeline that stretches from Canada to New Orleans that he said would help the U.S. get off of its dependence on foreign oil.
He also said Yucca Mountain could be used not as a nuclear waste storage facility as proposed, but for "reprocessing spent nuclear fuel," which he said would help generate billions of dollars in construction for the state.
"There's a lot of great benefits to it," he said.
JACKY ROSEN
Rosen is a true newcomer in the political field but has the support of one of the nation's most influential Democrats in retiring U.S. Sen. Harry Reid.
When it comes to Yucca Mountain, Rosen said it "is dead, and it needs to stay dead."
"I will not support any effort to reopen it," Rosen said.
She is firmly against any effort to defund Planned Parenthood and supports comprehensive immigration reform that will give immigrants in the U.S. illegally a pathway to citizenship. Rosen said she opposes the Keystone XL pipeline, which has faced mounting criticism from environmentalists, and is a staunch supporter of renewable energy such as solar and wind. She thinks those are the solutions to make the U.S. energy-independent.
GOOSEN, MARKOWITZ
Goosen is hoping that voters are angry enough to buck the current political system.
"The two-party system has failed us," Goosen said. "The only answer is to not elect a Republican or Democrat." Goosen said he opposes most federal government regulation of people's day-to-day lives. He opposes the Affordable Care Act because it forces everyone to have a specific amount of health insurance or pay a fine, and he doesn't want to see background checks for firearm sales and transfers expanded. Question 1 on Nevada's ballot would expand requirements for such background checks.
He is in favor of legalizing recreational marijuana. "You should be allowed to do what you want," Goosen said. Question 2 would legalize recreational marijuana in the state.
Markowitz did not return phone calls seeking an interview but did respond to a Review-Journal questionnaire.
He said he is not in favor of any form of mass deportation but does not think undocumented immigrants in the U.S. should be given a path to citizenship. "I do not and will not support awarding someone for breaking the law," Markowitz wrote.
Markowitz also said control of federal lands, which make up over 80 percent of Nevada, should be transferred to the state.
"It was never the intention of the founders to authorize or establish a federal authority that has dominance in the internal workings of the state," he wrote.
Contact Colton Lochhead at clochhead@reviewjournal.com or 702-383-4638. Follow @ColtonLochhead on Twitter.