In 1963 speech in Las Vegas, JFK talked water conservation, education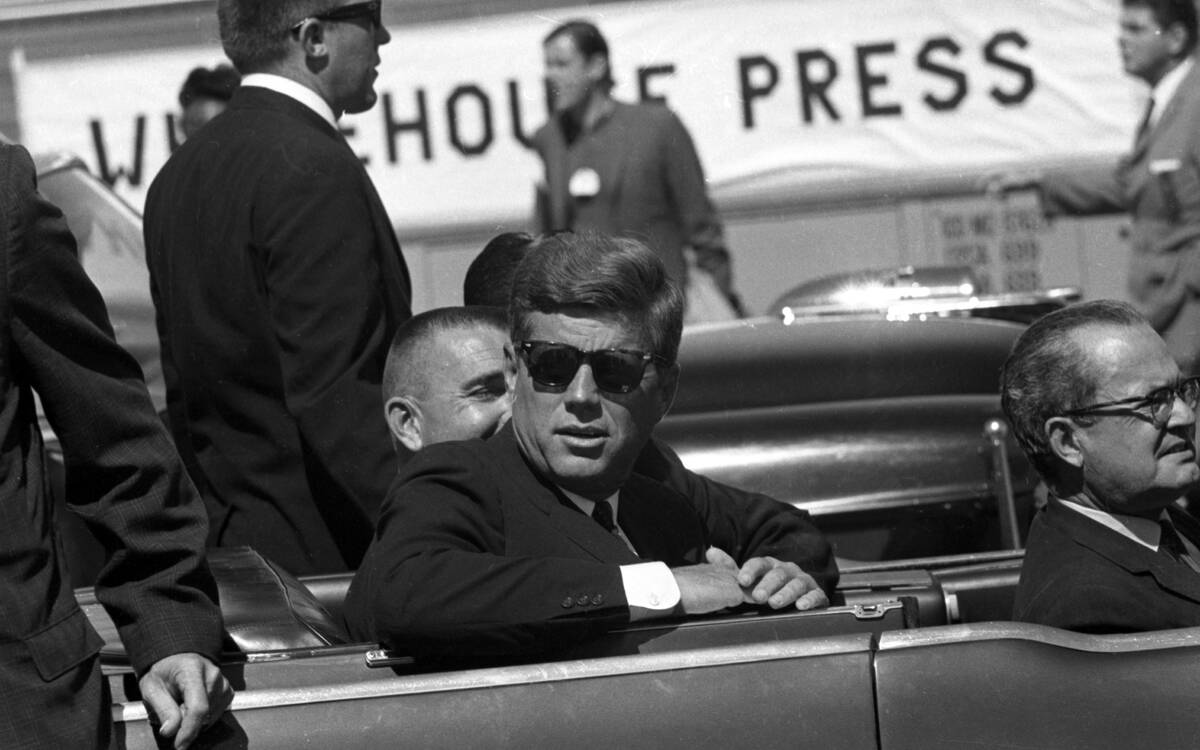 President John F. Kennedy had just finished addressing about 7,500 people at the Las Vegas Convention Center when he walked over to chat with members of the Rancho High School band.
"How long did you practice 'Hail to the Chief?'" Kennedy asked a couple of bandmates, as quoted in a 1963 Review-Journal article.
One member said, "Well, we had ball games and all. We didn't have long to rehearse."
"You played that piece with 'vigah,'" Kennedy replied, using his Boston pronunciation for "vigor" that he'd made a catch phrase as president, before shaking the hands of band members.
It was Sept. 28, 1963, not quite eight weeks before Kennedy would be assassinated in Dallas, Texas, when he visited Las Vegas for about an hour, the first sitting president to make a speech there (President Franklin D. Roosevelt visited in 1935, but spoke to dedicate Hoover Dam outside Boulder City).
Kennedy, 46, arrived at the old McCarran Field airport about 12:30 p.m. in his private jet (named the "Caroline" after his young daughter) with dignitaries including fellow Democrats — Nevada Sens. Alan Bible and Howard Cannon, Gov. Grant Sawyer, California Gov. Pat Brown and Secretary of Interior Stewart Udall.
He would ride in the president's official limousine — the same one he'd use in Dallas as seen in a film of his police-escorted motorcade headed north on Paradise Road toward the convention center.
The mission of his visit to southern Nevada was prescient given today's concerns over water levels at Lake Mead, the main source of water for Las Vegas, that has declined by 164 feet since 1983 amid a drought and fast-growing population.
In his plane nearing the end his five-day swing to several states, Kennedy flew over Lake Mead and Hoover Dam so he could see the area's federal water conservation projects, he said in this recording of his whole speech.
"And I can assure you that from my experience of the last days, however useful it may be to sit at a desk in Washington and read statistics about increasing population, and about the need for water, there is no better education for a president, a senator, congressman or a citizen than to fly over the west," he said.
"And see where it's green, where water has done its work and see where it's arid, where there is no water. And then you come to understand the truth of what the governor, the senator just said, that water is the key of growth and its wise use essential to the development of the western United States."
At one point, Kennedy observed that Nevada was the fastest-growing state. He asked for those in the audience to raise their hands if they were born in Nevada and those who were not to raise theirs. The audience laughed when the vast majority had not been born in the Silver State.
"There you are," he said. "I don't know why no one goes to (his home state) Massachusetts. So you pioneers are going to be followed by others. Everybody seems to move from east to west for some mysterious reason. But they do come here, and many more are going to follow you, and we want to be able to provide for them."
Contact Jeff Burbank at jburbank@reviewjournal.com or 702-383-0382. Follow him @JeffBurbank2 on Twitter.