Israel celebrates as US Embassy prepares to open in Jerusalem
Updated May 13, 2018 - 9:22 pm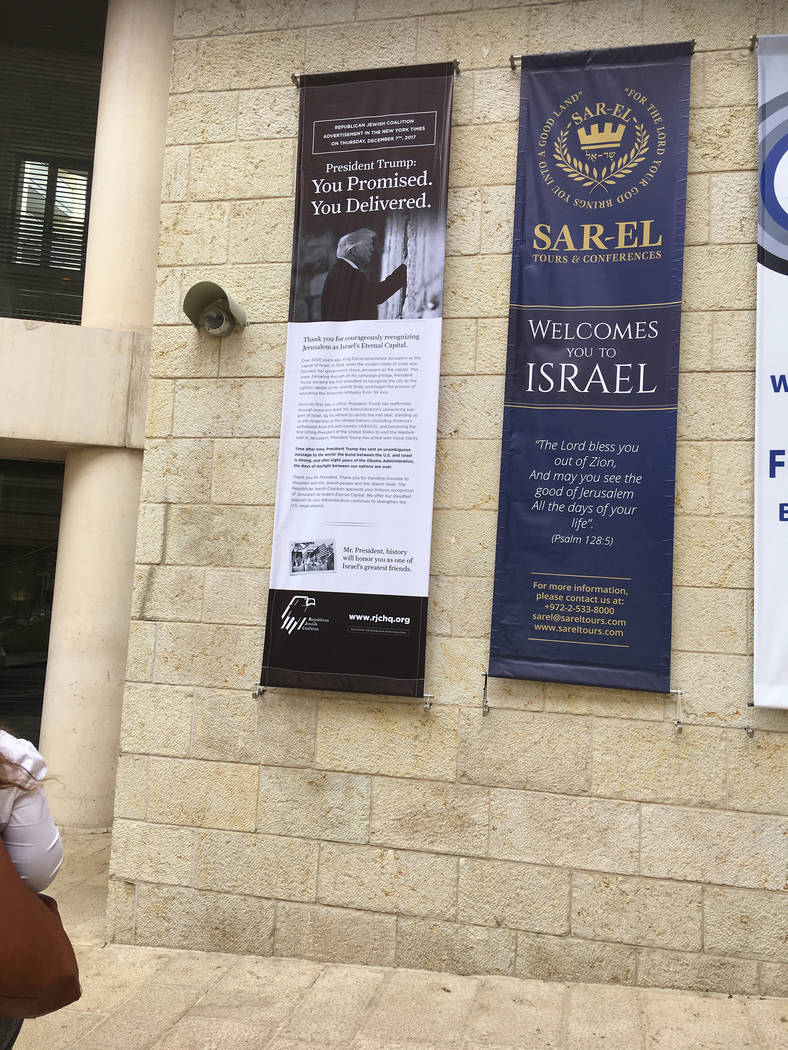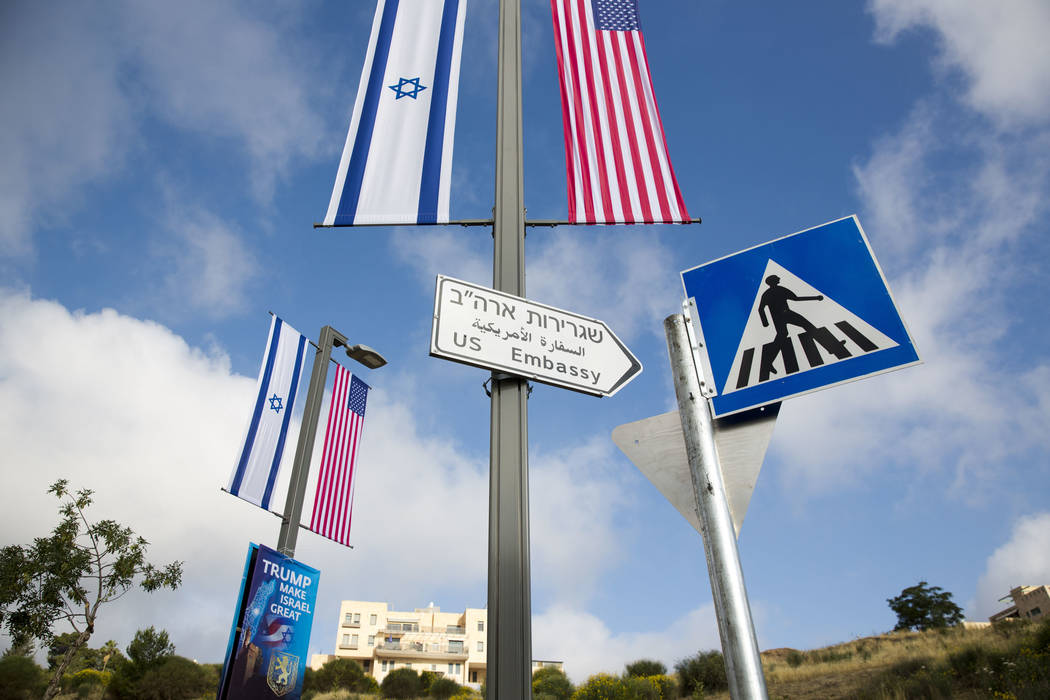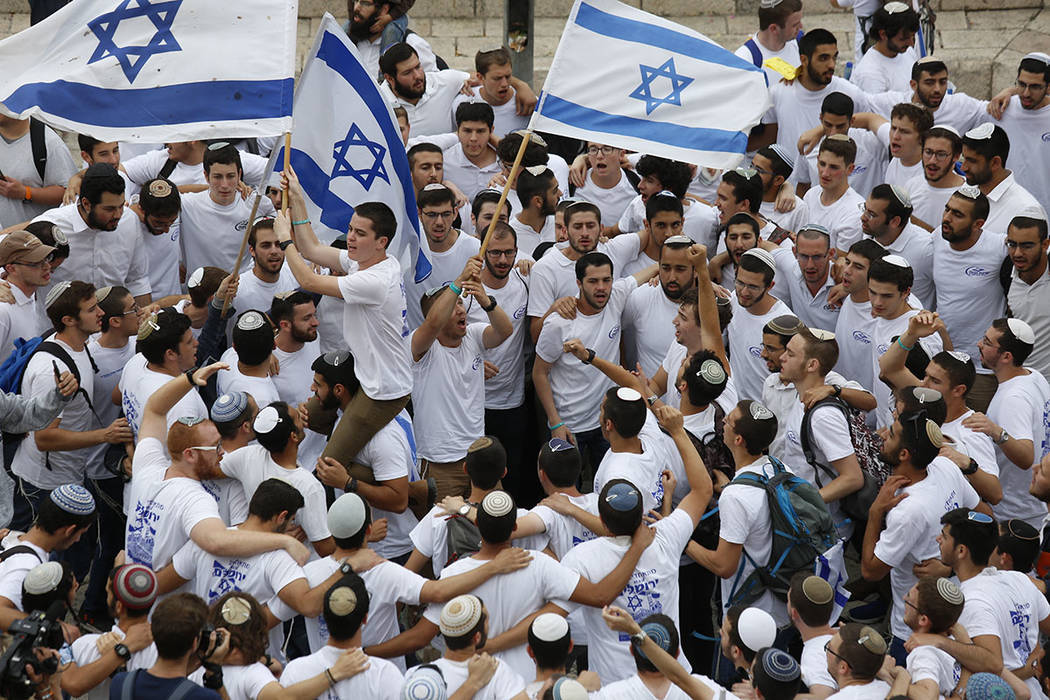 JERUSALEM — Celebrations across Israel welcomed the U.S. Embassy's official relocation to this historic city Monday, a move that fulfills one of President Donald Trump's biggest foreign policy campaign promises as well as a longtime wish of the American ally.
Ambassador David Friedman, who will preside over Monday's dedication ceremony, told reporters, "We are extremely proud of the fact that we have been able to open the embassy, as the president likes to say, ahead of schedule and under budget."
Trump will not attend Monday's embassy ceremony, but he is expected to address the planned audience of 800 remotely by video.
Israeli Prime Minister Benjamin Netanyahu held a reception Sunday night at the Ministry of Foreign Affairs in the lead-up to Monday's embassy opening. Earlier Sunday, young Jews marched and danced through city streets to celebrate Jerusalem Day, which commemorates the 1967 reunification of Jerusalem by Israel after the Six-Day War.
But the embassy move has its opponents. Protests from Palestinians erupted over the weekend and are expected to continue this week.
Ayman Odeh, the head of the Joint List of Arab-dominated parties in the national legislature of Israel, tweeted, "There's nothing festive about transferring the embassy. … The bullying of the Netanyahu-Trump alliance continues to deepen the conflict, to kindle racism and to spread hatred and violence."
Friedman credited Trump for making a "cost-effective" decision to carve out space in the U.S. Consulate in Jerusalem to create the embassy in the suburb of Arnona in a matter of months.
Deputy Secretary of State John J. Sullivan is leading the U.S. delegation in the absence of Trump, Vice President Mike Pence and Secretary of State Mike Pompeo. Sullivan spoke strongly in support of the embassy switch Sunday night.
First family members and advisers Ivanka Trump and Jared Kushner are expected to bring some glamour to the dedication. Treasury Secretary Steven Mnuchin and envoy to the Middle East Jason Greenblatt also are part of the team.
Republican megadonors and Las Vegas residents Sheldon and Miriam Adelson, who had pressed Trump to move the embassy, also appeared at Sunday's party.
"People have been waiting for 70 years for this to happen. We can't thank Trump enough," Sheldon Adelson told the Review-Journal.
The crowd had a mix of high-profile political and legal figures, including Jay Sekulow, who is part of Trump's private legal team responding to special counsel Robert Mueller's Russia probe; Alan Dershowitz, a Harvard law professor emeritus and Trump supporter; and Abbe Lowell, an attorney who has defended a number of Democratic politicians and now represents Kushner.
Signs thanking Trump for keeping his campaign promise on the Jerusalem embassy could be seen around town. Israel previously had announced it would name a train station near the Western Wall after Trump. In addition, a square near the Jerusalem compound will be named in Trump's honor.
On Friday, diplomatic staff gathered to toast the last day of the U.S. Embassy in Tel Aviv, Israel, which will become a consulate. Friedman will continue to work out of both locations as the United States explores sites for a permanent building.
The Trump administration continues to emphasize that it has not taken sides on specific boundaries that could be negotiated between the Israelis and Palestinians.
The Review-Journal is owned by Sheldon and Miriam Adelson.
Contact Debra J. Saunders at dsaunders@reviewjournal.com or 202-662-7391. Follow @DebraJSaunders on Twitter.