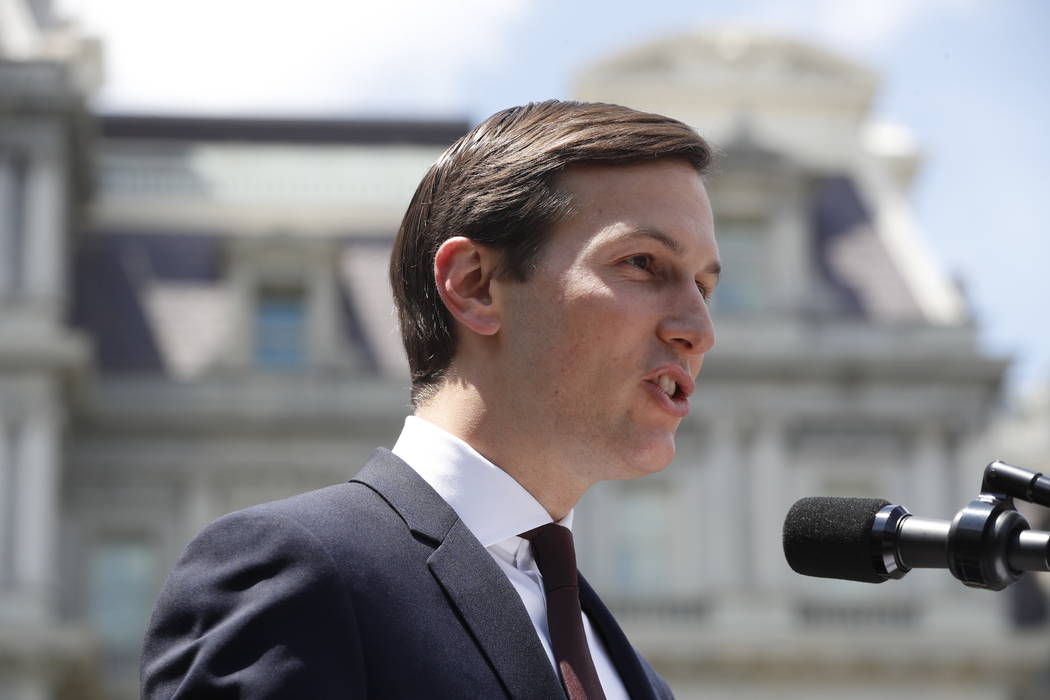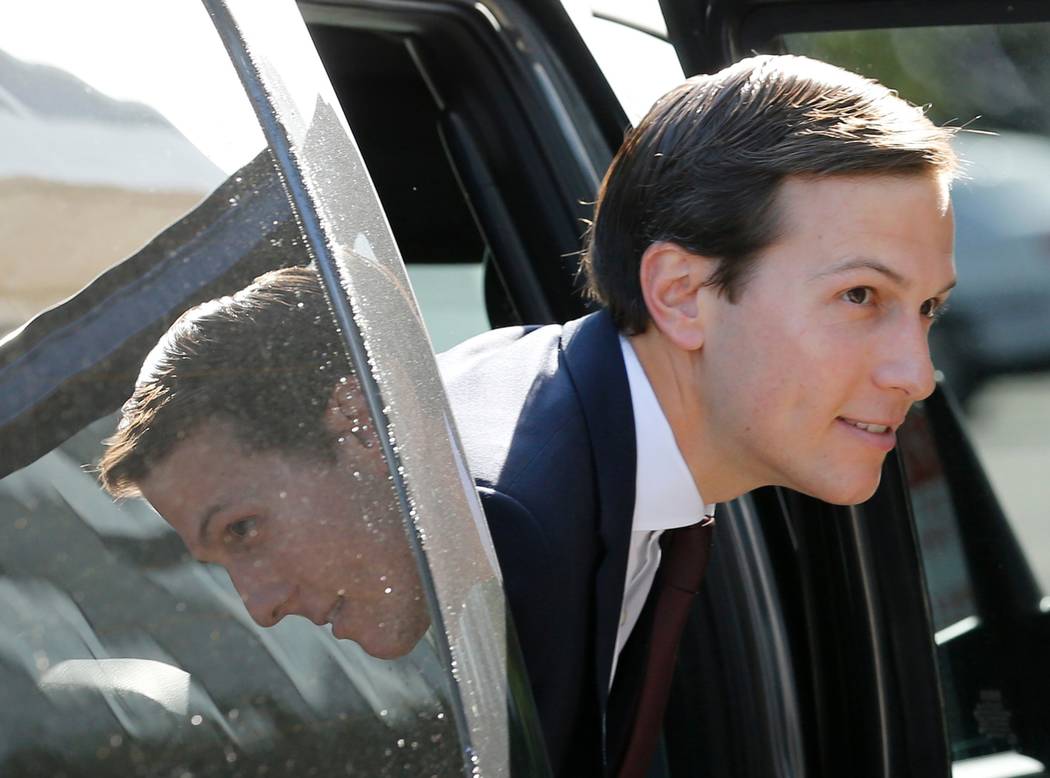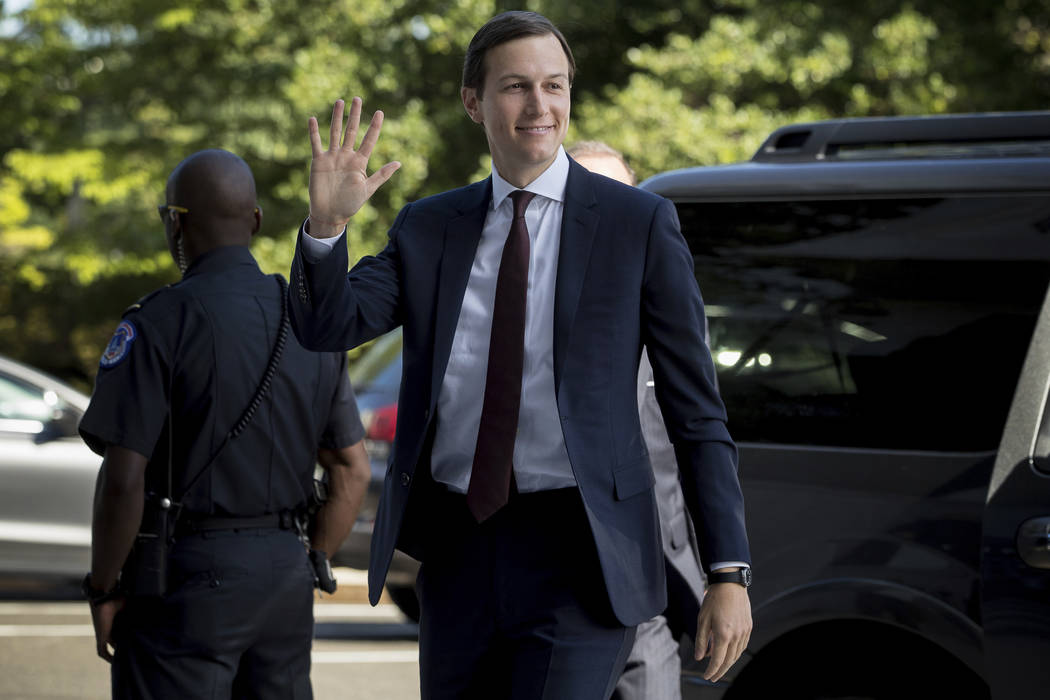 WASHINGTON — "I have nothing to hide," President Donald Trump's son-in-law and trusted aide Jared Kushner declared in prepared remarks made public prior to him testifying Monday in a closed hearing of the Senate Intelligence Committee.
"I did not collude, nor know of anyone else in the campaign who colluded, with any foreign government," Kushner added.
In an 11-page document, Kushner argued that any confusion and omissions concerning contacts with Russians or Russian officials "should be viewed through the lens of a fast-paced campaign with thousands of meetings and interactions, some of which were impactful and memorable and many of which were not."
He maintained that he had four brief uneventful meetings with Russians or Russian officials.
The first of those occurred in April 2016 when Kushner said he met then Russian Ambassador Sergey Kislyak before his father-in-law delivered a major foreign policy address at Washington's Mayflower Hotel. He said the exchange involved pleasantries, lasted less than a minute and afterward there was no follow-up with the ambassador.
Kushner refuted a Reuters report that he spoke with Kisylak twice over the phone after the Mayflower meeting but before election day. Kushner maintained that there is no record of any such calls, while there is a record of his failure to remember Kislyak's name.
After Trump won the election, Kushner said he did meet with a Russian banker with a direct line to Russian President Vladimir Putin at Kislyak's urging. At the meeting, the two did not discuss policy issues nor was there any talk about the bank financing Kushner's real estate projects, according to the document.
Kushner also met with Kislyak once at Trump Tower during the transition period after the election – a meeting also attended by former National Security Advisor Michael Flynn, whom Trump later fired for misleading Vice President Mike Pence about his communications with Russian officials. Kushner said the two discussed Syria. Kushner asked if there was "an existing communications channel at the Russian embassy," but he said he did not suggest a "secret back channel," and there was no discussion of U.S. sanctions against Russia.
Kushner admitted that at the request of his brother-in-law Donald Trump Jr., he attended a June 9, 2016 meeting with Russian lawyer Natalia Veselnitskaya. But Kushner maintained, he arrived late, considered the meeting a waste of his time and emailed an assistant to get him out of the meeting early.
Security clearance forms
Kushner also offered an explanation for failing to disclose all of his foreign government contacts on his SF-86 application for security clearance. He maintained that his assistant wrongly submitted an incomplete draft of the form on Jan. 18 and that his attorneys explained that supplements "are expected and invited" to fill in inadvertent omissions. Kushner had failed to mention the meeting with Veselnitskaya because he had forgotten about it, but he corrected the record after he was reminded of the meeting.
Kushner spent about two hours answering questions but not under oath on Monday. He is scheduled to testify before the House Intelligence Committee Tuesday in another closed-door session, at which he again is expected to not be under oath. In an email, however, a Senate staffer noted that "it's illegal to lie to Congress" – whether under oath or not.
Kushner is not the only Trump associate snared in investigations into the possibility that Russians colluded with the 2016 Trump campaign – a charge Trump vehemently denies and has labeled as "fake news."
The president's eldest son, Donald Trump Jr. and former campaign chairman Paul Manafort agreed last week to answer questions in a closed session of the Senate Judiciary Committee on Wednesday – also not under oath.
In addition, ranking Democrat Sen. Dianne Feinstein of California asked committee Chairman Chuck Grassley to have Attorney General Jeff Sessions testify about a Washington Post story on Kislyak communications intercepted by U.S. intelligence officials.
After his Monday morning session on Capitol Hill, Kushner read a statement outside the White House. As he did in his 11-pager, Kushner denied colluding with Russian officials and dismissed the idea that Russia could be responsible for his father-in-law's victory.
"Donald Trump had a better message and ran a smarter campaign, and that is why he won," said Kushner. "Suggesting otherwise ridicules those who voted for him."
Democrats react
Even before Kushner's testimony, Democrats had begun calling for officials to revoke the first son-in-law's national security clearance. House Minority Leader Nancy Pelosi called on officialdom to revoke Kushner's clearance two weeks ago after reports surfaced of his meeting with Veselnitskaya.
Democratic strategist Maria Cardona argued Monday that Kushner should lose his security clearance because, "Naivety is no excuse."
On MSNBC, Rep. Ted Lieu, D-Calif., accused Kushner of lying on his security forms. "He needs to be investigated and have those forms looked at again and his security clearance needs to be revoked immediately," Lieu charged.
But former CIA spokesman and 15.seconds.com blogger Bill Harlow considers such calls "premature."
"Somebody who's not used to security situations and meets lots of people could blow past the meeting stuff," Harlow said.
Monday morning, Trump took a swipe on Twitter against Rep. Adam Schiff, the ranking Democrat on the House Judiciary Committee. "Sleazy Adam Schiff, the totally biased Congressman looking into Russia, spends all of his time on television pushing the Dem loss excuse," Trump wrote.
Schiff responded, "With respect Mr. President, the problem is how often you watch TV, and that your comments and actions are beneath the dignity of the office."
Contact Debra J. Saunders at dsaunders@reviewjournal.com or at 202-662-7391. Follow @DebraJSaunders on Twitter.