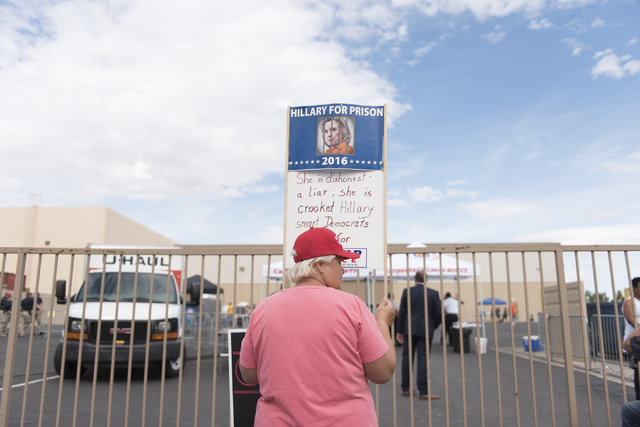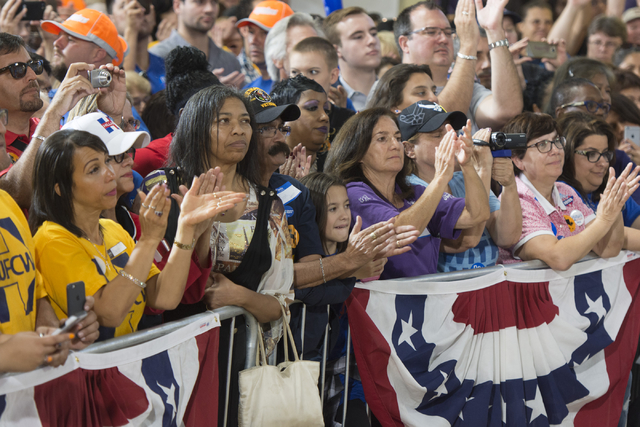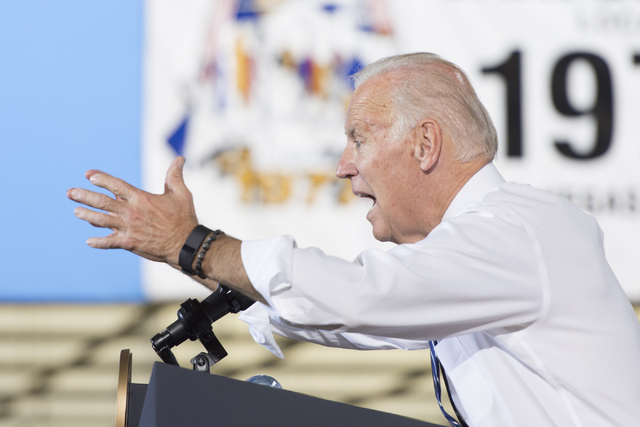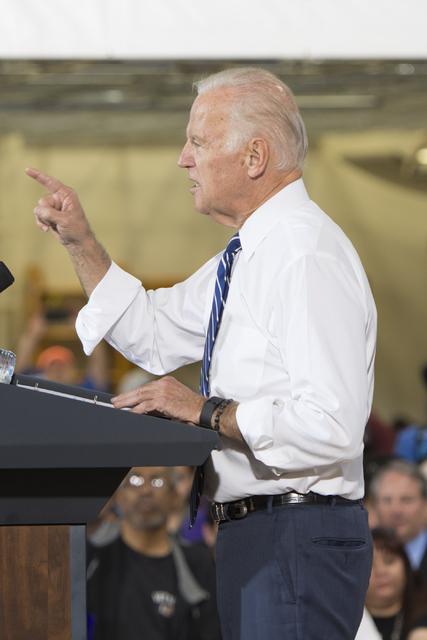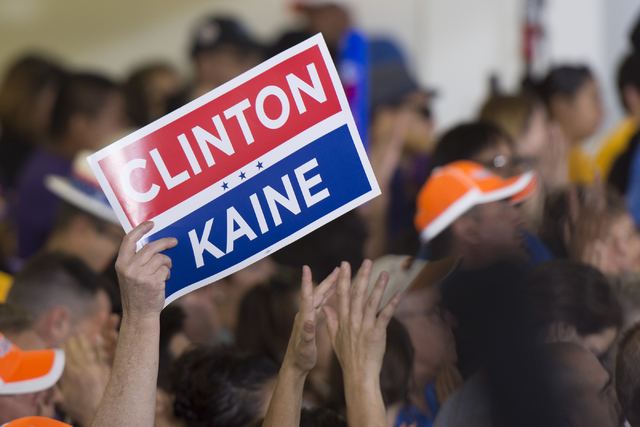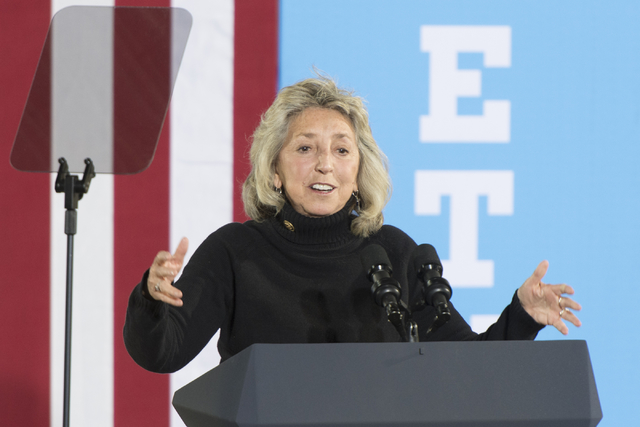 A Donald Trump presidency would be the beginning of the end for the house of labor, Vice President Joe Biden warned a crowd of union workers and others Saturday during a voting rally inside a south valley union hall.
Biden took to the stage with Sen. Harry Reid, Rep. Dina Titus and Democratic congressional candidates Ruben Kihuen and Jacky Rosen at the Southwest Regional Council of Carpenters. During a 25-minute speech, he encouraged hundreds of union workers to get out the vote for Democratic presidential nominee Hillary Clinton and Nevada Democrats.
"I look at the country as one big neighborhood," Biden said. "Some people live in pretty tough circumstances, through no fault of their own … and those institutions, those groups of people — whether it's their church or their union or their neighborhood council — those people who were there to help them in the bad times, who lift them up, they're getting battered.
"That's why we're involved in this enterprise, that's why we do what we do."
Biden said if Trump wins the presidency, and the Republicans keep hold of the majority in Congress, labor unions will meet their demise in eight years.
"(Republicans) declared war on labor's house 15 years ago," Biden said. "Why? You're the only guys who keep the barbarians from the gate."
Although he touched on the values of labor unions, Biden used much of his speech to call out Trump's incompetence and tout Clinton's qualifications.
"This man is unfit to be president of the United States of America," Biden said. He pointed to the Republican nominee's plans to ban all Muslims from entering the U.S., his reluctance to take advice from U.S. intelligence officials regarding Russian hacking, and his comfort with Saudi Arabia and Japan having access to nuclear weapons.
"This is a man who's devoid of any substantive knowledge about American security," Biden said.
He touted Clinton's goal to make child care more affordable for single mothers, adding that bringing those women into the workforce would increase the gross domestic product by trillions of dollars over a 10-year period.
The vice president also spoke about the importance of Clinton's plan to make four-year state college free, adding that college education would be available to 3 million people who can't afford it now.
Biden also urged the crowd to vote for U.S. Senate candidate Catherine Cortez Masto and help the Democrats take back the Senate.
"Look, guys, we need you the next 10 days. Every day from this day on is Election Day in Nevada," Biden said. "I want you to get out there and get people out to vote."
Biden also traveled to Reno for another campaign event and joined Cortez Masto at an ice cream shop Saturday afternoon.
Shelly Seeberg, a local organizer for the United Food & Commercial Workers union, stood outside the union hall after the rally, helping to organize canvassing volunteers.
"I feel good momentum," said Seeberg, a Las Vegas woman who has been involved with the labor movement for 20 years.
"What VP Biden said about the country as one big neighborhood, that speaks the truth of who we are as a labor movement as well," said Seeberg. "We're one big neighborhood and we're here to help each other."
Contact Kimber Laux at klaux@reviewjournal.com or 702-383-0283. Follow @lauxkimber on Twitter.
RELATED
Vice President Joe Biden campaigns in Las Vegas for Catherine Cortez Masto, Hillary Clinton
Biden speaks out against campus sex abuse at UNLV rally