11 file to replace Barlow on Las Vegas City Council
February 14, 2018 - 1:59 pm
Updated February 15, 2018 - 6:57 am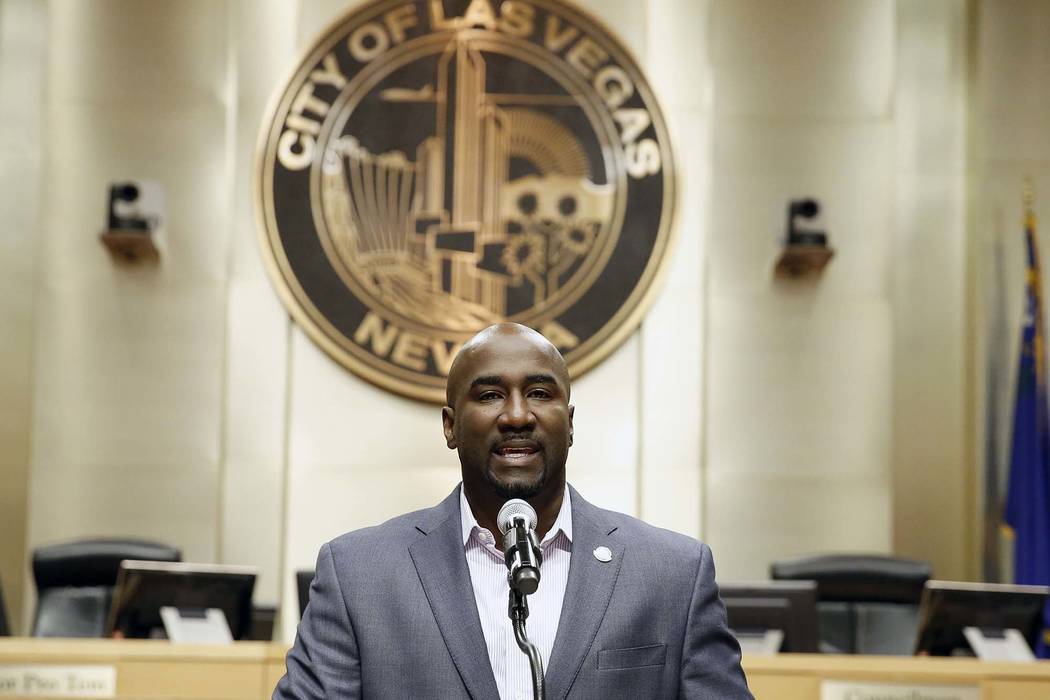 Voters in Las Vegas' Ward 5 will have 11 candidates to choose from when they cast ballots for their first new representative on the City Council since 2007.
The candidates for the March 27 special election are: Curtis Coleman, Sheila Collins, Cedric Crear, Timothy V. Hicks, Shannon Hopkins, Walter Jones III, Patricia Messinger, Joe Mitchell, Harvey Munford, Shondra Summers-Armstrong and Randy Voyard.
They are vying to replace Ricki Barlow, who stepped down in January and said he will plead guilty to a federal felony charge for misusing campaign money from his 2015 re-election effort.
The winner will serve out more than a year that remains on Barlow's term. Several of the special election candidates have said they plan to run in the 2019 election, when Ward 5 voters will choose a candidate for a full four-year term.
Mitchell, 48, works as a Ward 5 liaison to the council. In the remainder of the current term, Mitchell, who has worked for the city since 2013, said he would focus on "meaningful growth" and public safety.
"I've seen the statistics, and the increase in crime in our ward must be tackled head-on," Mitchell said. "If we are not working to protect the safety of the community, we will not be able to maximize the investment that is on the way."
Crear is a Nevada Regent and a member of the Las Vegas Planning Commission. Munford is a former Nevada assemblyman. Both said publicly before Barlow resigned that they planned to run in 2019.
Crear, 48, said in a statement after he filed candidacy paperwork that he has an "ambitious economic development and infrastructure plan." He declined to provide details Wednesday, but said he will roll them out in the future.
"We're ready," Crear said. "We're going to run a full campaign."
Munford would pursue "progressive solutions to Ward 5 challenges," he said in a statement this week.
"During my 12 years in the Nevada State Legislature, I prided myself on my honesty and openness with my colleagues, lobbyists and constituents. I will bring this same level of integrity to City Hall," Munford said.
Messinger, 61, is a real estate agent who has called Las Vegas home since 1980. She thinks the city has big zoning problems that need to be fixed, and she wants to further the city's plans for a campus that will offer a range of services for the city's large homeless population. The planned campus is on Foremaster Lane in Ward 5.
"I don't think a lot of people know about it," Messinger said.
Jones, 53, is a Las Vegas native and owns a landscaping company. If elected, he would push for more community programs for job training, seniors and ex-offenders, he said.
"We're lacking a lot of career jobs in Ward 5," Jones said. "That's what we need to focus on."
Hicks, 50, is a general contractor and a lifelong Las Vegan. He would prioritize development in Ward 5 and creating new job training programs.
A couple of the contenders have run for City Council before: Voyard unsuccessfully challenged Barlow in 2011 and 2015. Summers-Armstrong, 53, an accounting technician at the Regional Transportation Commission of Southern Nevada, ran for the Ward 5 seat in 2007.
She called the need for development and jobs two of the largest challenges facing Ward 5, which includes the Historic Westside neighborhood, part of downtown and Symphony Park.
"Development is going on in other areas of the city," Summers-Armstrong said. "How do we attract that to Ward 5, become a place developers are interested in?"
Collins, 51, is the founder of Girlfriends Who Inspire Change, an organization that works to empower women and girls. She wants to drive change in marginalized Ward 5 neighborhoods through public-private investments, beautification projects, community gardens and cultivating business ownership.
Coleman, Hopkins and Voyard couldn't be reached for comment Wednesday evening. Voyard would prioritize jobs and economic growth and ending "special treatment for politically connected insiders," according to his campaign website.
The two-day filing period closed at 5:30 p.m. Wednesday.
The City Council last week opted to hold a special election rather than appointing a candidate. The Ward 5 seat will remain vacant until April, when the winner of the special election is seated. Ward 5 staffers who worked in the office during Barlow's tenure remain in place. Early voting is scheduled for March 22 and 23.
City elections post notoriously low turnout. Former Las Vegas Councilman Bob Beers won a nine-way special election in 2012, where 5,244 voters cast ballots.
In the 2015 Ward 5 primary, when Barlow was elected to his third and final term on the council, 4,527 voters cast ballots.
A previous version of this story misspelled the name of Walter Jones III.
Contact Jamie Munks at jmunks@reviewjournal.com or 702-383-0340. Follow @Journo_Jamie_ on Twitter.