A veteran's eviction was halted at the last minute. Many more aren't as fortunate
Updated September 5, 2023 - 6:41 pm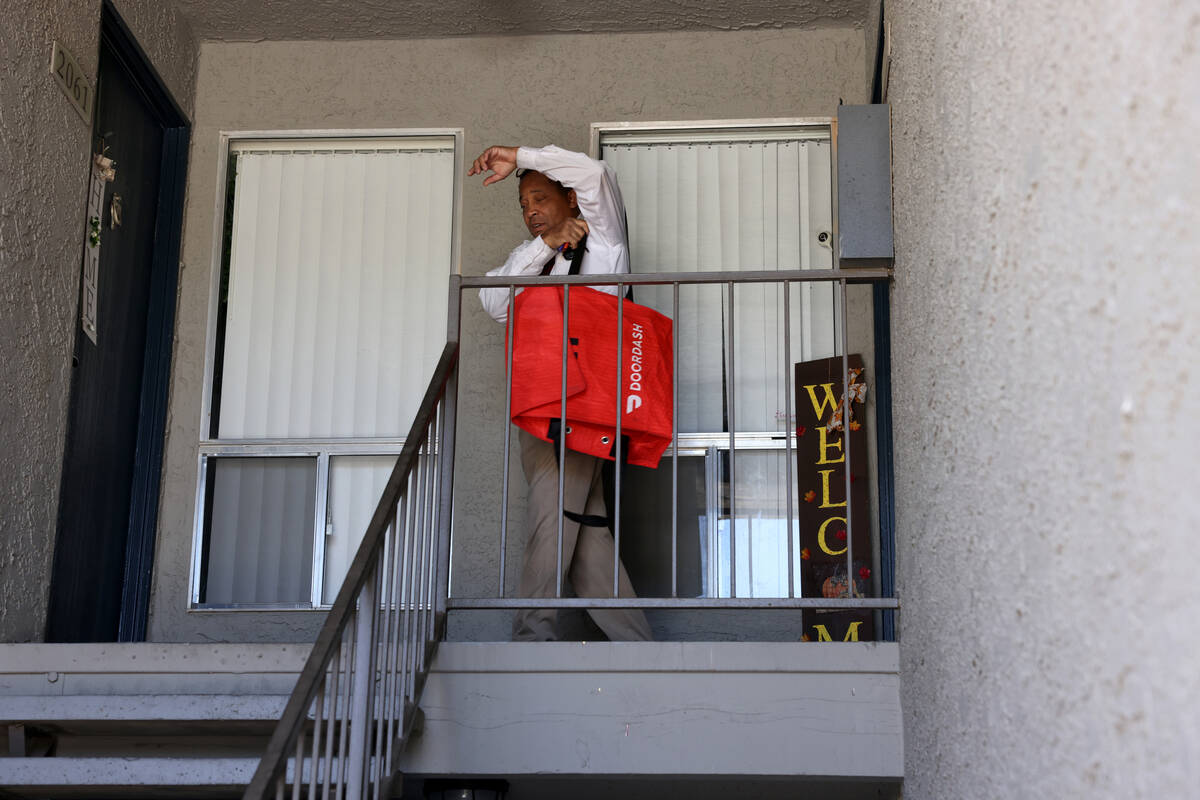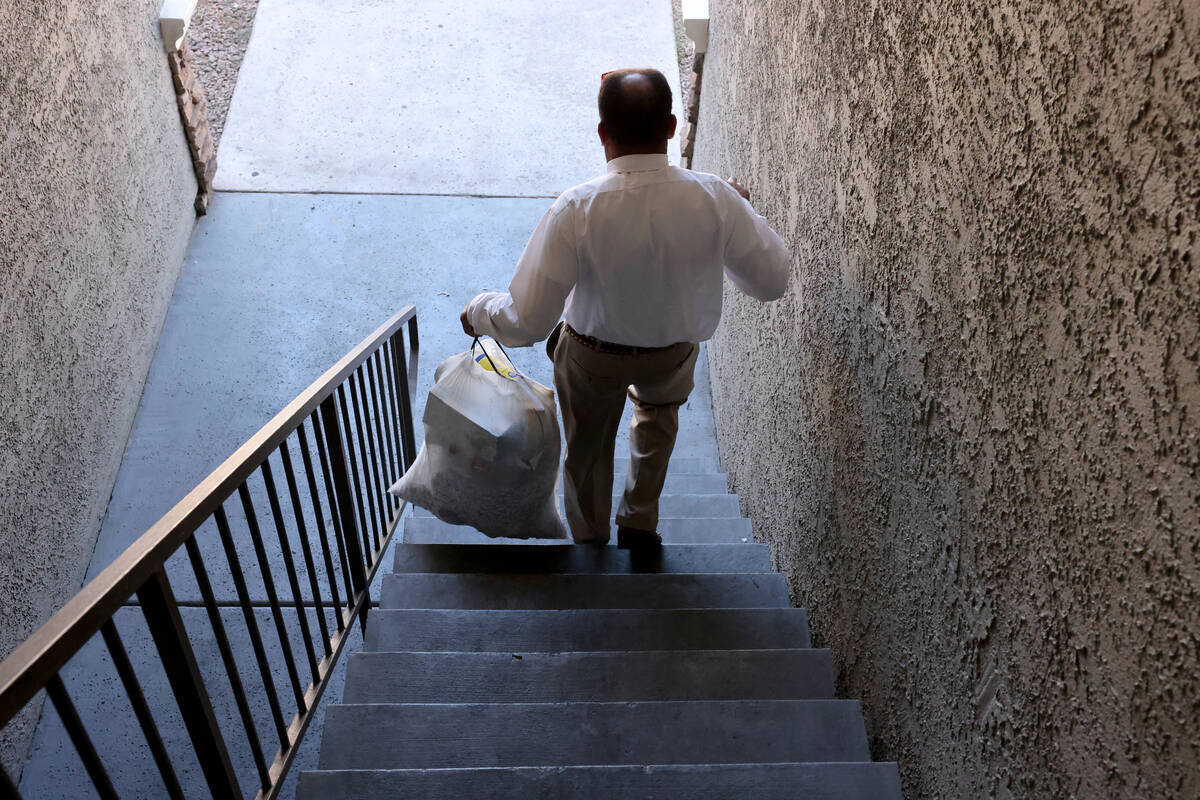 Burke Hall packed his modest two-bedroom apartment into boxes this week, not knowing where he was next going to have a roof over his head.
Miscommunication with a court-based eviction diversion program, designed to help tenants who've hit an economic snag, put the military veteran on a path to homelessness with no public recourse, according to the Legal Aid Center of Southern Nevada.
"I'll be living in my car, and I'm one of the lucky ones," Hall said in a whimper Tuesday, a day before the landlord was expected to lock him out of the apartment. "I have a car to live in. A lot of the families living out on the street, they don't have that; they need our help."
But hours before the deadline, thanks to a referral from the legal aid center, the United Labor Agency of Nevada nonprofit stepped up to pay Hall's back-owed rent, prompting the complex to halt the eviction. His church also pitched in to keep him afloat while he regains his footing.
With the payment, the landlord rescinded the eviction, and the court dismissed and sealed the case, a Las Vegas Justice Court administrator said Thursday.
But Hall is one of the many faces of Clark County's eviction crisis, where filings for the proceedings have exploded since the onset of the COVID-19 pandemic.
Explosion of evictions
A Princeton University-based "Eviction Lab" data analysis states that nearly 140,000 eviction proceedings have begun in Clark County since March 2020, a 115 percent spike from a pre-pandemic average during the same time period. The 5,299 proceedings filed over a recent month were a 164 percent increase "compared to filings over the same month" before the pandemic.
Over the past 12 months, there have been approximately 16 eviction filings for every 100 households that rent in the Las Vegas area, where the average monthly rent is $1,325, according to Eviction Lab.
As government pandemic-era protections like an eviction moratorium have lapsed, some residents continue finding themselves in precarious economic dilemmas driven by inflation and rising rents, advocates say.
Gov. Joe Lombardo also killed a bill from the 2023 Legislative Session that would've extended a law that delayed evictions for tenants awaiting a response from rental assistance programs up to 60 days.
And while rental assistance programs continue to be funded at the local and state level, delays in the application processes has exacerbated the eviction crisis, according to Jonathan Norman, policy director for the Nevada Coalition of Legal Service Providers.
He said that any eviction diversion program is bound to fail when the money dispersal is delayed.
"We're seeing a lot of people like (Hall) not be approved for rental assistance," Norman said. "It's just really hurting the community."
Falling behind
Hall's van was his lifeline. But things began to cascade when the vehicle broke down.
Hall, who's been "turning wrenches" since he was a child, moved quickly to fix the van at the expense of his rent, "taking every scrap and every penny" to do so.
The father of two sons that he has custody of on the weekends said he figured he would drive extra hours to catch up.
But he kept hitting mechanical issues, he said. Before long, he was behind three months on rent, and the complex began the process to kick him out.
He promptly responded to an eviction notice and sought help from the Las Vegas Justice Court Eviction Diversion program. The multi-agency partnership offers legal assistance and mediation between landlords and tenants, providing rental assistance to qualified households.
Locally, renters can initiate eviction proceedings after giving tenants a seven-day notice. Tenants who want to fight the case need to petition the court in person — a process not everyone understands, the legal aid center said.
Hall was referred to the court's diversion program and was told to wait two weeks to hear back about his application, he said.
He never got a phone call or an email, and when he inquired further, he found out that his case had been closed and help was denied after he hadn't responded, he said.
Even after the legal aid center interceded, his Aug. 24 eviction hearing proceeded anyway.
Hall had been the ideal candidate for one of the rental assistance programs, said Aaron MacDonald, lead attorney with the Legal Aid Center's Housing Justice Project.
'Life destroyed for years'
Judges and hearing masters have discretion to delay evictions up to 10 days. Hall got six days.
"It's up to your landlord at this point," a hearing master told Hall in court.
But Norman said that landlords have been hesitant to participate in the rental assistance programs.
While local government has implemented many initiatives to address homelessness, they don't always link homelessness with eviction policies, he said.
"We don't connect those two and say, 'Hey, how we handle evictions leads to the rise in homelessness," Norman said.
"The position it puts families in, I think, it's devastating," he added. "Your life is just destroyed for years, if you're able to rebuild it."
The court administrator told the Las Vegas Review-Journal that Hall had a successful diversion program appointment and that his information was forwarded to the county's social services.
"The Court is not experiencing protocol issues on our end," deputy clerk Jessica Gurley said. "Appointments with tenants are set, held and information sent to social services for final determination."
The county did not respond to a request for comment.
'Looking for an avenue'
"The situation has been very, very, very stressful," Hall told the Review-Journal before finding out the nonprofit had stepped in to help.
He teared up when he said he could not fathom telling his boys that he was on the brink of homelessness.
"I don't talk to them about this at all, because they're kids," he said. "They have school, they have other obligations. The last thing they need to think about is what I'm dealing with. That's not their problem, that's really mine."
Hall said he wasn't looking for a handout, and that he understood that renters also have bills to pay. Hall has recently started delivering food again after a friend let him borrow her car.
"It's called the Declaration of Independence, not the damn declaration of dependence," he said. "I'm just looking for an avenue."
Contact Ricardo Torres-Cortez at rtorres@reviewjournal.com Follow on X @rickytwrites.