Animal activists cheer city's crackdown on backyard breeders
Updated April 6, 2023 - 10:40 am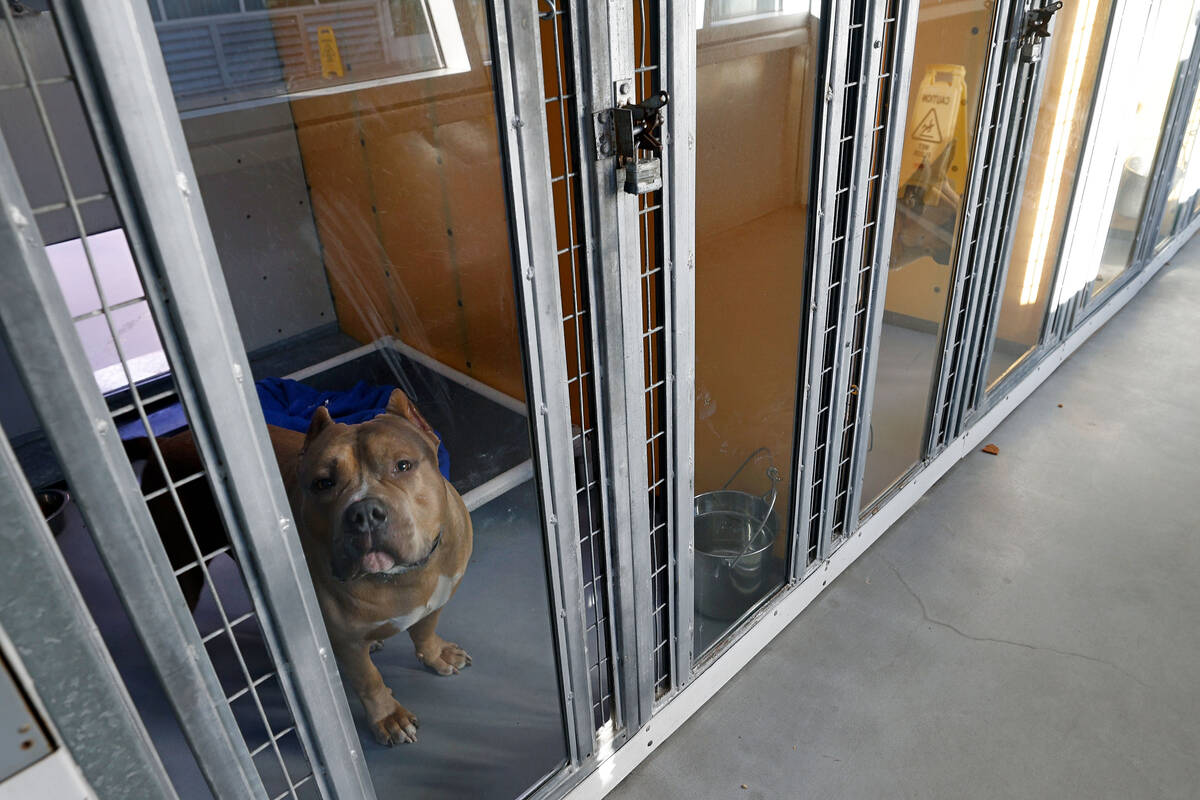 In a close vote and with animal activists cheering, the city of Las Vegas on Wednesday approved an ordinance that will attempt to rein in and regulate "backyard breeding" of dogs and cats.
With a 4-3 tally, the City Council approved permit fees, animal injury and death reporting regulations and mandatory minimum penalties for those found breaking the law.
"I did it for you because I know what you're going through," Councilwoman Victoria Seaman told a plethora of animal advocates present at the meeting. "This was for you, so we can bring people into compliance."
Seaman briefly mentioned the embattled Animal Foundation, the nonprofit shelter that's partially funded by local municipalities, and a crisis in the animal rescue community that's encountered an increasing workload and limited space to place the animals.
The point was highlighted with impassioned speeches during public comment.
For decades, the city has depended on business license ordinances to punish unlawful breeding. The newly passed ordinance will specifically address the practice.
On top of existing initial processing fees and biannual licensing fees based on gross sales, the ordinance tacks on a $50 fee for permits and inspections of "dog and cat breeders' operations," whether it's established animal businesses, or those who breed at their homes. Professional animal handlers' facilities will require signage with contact information for the city's animal protection services.
License holders will have to report animal deaths or injuries that require a visit to the veterinarian within 24 hours.
If requested by the city, the ordinance requires breeders to turn over injured or dead animals to animal protection services.
Mandatory penalties for unpermitted breeding includes a $500 fine and no less than two days in jail. The jail sentence can be waived if the breeders obtain a permit within 30 days, or agree to stop the practice.
Fines for a second offense rise to $1,000, plus no less than 10 days in jail for third offenses.
Rudy Tovar, with the city's department of public safety, said that officers will practice discretion and their goal will be focused on education and bringing breeders into compliance, rather than escalating potential criminal charges.
For a case to go to court, he said, "that individual absolutely (would) not want to get into compliance with us to begin with."
Complaints on backyard breeding are rare, and a minimal percentage of the roughly 20,000 calls animal control responds to every hear, he said.
Councilman Cedric Crear said that the discretionary language wasn't clear in the drafted ordinance.
Councilwoman Francis Allen-Palenske worried that the mandatory penalties for illegal breeding are more severe than first-offense domestic violence in Las Vegas.
She, along with Mayor Carolyn Goodman and Councilman Brian Knudsen voted against the ordinance.
Goodman expressed apprehension over taxpayer dollars used to bring illegal breeders into compliance, while there are other issues the city has to tackle.
"Some people prefer human being over animals, many prefer animals over human beings," she said. "I'm not getting (into) this discussion."
Contact Ricardo Torres-Cortez at rtorres@reviewjournal.com. Follow @rickytwrites on Twitter.