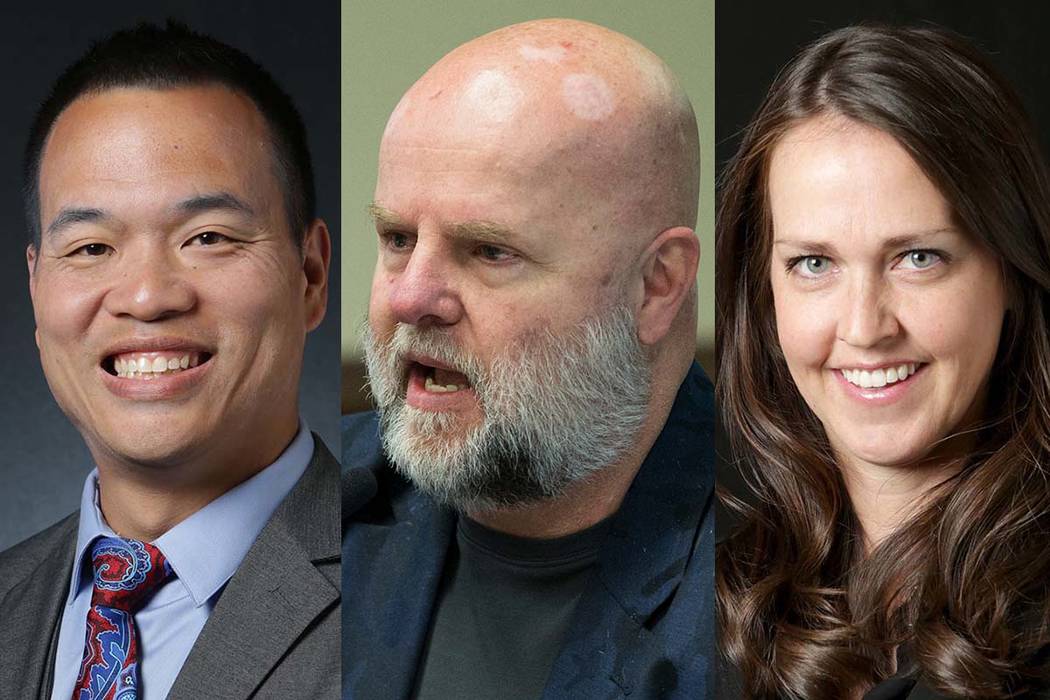 A race for Las Vegas justice of the peace and could become one of the most expensive judicial races the valley has ever seen, and two of the leading candidates are digging into their campaign coffers for what's turning into a heated contest.
Former Regent James Dean Leavitt, Chief Deputy District Attorney Elana Graham and private attorney Vincent Ginn are vying to replace Deborah Lippis, who stepped down from the Department 1 seat in September after more than 25 years.
Leavitt approached campaign manager Tom Letizia about the job almost a year ago as rumors of Lippis' retirement started to emerge.
After Graham joined the race in January, she and campaign manager David Thomas dug deep into Leavitt's past. They plan to run a campaign ad starting Thursday that references a 20-year-old incident in Oregon.
Ginn has not responded to phone calls from the Las Vegas Review-Journal, and his opponents say he has not attended campaign functions.
Graham expects to raise more than $100,000, while Leavitt could more than double that figure, according to their campaign managers. Tuesday is the first campaign finance deadline of the primary election cycle.
Should the race extend to the general election — which would happen if no candidate got more than 50 percent of the votes cast in the June 12 election — those figures could more than double for each candidate. The job pays a little more than $163,000 a year.
Ginn has posted campaign signs and launched a website. In a three-way race, he could be a factor in whether the seat gets decided in November.
Traffic violation
Graham's television spot, expected to air this week, references a 1998 reckless driving charge against Leavitt. He was indicted on a felony that was reduced to a misdemeanor and one-year license suspension, according to court documents.
A roadside flagger said he was struck in August of that year by Leavitt, who tried to drive away. Prosecutors said during a sentencing hearing that Leavitt had made a suggestion: "Wouldn't a hundred dollars and a handshake just make this all go away?"
"His efforts to undermine the criminal justice system by offering the victim $100 to make it 'go away' are inexcusable," Graham said. "He tried to circumvent the very system he is asking our community to entrust him to uphold. This conduct is completely unbecoming of a judicial candidate."
But Leavitt called the allegation "categorically, 100 percent false." He said he didn't immediately know the flagger had been hit and pointed to a traffic report that stated there was no damage to his vehicle and the flagger suffered a minor injury.
Experience matters
Also at issue in the race is a debate over experience. While Leavitt, 56, has practiced law in Nevada for 26 years, Graham, 34, referenced having tried dozens of cases in Clark County.
"He has consistently criticized my age because he cannot legitimately question my experience," Graham said. "I have tried over 25 jury trials, and he has done zero. My opponent touts as his experience having 100 cases set for trial, but that is not the same as actually trying a case. That's like a surgeon having 100 surgeries scheduled but never stepping foot into the operating room."
Leavitt says he believes any elected judge should have 20 years of legal experience, which Graham does not have. Nevada law requires Justice Court candidates to have practiced law for at least five years.
"You should have significant legal experience and you should have significant life experience to be a judge," Leavitt said. "I don't know anybody but the Legislature who would disagree with that. … I will be the most experienced judge in Justice Court when I'm elected. Every chance I get, I tell people the differences in our experience."
Contact David Ferrara at dferrara@reviewjournal.com or 702-380-1039. Follow @randompoker on Twitter.