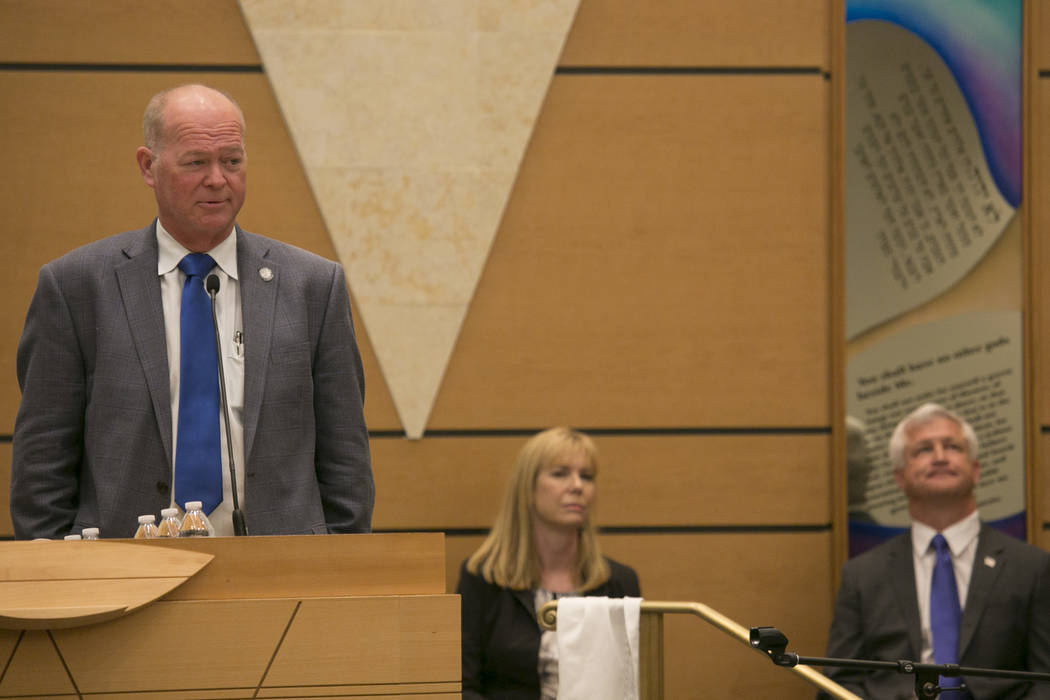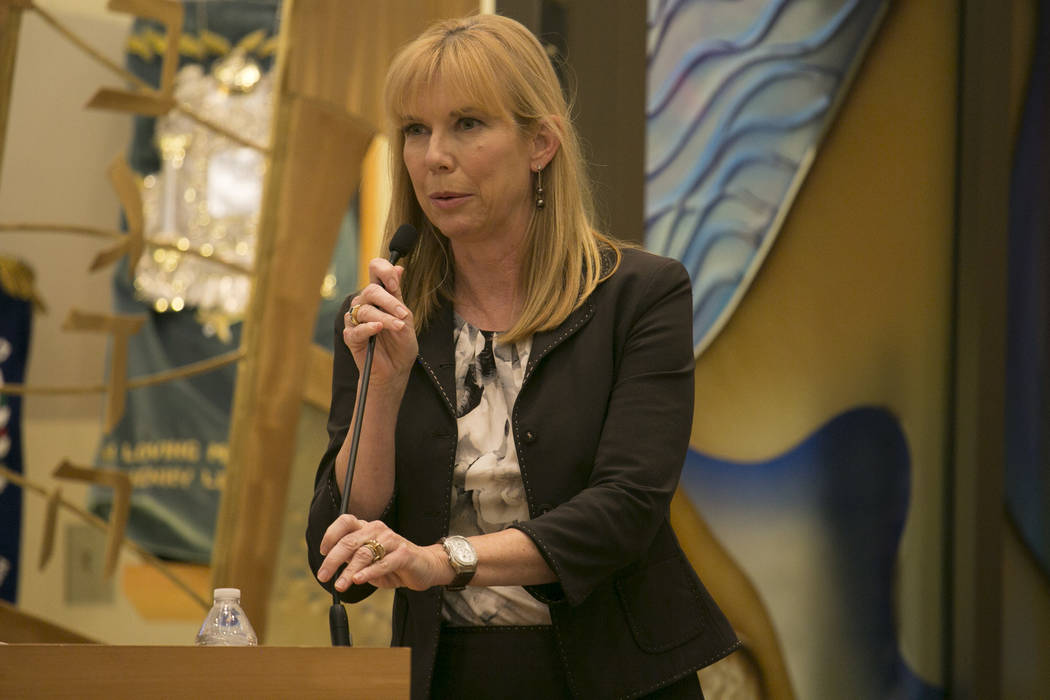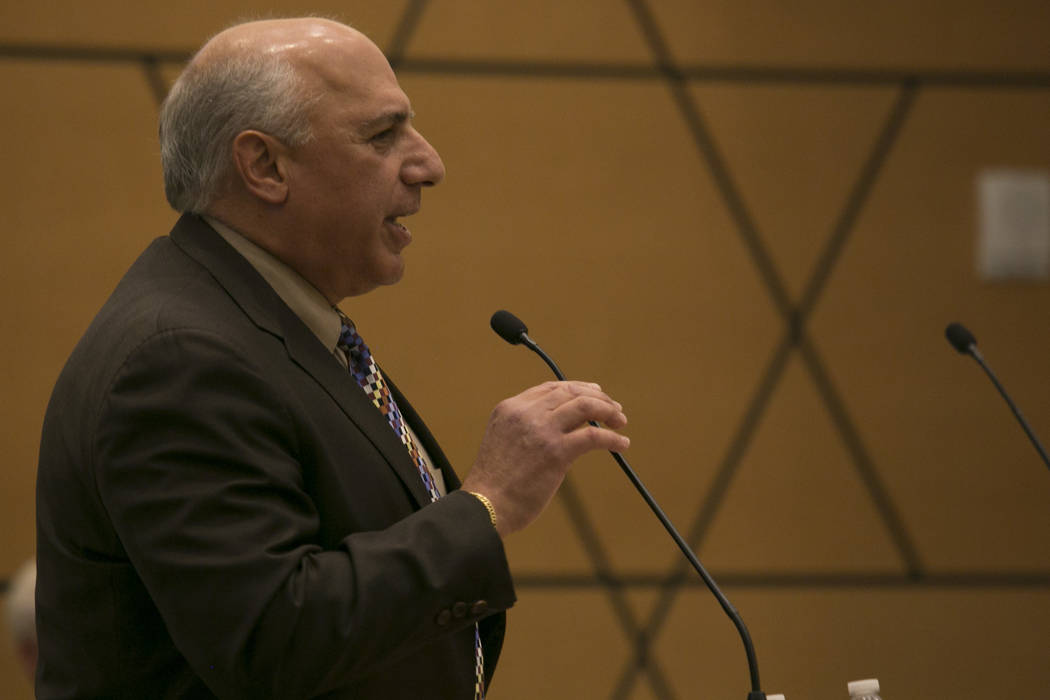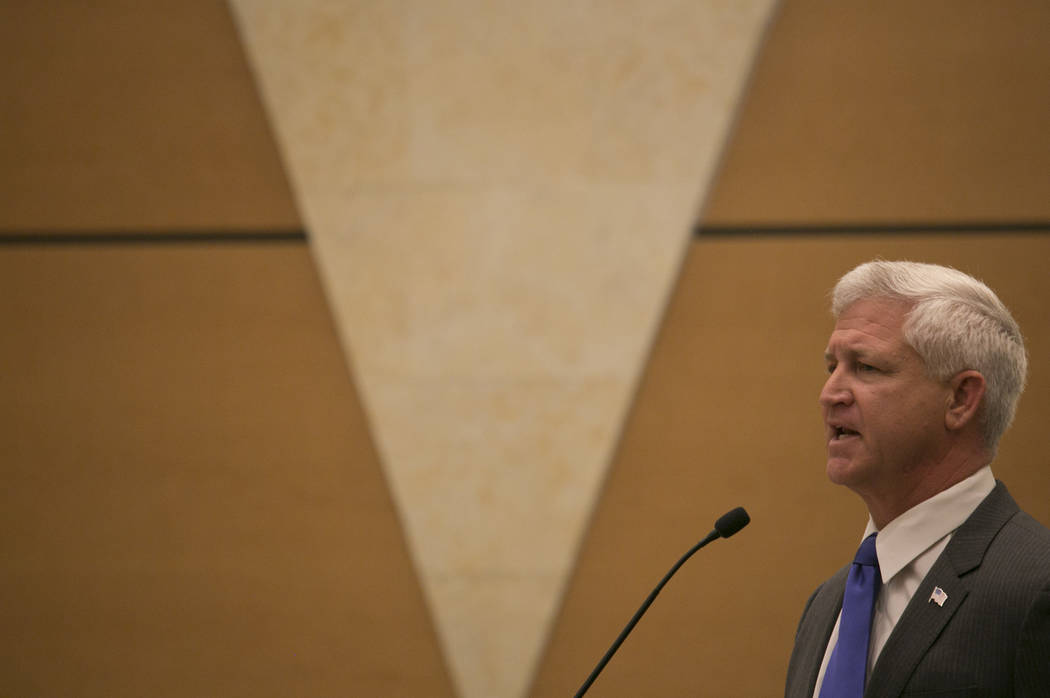 Las Vegas City Council candidates split this week on whether they would favor taxpayer dollars going toward a stadium, if one is built in the city of Las Vegas in the future.
Ward 4 council candidate Sean Lyttle said he would be in favor of "investing public dollars in public success," if there were a large-scale stadium construction project that would create a lot of jobs.
The five City Council candidates outlined their views on Cashman Center redevelopment, local recreational marijuana regulations, recycling, sanctuary city designations, fireworks and the controversial development of the Badlands golf course during the hour-and-a-half forum at Temple Sinai in Summerlin on Tuesday night.
The candidates appeared largely to favor some sort of redevelopment of Cashman Center and said it could provide a needed boost to downtown Las Vegas. However, they differed on whether they would support involving taxpayer dollars.
The two incumbents, Ward 2 Councilman Bob Beers and Ward 4 Councilman Stavros Anthony, pointed back at their push against a Symphony Park stadium proposal that would have drawn on public dollars, and said those millions are instead being used to build new parks in Las Vegas.
Anthony wants to see the Las Vegas 51s, who currently call Cashman home, move to a new stadium in downtown Summerlin and a developer invest in redefining the Cashman site, he said.
Ward 2 challenger Steve Seroka came out strongly against taxpayer dollars funding a stadium. Meanwhile, Christina Roush, the other Ward 2 contender, said she could see taxpayer dollars as "a piece of the equation."
The city is waiting for a framework on the state on recreational marijuana before crafting local regulations. Lyttle said he thinks the city should lead the way on local regulations. Seroka said he sees the city's role as regulating recreational marijuana and putting "the black market out of business."
Anthony doesn't support Las Vegas being designated a sanctuary city, contending it creates chaos when cities decide "which laws we enforce or don't."
Beers said he doesn't support the city or the Metropolitan Police Department "letting loose known criminals, which is really what this issue is about."
"If that's what you mean, no, I don't support becoming a sanctuary city," he said.
The Badlands golf course development issue in Ward 2 grew more heated, with Seroka charging that Beers has "rolled out the red carpet for the developer."
Roush took issue with Beers' stance that if the city denies the developer the right to build on the land, it would make a case for an inverse condemnation lawsuit that could cost the city millions of dollars.
"That is something you need to quit saying," Roush said. "You know it's not true."
Beers classified Roush's views on inverse condemnation as false statements.
Early voting runs Saturday through March 31; the city primary is April 4.
Contact Jamie Munks at jmunks@reviewjournal.com or 702-383-0340. Find @JamieMunksRJ on Twitter.