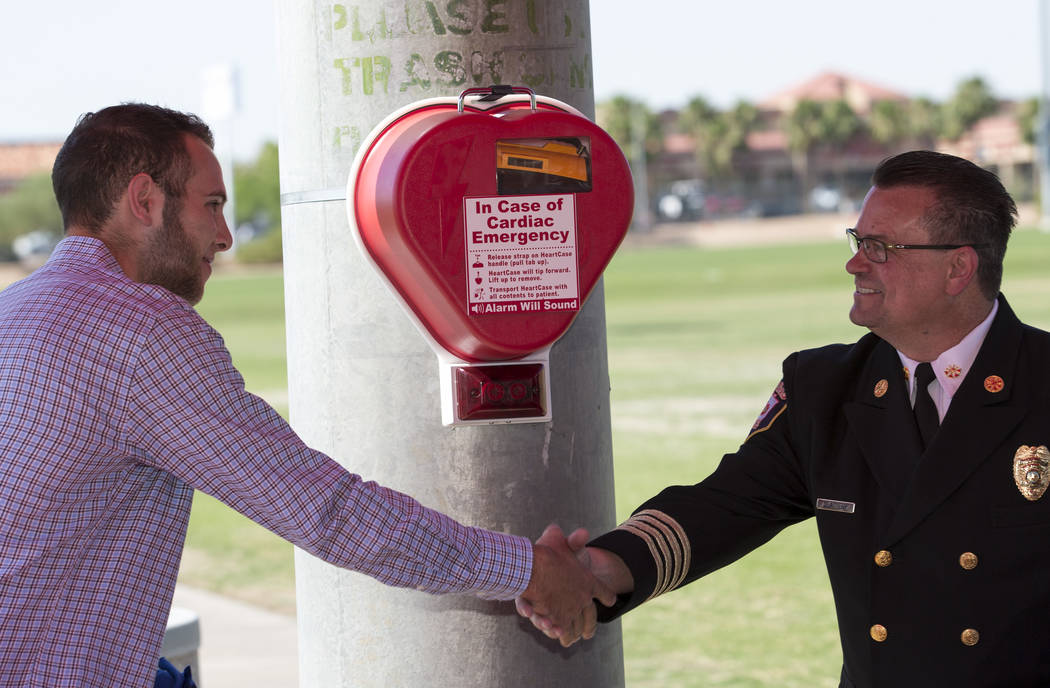 In 2012, 14-year-old Adam Afromsky was playing a state championship soccer game at a Las Vegas soccer complex when he collapsed. Just five minutes into the game, he went into cardiac arrest.
An off-duty emergency room doctor and nurse were on the field at the Bettye Wilson Soccer Complex when Afromsky started crying out. Paramedics having lunch across the street quickly responded and were able to shock him with a defibrillator, a device used to help in an emergency when a heart stops.
"He was one of the lucky ones," his mom, Melanie Afromsky, recalled Thursday.
On Thursday morning, the city of Las Vegas, through a partnership with American Medical Response and the Adam's Heart organization, placed its first two defibrillators at the complex, located at 7353 Eugene Ave. Twenty more defibrillators will be installed at city sports fields by the end of the year.
After Adam was rehabilitated, Afromsky and two other mothers started the Adam's Heart organization to raise awareness of sudden cardiac arrest in children, with the goal of placing lifesaving automated external defibrillators at select sports fields in Nevada and around the nation.
Sudden cardiac arrest in youth athletes is a rare but devastating event, and survival depends on rapid CPR and defibrillation, according to a release from the city. Every minute counts because chances of survival from cardiac arrest drop by 7 to 10 percent for every minute that goes by without CPR and defibrillation.
"We can save lives and at least raise the chance for people who suffer cardiac arrest significantly," Afromsky said.
Henderson, Mesquite, Las Vegas and a few towns in the Pittsburgh area also have made defibrillators available at sports fields, Afromsky said.
Contact Briana Erickson at berickson@reviewjournal.com or 702-387-5244. Follow @brianarerick on Twitter.