City of Las Vegas reaches clean energy goal
December 12, 2016 - 7:31 pm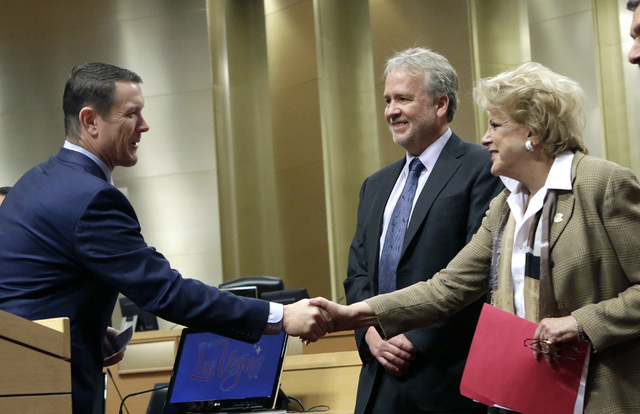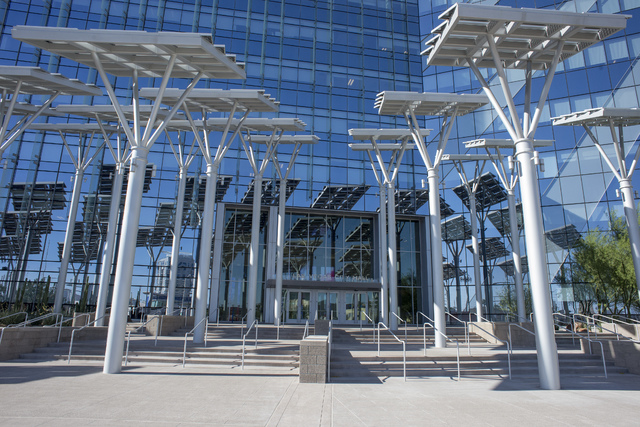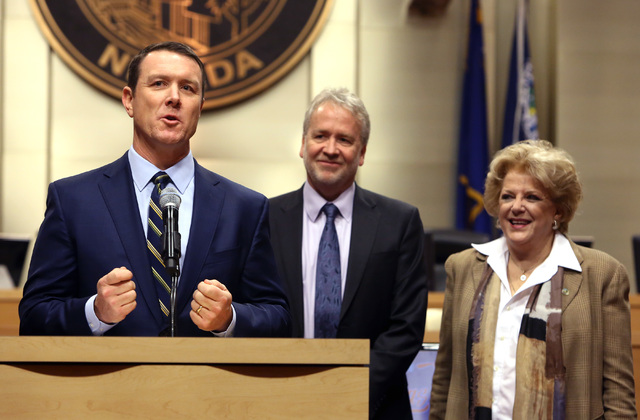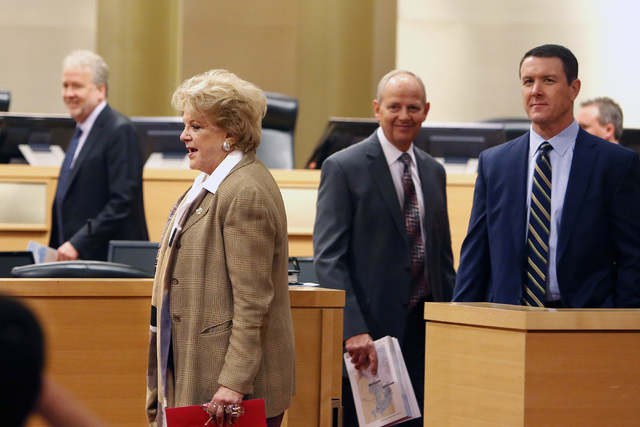 The city of Las Vegas is now drawing 100 percent of its power from renewable energy sources, a goal officials have been working toward for the better part of a decade.
The effort moved closer to reality about a year ago when the city expanded its partnership with NVEnergy to deliver the power to run its facilities — everything from City Hall to parks and community centers to streetlights — using clean energy sources.
The goal was fully realized last week when Boulder Solar 1, the large-scale project near Boulder City, went on line, city and NVEnergy officials announced Monday.
Mayor Carolyn Goodman said that the city has become a "world leader in sustainability."
Through a combination of direct generation and credits, the city is powering more than 140 facilities, along with streetlights, with renewable sources. A portion of what's powered at the Boulder Solar I site is dedicated to the city.
The city also generates energy to power on-site facilities with tree-shaped solar panels in the City Hall plaza, solar shade canopies at city parks and solar arrays on roofs and at the wastewater treatment plant. Much of the city's renewable energy portfolio comes from the Southern Nevada sun, but it can be drawn from hydropower, too. By the end of 2017, the city will for the first time begin drawing power from the Hoover Dam, which will complement existing renewable sources.
NVEnergy's GreenEnergy program allows large customers to contract for an added cost with the company to power their facilities. Customers that opt to receive all of their energy from renewable sources pay a slight premium for that. If a customer were paying a rate of 10 cents per kilowatt hour regularly, for example, the rate would increase to 10.3 cents per kilowatt hour.
The city began building its sustainable energy programs in 2008, implementing energy-saving measures across the city and putting solar arrays on and around city facilities where it made sense. Since then, the city has reduced its energy consumption by more than 30 percent, according to Tom Perrigo, the city's planning director and chief sustainability officer.
The city can't draw all of its energy from on-site generation, however, because of size constraints.
Overall, the city's energy savings because of its shift to renewable sources is estimated at roughly $5 million annually.
Pat Egan, NVEnergy senior vice president, said his company continues to decrease its reliance on coal. Coal currently accounts for 8 percent of NVEnergy's generating resources, compared with 74 percent natural gas and 18 percent renewable resources.
Boulder Solar I and II are both in the Eldorado Valley, and combined are a 150-megawatt solar array. When it went online Friday, Boulder Solar I became NVEnergy's 13th grid-tied solar resource.
Goodman called Monday's announcement "huge" and said it solidifies the city's cutting edge approach to sustainability.
"When we say something's going to happen, it's going to happen," Goodman said.
Contact Jamie Munks at jmunks@reviewjournal.com or 702-383-0340. Find @JamieMunksRJ on Twitter.