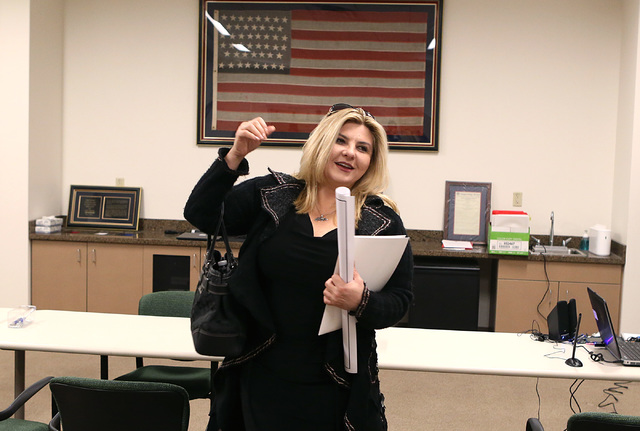 It's a fundraising fight to the finish for several races for city offices in the Las Vegas Valley, as candidates continue to rake in dollars before June 13 runoff elections.
In Las Vegas, former assemblywoman Michele Fiore had the biggest haul since March 30, pulling in $210,527, for her Ward 6 City Council campaign. Fiore raised more than double than opponent Kelli Ross during the period — $81,230, and this year, according to contributions and expenses reports filed with the Nevada Secretary of State's Office late Tuesday.
Fiore's 2017 fundraising total is $385,883, compared with Ross' $170,310. Fiore's largest contributions in the period from March 31 to May 19 were $10,000 each from Lamont, LLC and Jack Binion. Ross' largest contribution is $10,000 from Royal Elk Investments, LLC.
Ward 2 challenger Steve Seroka ramped up his fundraising since March 30, garnering $125,817 of the $230,278 his campaign has raised this year. But sitting Councilman Bob Beers continued to haul in more money, raising $148,470 since late March, bringing his total for the year to $368,298.
Women of the West Ent. Inc. handed Beers $10,000, his largest contribution of the period. His colleague on the council, Stavros Anthony, who won his race outright in the April primary, gave $5,000 to Beers. Seroka drew thousands of dollars from residents inside the Queensridge development, where a number of people have opposed development on the adjacent Badlands golf course. Seroka strongly opposes the Badlands development, which Beers has approved in city council votes.
Dale Roesener contributed $10,000 to Seroka this cycle, and the Wagner Family Trust gave $5,000.
A political action committee dubbed Citizens for Better Neighborhoods supports the Badlands development and has sent mailers targeting Beers' opponents. The PAC reported raising $15,000 since March 30 from two sources, bringing its 2017 total to $63,000. The PAC paid $19,370 to Success Marketing LLC, and $6,763 to PDQ Printing.
One of the newest mailers invokes Marlboro cigarettes boxes, complete with this warning: "purchasing Badlands golf course could be hazardous to your wealth." The mailer argues if the city imposes restrictions on the shuttered golf course property resulting in a value drop or the ability to develop the land, the city could end up being on the hook for millions of dollars to compensate the property owners.
In the lone Las Vegas Municipal Court judge's race, the fundraising gap between incumbent Heidi Almase and challenger Cara Campbell got smaller since late March. Campbell drew roughly four times as much as Almase leading into the April primary. Campbell raised $43,789 this period, raising her total for the year to $135,527. Almase drew $38,693 since late March, and she loaned her campaign fund $5,000. and has raised $59,843 this year, not including the dollars she's loaned her campaign.
NORTH LAS VEGAS
Ward 3 incumbent Anita Wood continued to outpace challenger Scott Black, the top vote-getter in the April primary. Wood raised $66,183 between March 31 and May 19, bringing her total to $141,903 since the start of the year. She has spent $150,169 this year.
Wood's largest donation during the most recent filing period was $5,000 from Amber Owl Holdings LLC, a developer of the Park Highlands housing development.
Black collected $57,825 to bring his total to $113,551 since Jan. 1, with $90,576 in expenses, records show. He received $5,000 apiece from the Board of Realtors Political Action Committee, the North Las Vegas Firefighters PAC, Community Ambulance, Nevada Restaurant Services Inc. and developer Ladera Ventures LLC, which plans to build a commercial and residential complex on the site of a former pig farm at Fifth Street and Ann Road.
Mayor John Lee, who held a "debt retirement" party shortly after easily securing a second term, raised $61,062, bringing his total to $543,876 collected since mid-2016. Lee, who said he does not plan to seek a third and final term in 2021, spent $309,618 since mid-2016.
HENDERSON
Ward 3 incumbent John Marz raised nearly five times as much as challenger Carrie Cox since late March — $123,245 to Cox's $25,680, which includes a $12,000 loan from Matthew Cox. Marz has raised $185,245 since Jan. 1.
Cox's largest donation since March was $10,000 from Nevada Restaurant Services Inc. Marz saw $10,000 contributions from William Richardson; Lawrence Canarelli and Lamont, LLC.
Debra March, who won the mayoral race in April, raised $33,633 this period, and $158,912 in 2017.
Contact Jamie Munks at jmunks@reviewjournal.com or 702-383-0340. Follow @JamieMunksRJ on Twitter. Contact Art Marroquin at amarroquin@reviewjournal.com or 702-383-0336. Follow @AMarroquin_LV on Twitter.