Goodman pursues recovery, development at Las Vegas address
January 11, 2018 - 8:29 pm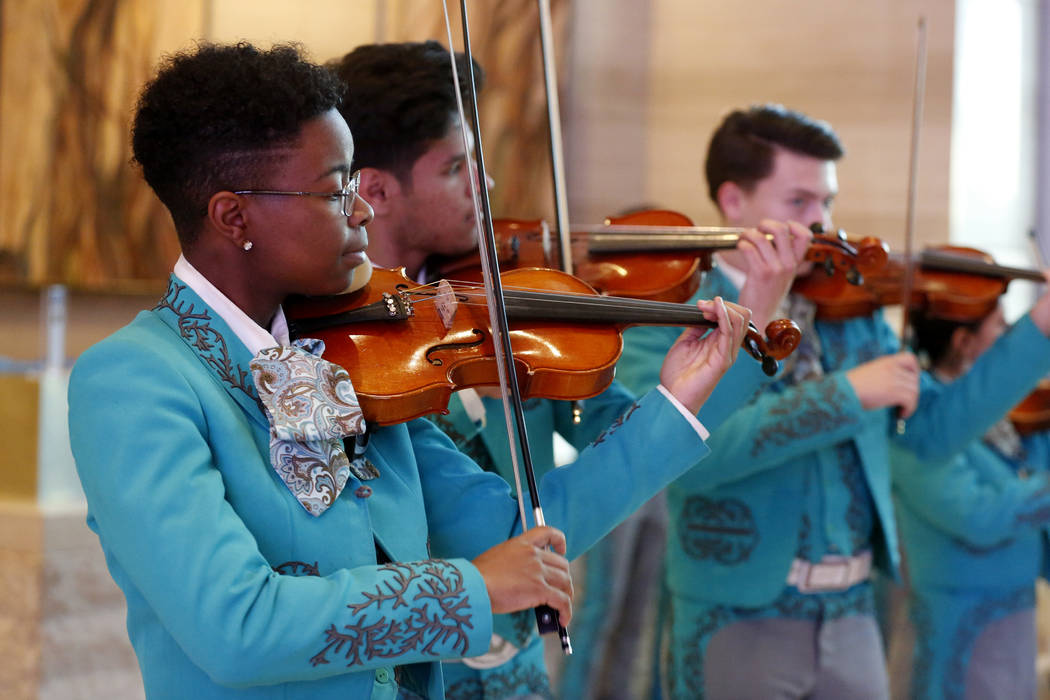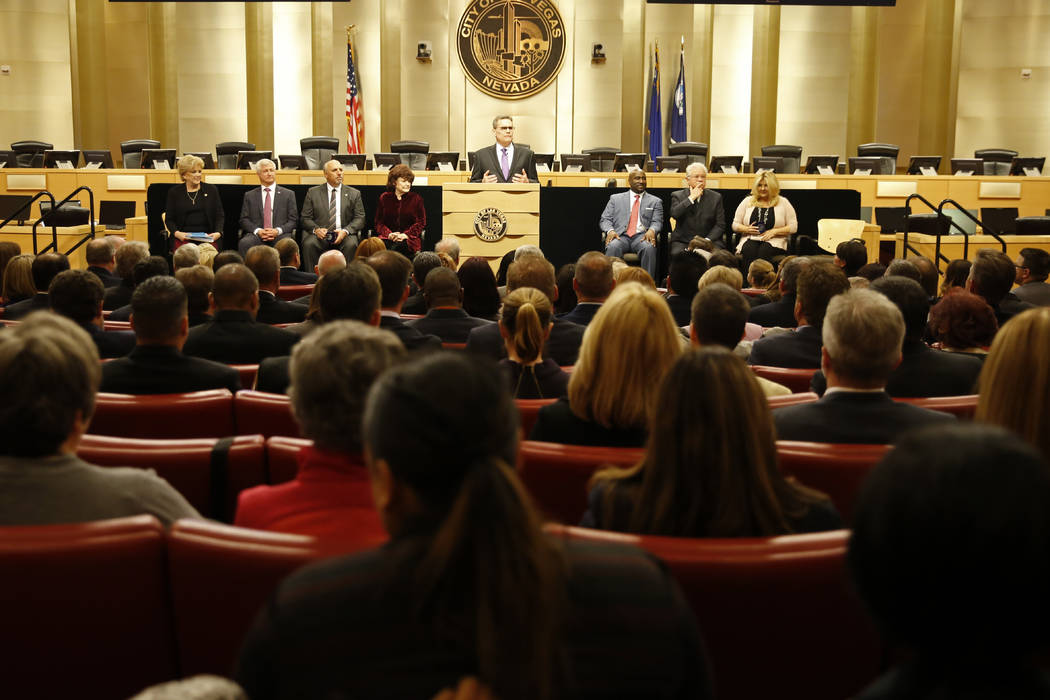 Las Vegas Mayor Carolyn Goodman threaded a theme of rebuilding through her annual State of the City address — from recovery after the Oct. 1 shooting to rebounding from the global recession and downtown redevelopment.
Goodman led off her roughly hourlong annual address on Thursday by reflecting on the Oct. 1 mass shooting on the Strip, south of the city's borders.
"We have been tested, Las Vegas has answered. I hope we don't go there again … but we will train, we will prepare," Goodman said.
Goodman voiced a resolve for the community move on after the shooting, but said safety and security continue to top her priorities. The city is seeking to undergo an "intense" round of emergency management training, Goodman said after her speech.
Symphony Park, a former Union Pacific railyard, factored heavily in Goodman's speech. The site is home to the Smith Center for the Performing Arts and the Cleveland Clinic Lou Ruvo Center for Brain Health, and city officials have been trying for years to entice developers to fill in the vacant property there.
Smith Center President and CEO Myron Martin likened the 61-acre area downtown to the city's "living room," a place where people gather.
City officials are in talks about expanding convention and trade show facilities downtown, with the closure of the Cashman Center exhibition space at the end of 2017. That move displaced a number of long-running trade shows and expos, and organizers said Strip facilities are too pricey for their budgets.
With the City Council's move to free up Symphony Park parcels that were tangled in development agreements that languished through the recession, new developers are eyeing the available sites for housing and other developments.
Derek Stevens, who owns downtown casinos like The D Las Vegas, is eyeing a chunk of Symphony Park that could be home to a casino/hotel, Goodman said.
But he's keeping mum on his visions for the site, she said.
"As soon as he tells me, I'll text you all," Goodman said.
Goodman started her seventh State of the City on a somber note, but she peppered the rest of her 63-minute speech with her characteristic quips. City officials want to absorb another 872 acres of currently unincorporated Clark County land, something that has caused strife between the two jurisdictions.
"Well, let's annex now," Goodman said, when she saw no Clark County Commission members were in the audience.
Goodman continued her push for widening I-15 between Primm and Barstow, calling it "critical" to Las Vegas. She highlighted new housing developments, like the Fremont 9, slated to open this year downtown, and the city's Innovation District, where companies are testing technologies like autonomous vehicles.
She touted the sports teams that have decided to call the valley home — the Las Vegas Lights USL team that will take Cashman Field downtown this year, and the Vegas Golden Knights and NFL and WNBA teams that are playing or headed for venues on the Strip.
Goodman also highlighted the city's initiatives to aid some of its most vulnerable residents, including a new fund aimed at helping children access transportation, health care and before and after school programs. A summer employment program for young adults, called Strong Future, will launch this year, Goodman said.
This year marks the start of a new initiative to address homelessness, which has dogged Las Vegas officials for years.
The city will launch a start-up phase in March of a new 24-hour campus, meant to be a one-stop location for the homeless population to access a range of services. City officials often get calls from business owners pleading with them to do something about the homeless population downtown.
"We haven't solved it yet. We are trying," Goodman said. "We are trying, but we need your help."
Contact Jamie Munks at jmunks@reviewjournal.com or 702-383-0340. Follow @JamieMunksRJ on Twitter.