Group wants early end to Ricki Barlow's time on Las Vegas City Council
January 15, 2018 - 5:34 pm
Updated January 15, 2018 - 8:08 pm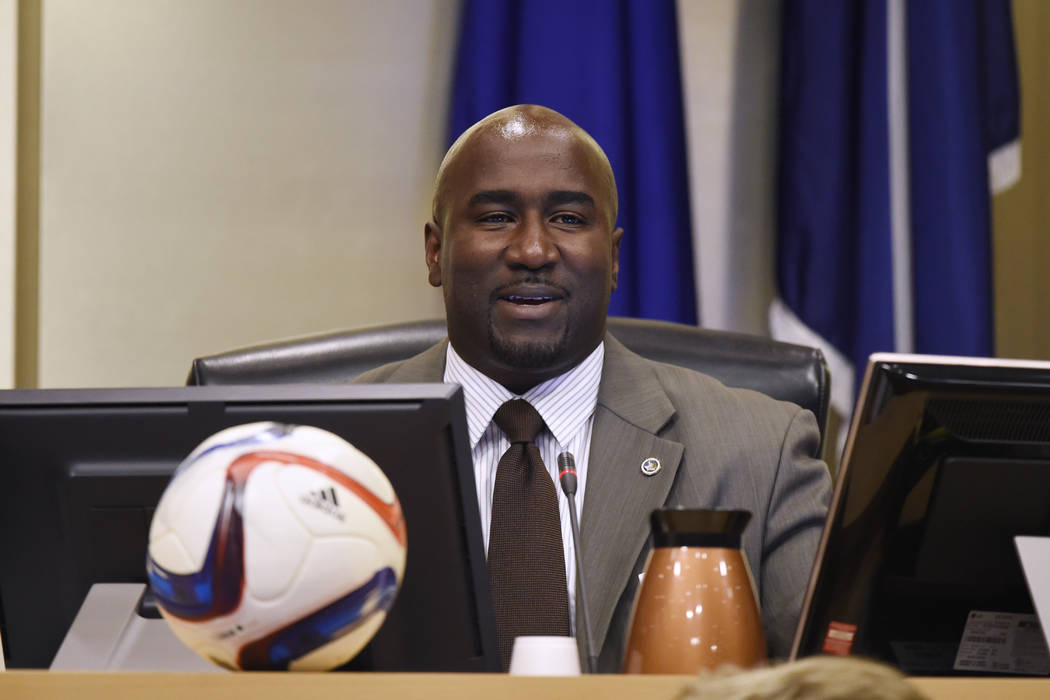 A group of Las Vegas City Councilman Ricki Barlow's constituents are mounting an effort to oust him more than a year before his final term on the council expires.
The Ward 5 residents plan to file a notice of intent Tuesday with the Las Vegas city clerk's office, the first step toward forcing a special recall election.
Barlow didn't return a call seeking comment Monday.
Lifelong Las Vegan Beatrice Turner, one of the constituents behind the recall effort, said she hasn't supported Barlow through his more than decadelong tenure on the council. But when she learned the FBI was investigating the councilman, she said "enough is enough."
"This last go-round that came out about him, we said, 'It's time to get rid of him,'" Turner said. "It has been time to do it. He can't sit there and represent us. He's got too many legal problems of his own."
The Las Vegas Review-Journal reported last week that a grand jury has heard testimony in the FBI's corruption investigation into allegations Barlow accepted kickbacks for directing campaign funds to consultants. The FBI probe, which dates to Barlow's 2015 re-election, came to light in 2016.
Barlow first gained a seat on the City Council dais in 2007, and term limits will force him out of office in 2019. At least two people have expressed interest in succeeding him on the council, including former Assemblyman Harvey Munford. If a special recall election does happen, Ward 5 Chamber of Commerce President Katherine Duncan, who is also backing the effort, said Munford is the preferred candidate to challenge Barlow.
"Why wait until 2019? Harvey's ready to go," Duncan said.
To force a special election, the recall committee will have 90 days to gather signatures from more than 1,000 Ward 5 voters who cast ballots in the last election. The number of valid signatures needs to equal at least 25 percent of the Ward 5 voter turnout in the 2015 election.
Barlow defeated a challenger in the 2015 primary, and 4,527 people voted in that race.
Ward 5 includes part of downtown Las Vegas, west Las Vegas and the Corridor of Hope, where most of the city's homeless service providers sit. The ward stretches as far west as U.S. Highway 95 and as far north as Craig Road.
Munford has lived in the area for decades and said he maintains a rapport with his former constituents from his days in the Nevada Legislature.
"Some people want changes immediately, and they felt that I would be an appropriate candidate to represent this community," Munford said. "I want to continue to serve them."
Barlow serves on a number of other boards and committees, including the Metropolitan Police Department Fiscal Affairs Committee and boards for the Las Vegas Convention and Visitors Authority, the Southern Nevada Health District and the Southern Nevada Housing Authority.
Former City Councilman Steve Ross survived a recall attempt in 2012. The Committee to Recall Steve Ross gathered more than 1,100 signatures from voters who wanted to vote him out before his term was up. Ross easily triumphed in a special recall election against then-Planning Commissioner Byron Goynes. He went on to win another term on the council in 2013.
Turner is confident her group will gather enough signatures to force a recall in Ward 5.
"We know the people are going to sign it," Turner said.
Contact Jamie Munks at jmunks@reviewjournal.com or 702-383-0340. Follow @JamieMunksRJ on Twitter.