Hundreds turn out to protest Las Vegas annexation plan
February 12, 2018 - 6:53 pm
Updated February 12, 2018 - 7:52 pm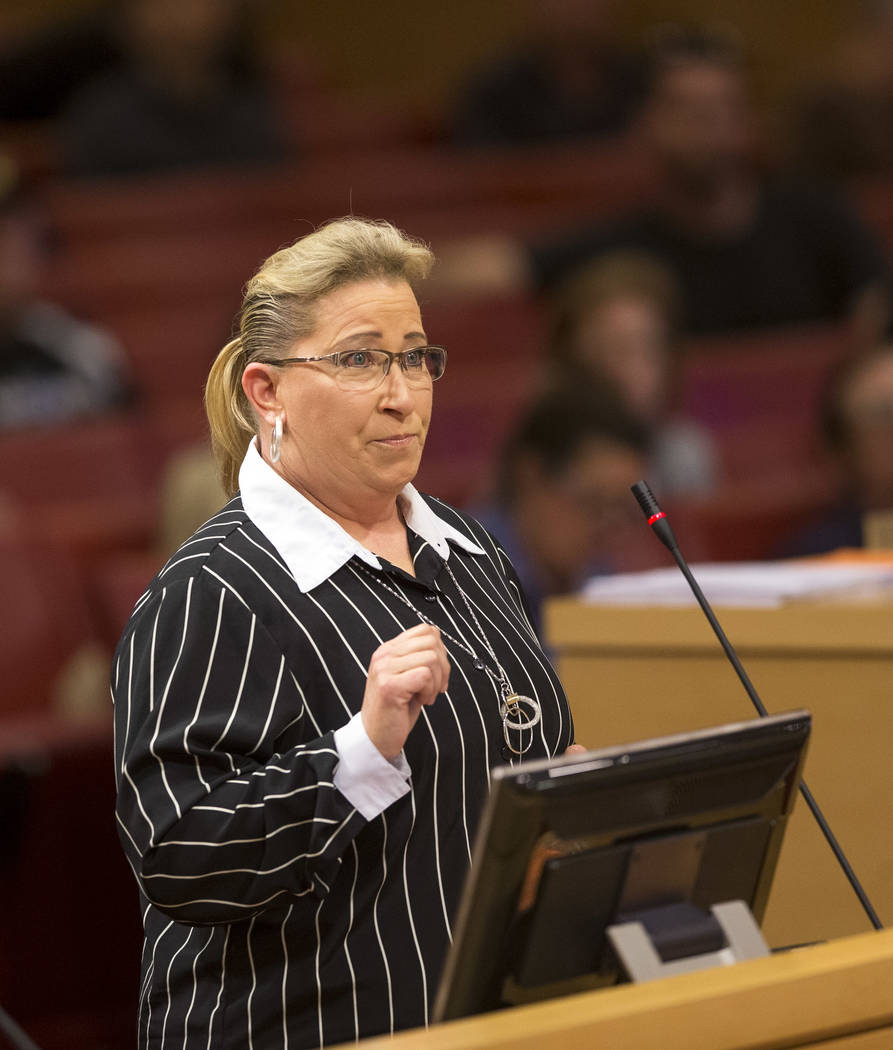 Clark County residents turned out en masse on a Monday afternoon to show Las Vegas city officials there's major opposition to a proposal to incorporate 872 acres into city bounds.
Hundreds of people packed City Council chambers: Roughly 85 of them told council members they don't want their properties absorbed by the city because they don't need city services, they don't want higher taxes and they bought into their neighborhoods for a reason. Others filed bright pink and orange protest cards with the city clerk.
"Embrace our lifestyle," Jennifer Castiglione told the council members.
Las Vegas' energy and stimulation can be "over the top," with the "ching, ching, ching" of slot machines even inside gas stations, Castiglione said.
"When you turn off Sahara and into the county, you feel like you've left Las Vegas behind," she said.
The City Council held a four-hour meeting on the annexation proposal, which would incorporate more than 1,500 properties in 10 different "county islands" within the city's boundaries. All of the speakers opposed annexation.
"I hope you care about what the majority wants," Carol Turner said.
City leaders estimate residents would see property tax increases in the first year of around $143 per $100,000 of taxable value, as determined by the county assessor's office.
City officials have argued city residents subsidize county dwellers who use city services, and suggest annexing these areas helps distribute the cost of services more fairly.
Opponents have until Feb. 27 to file protests with the Las Vegas City Clerk's Office. If a majority of the affected owners object, the city will be unable to move forward. But the owners need to hit two thresholds to force a stop: A majority of owners whose combined property value makes up more than half of the valuation of the whole area, and owners whose combined area is more than 50 percent of the total, must file objections.
Some property owners worried if they're forced to join the city's sewer system and pay higher taxes, they'll be financially forced to give up their homes.
Others questioned the fairness of a City Council making decisions for property owners who didn't elect them. Some worried about being able to keep the same number of horses, chickens and other animals on their properties, and said they can do without sidewalks and streetlights.
"If I want a streetlight when I go out, I take a flashlight," Barry Katz said.
Councilmen Stavros Anthony and Steve Seroka stayed silent during the public hearing, while other council members engaged in back-and-forth with speakers, at times. Mayor Carolyn Goodman was in Washington, D.C., on Monday.
Anthony told the crowd he didn't attend Monday's meeting "to argue with you, to banter back and forth with you."
"I guarantee you, I've heard loud and clear," Anthony said.
Clark County Commissioner Larry Brown, a former Las Vegas city councilman, said the city's proposal puts "an undue burden" on the affected residents.
"This is more of a city-county issue. The burden shouldn't be placed on these people," Brown said.
City and county officials have quarreled over annexations off and on for years, and an interlocal agreement the two inked in late 2016 seemed to cool tensions until the council took up the annexation proposal in January.
"I don't understand why the pettiness escalates at certain times, but it needs to stop," Brown said.
Contact Jamie Munks at jmunks@reviewjournal.com or 702-383-0340. Follow @Journo_Jamie_ on Twitter.