Inspections inspired by Alpine Motel tragedy find many broken smoke detectors
Updated February 3, 2023 - 11:47 am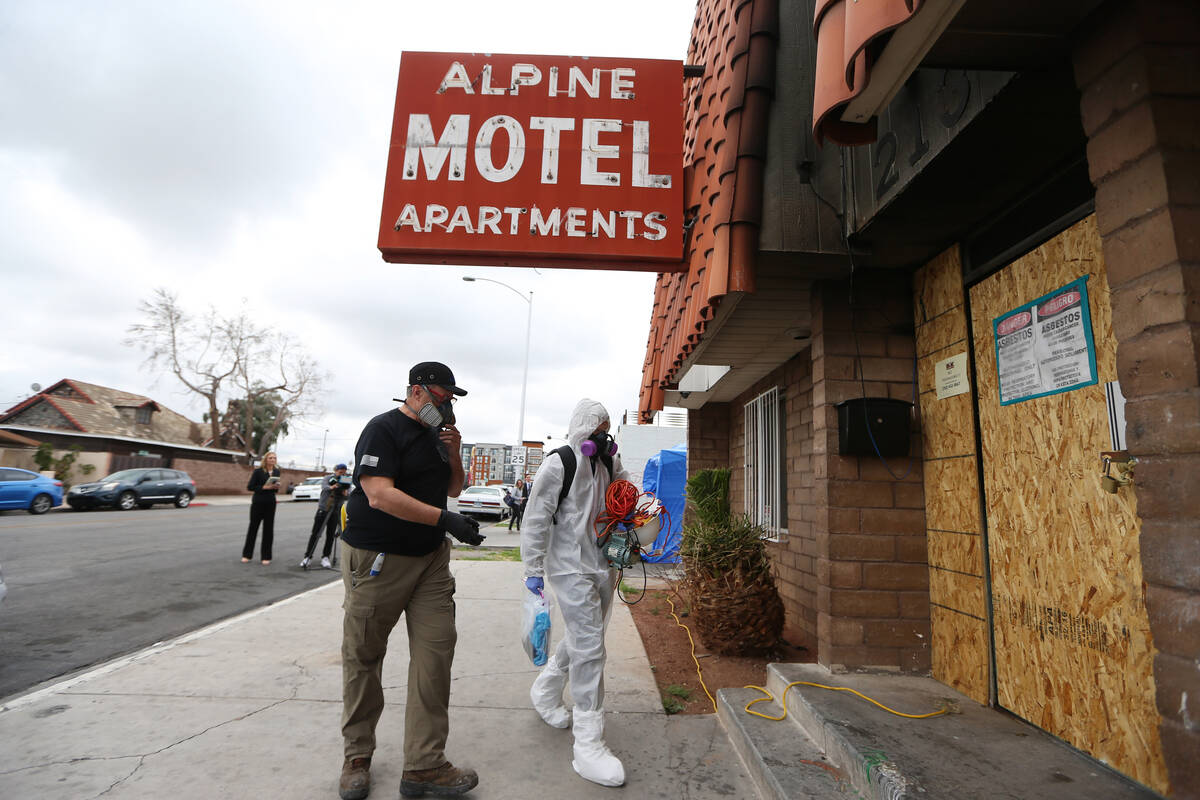 The city of Las Vegas has finished initial code enforcement inspections at the nearly three dozen Las Vegas properties similar to the Alpine Motel, site of the deadliest fire in the city's history.
City staff on Wednesday presented findings of the first year of the "Hotel-Motel Rental Inspection Program," which was instituted six months after the Alpine tragedy took six lives in December 2019.
"Most of this program has good news coming out of it," said Seth Floyd, Las Vegas' director of community development.
Inspectors focused on 33 buildings converted to "non-transient-lodging properties" built primarily in downtown between 1931 and 1981. Four other targeted properties had permanently closed or were being converted to apartments, he said.
By December, all the properties had been inspected at least once, "a milestone" for the program, Floyd said.
Non-functioning smoke detectors
The most common violation was "missing or broken" smoke detectors at about one in six of the 2,105 units, Floyd said.
Authorities allege that the Alpine Motel had a flawed fire prevention system, including non-functioning smoke detectors, and a barricaded emergency exit.
Property owner Adolfo Orozco, who is facing criminal charges, is scheduled for a preliminary hearing later this month.
While smoke detector issues were quickly and easily corrected during inspections, "this is a critical one," Floyd said. "If you think back to the Alpine fire, obviously having those early warning systems and egress of course are critical."
At the scheduled inspections, code enforcement officers identified 316 "life-safety violations," which require correction within 24 hours at 86 percent of the properties, and 534 transgressions that needed to be fixed within 30 days.
Ten of the properties had no life-safety violations, Floyd said. Detailed information on the properties that were penalized was not provided.
Other common infractions included "dilapidation," plumbing woes, "hazardous electrical conditions," and broken exhaust fans, according to the city's report.
Four of the units "had extremely unsanitary conditions related to animals living in the units or deceased occupants," the report said.
Mayor Carolyn Goodman gasped when Floyd presented a photo of a bedroom in vile conditions. "God," she whispered.
A silver lining, Floyd said, was that inspectors did not spot any bed bugs, insects or rodents at any of the units.
Educational component
Property managers were told of the inspections ahead of time, Floyd said. "Ideally, we achieve compliance before we ever set foot on the property," he added.
Still, Floyd recalled an inspection where a property manager walked around changing smoke detectors batteries.
"So, it's an easy fix, and it's something simple," he said. "But you know, sometimes they're not even doing that until we show up."
"I'd say even from that perspective, this program was successful in getting those smoke detectors fixed," he said.
Properties with passing grades would not need to be inspected for another two years, however properties with a failing grade, tenant complaints, requests for inspections from the police of fire departments, or ownership changes, trigger additional visits, the report said.
The program is also educational, Floyd said. "Our team spends a lot of time on these properties, talking with the property manager and talking through some solutions for some of these issues."
Trouble licensing four-plex buildings
Las Vegas, however, is falling short in another one of its efforts to "encourage and facilitate the provision of safe, sanitary and affordable rental housing options for residents in the city."
Fourplex owners, as of April 2021, were required to obtain a $75 business license, which includes building code and fire department inspections, a preventative safeguard.
"By licensing them, we can plug them into these resources and that was the goal of the program," Floyd said.
There are 1,180 such buildings within the city, but only 502 had applied for the permit and 409 out of 4,157 units had been inspected, despite the state taxation department waiving its $200 fees.
Letters were sent to all property owners, but some have been difficult to track down because they live out of the state, or even out of the country, Floyd said.
If they don't respond to follow-up correspondence, the city will open compliance cases and then kick the case to business license compliance officers, the report said.
Floyd said that unlicensed fourplex buildings are not immune to code enforcement inspections.
"There are still significant potential code enforcement issues that really have nothing to do with the licensing part," he said.
Goodman noted that those property managers probably collect rent with little effort.
"If they can be communicated with that way, they certainly can be communicated with," she said.
Contact Ricardo Torres-Cortez at rtorres@reviewjournal.com. Follow @rickytwrites on Twitter.