It's not too early for 2019 Las Vegas City Council race to begin
November 30, 2017 - 4:14 pm
Updated November 30, 2017 - 5:03 pm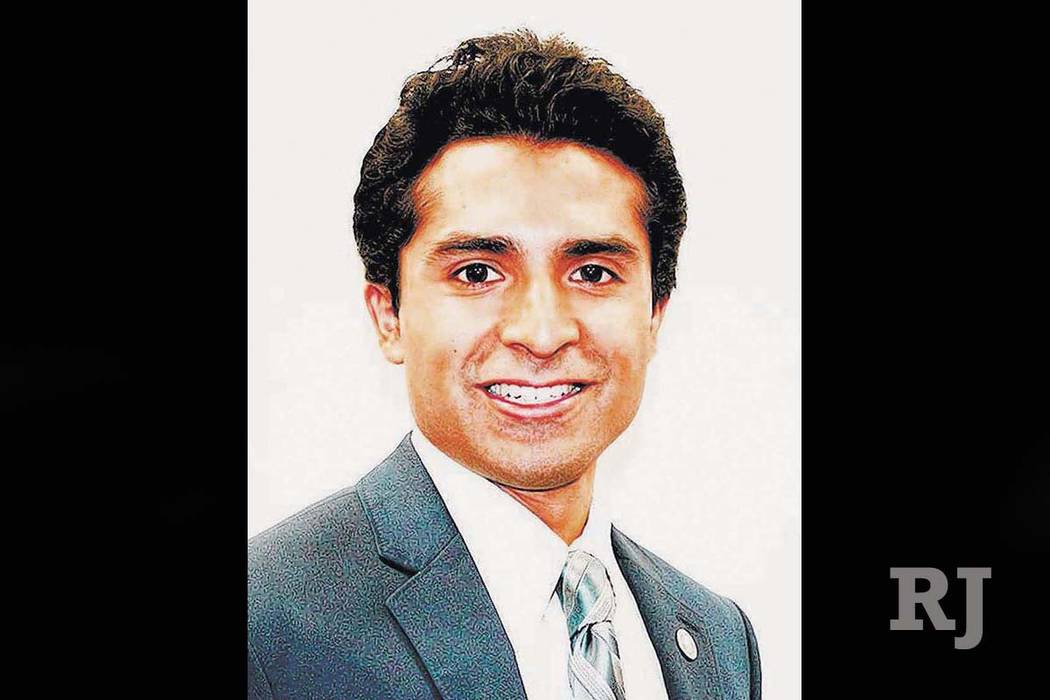 Former Las Vegas parks commissioner David Lopez wants to be the next Ward 3 city councilman.
Lopez, 25, said in an interview with the Review-Journal on Thursday that he plans to run to represent the city's eastern ward in 2019.
"It's still early in the game, but I'm looking forward to the future," Lopez said. "I've represented this ward previously, and I will care and be there every step of the way to address their concerns."
Whether incumbent Councilman Bob Coffin's name will be on the next Ward 3 ballot is unclear. Coffin said Thursday it's "too early to make plans" to run again.
"I haven't decided. God, it's a year and a half away," Coffin said. "We lost our son this year. I've had a bad balance problem since my car accident. The last thing I'm worried about is elections."
If Coffin runs for re-election, it would be for his third and final term on the council.
Lopez said he would prioritize police accountability, crime, squatters in vacant homes and homelessness if he's elected.
He also favors outfitting all city marshals with body cameras.
"We have very good officers here, but they're human," he said. "If something happens, we have to make sure every aspect is scrutinized."
Lopez thinks an in-progress plan to build a courtyard along Foremaster Lane where the city's homeless population can access a range of services will "do wonders for the downtown area." He also wants to see vacant homes boarded up to prevent squatters and illicit activity, "in a way that's visually acceptable."
Lopez is employed by the city as a site assistant with the after-school Safekey program. He was hired Oct. 10, 2016, city spokesman Jace Radke said. Lopez holds a degree in political science from UNLV. Coffin appointed him to the Nevada Youth Legislature, made up of high school students from each of the state's senatorial districts.
According to recent city and U.S. Census data, around 66 percent of the more than 100,000 Ward 3 residents are Hispanic. Nearly 61 percent of the easternmost ward's residents have high school diplomas, and fewer than 8 percent are college graduates. The median household income in Ward 3 is $28,718, compared with more than $50,000 for the overall city population.
There's been talk at City Hall about moving municipal races to November of even-numbered years, to sync up with Clark County's cycle and state and federal elections, but the council hasn't voted on an Election Day move. The period when candidates can file to make their runs for city offices official is Jan. 22, 2019, through Feb. 1, 2019. The primary election will be April 2, 2019, and the general election will follow on June 11.
In Wards 1 and 5, Councilwoman Lois Tarkanian and Councilman Ricki Barlow are term-limited in 2019. Las Vegas Planning Commissioner Cedric Crear and former Nevada Assemblyman Harvey Munford have both expressed interest in Barlow's seat. Mayor Carolyn Goodman is also up for re-election in 2019.
Contact Jamie Munks at jmunks@reviewjournal.com or 702-383-0340. Follow @JamieMunksRJ on Twitter.