Kevin McMahill sworn in as Metro's 8th sheriff
Updated January 2, 2023 - 4:54 pm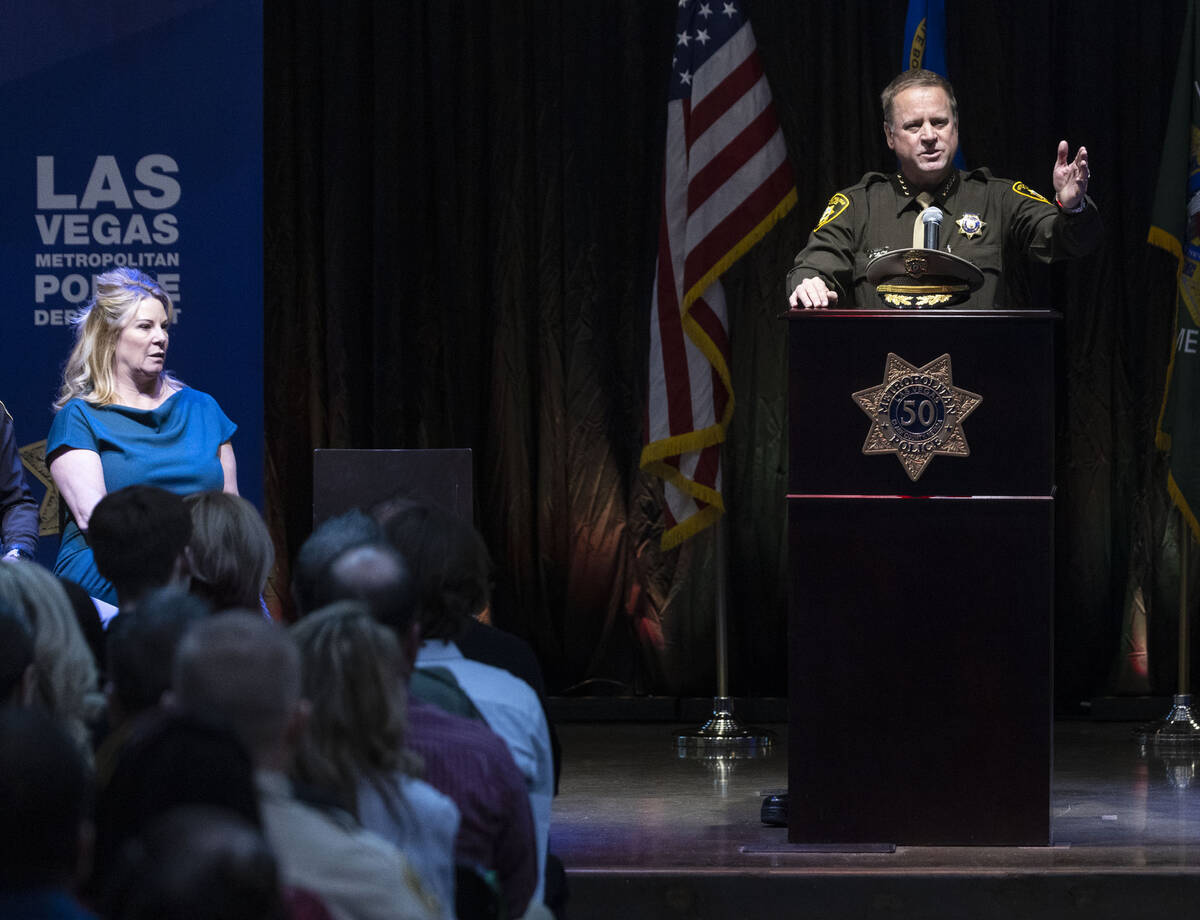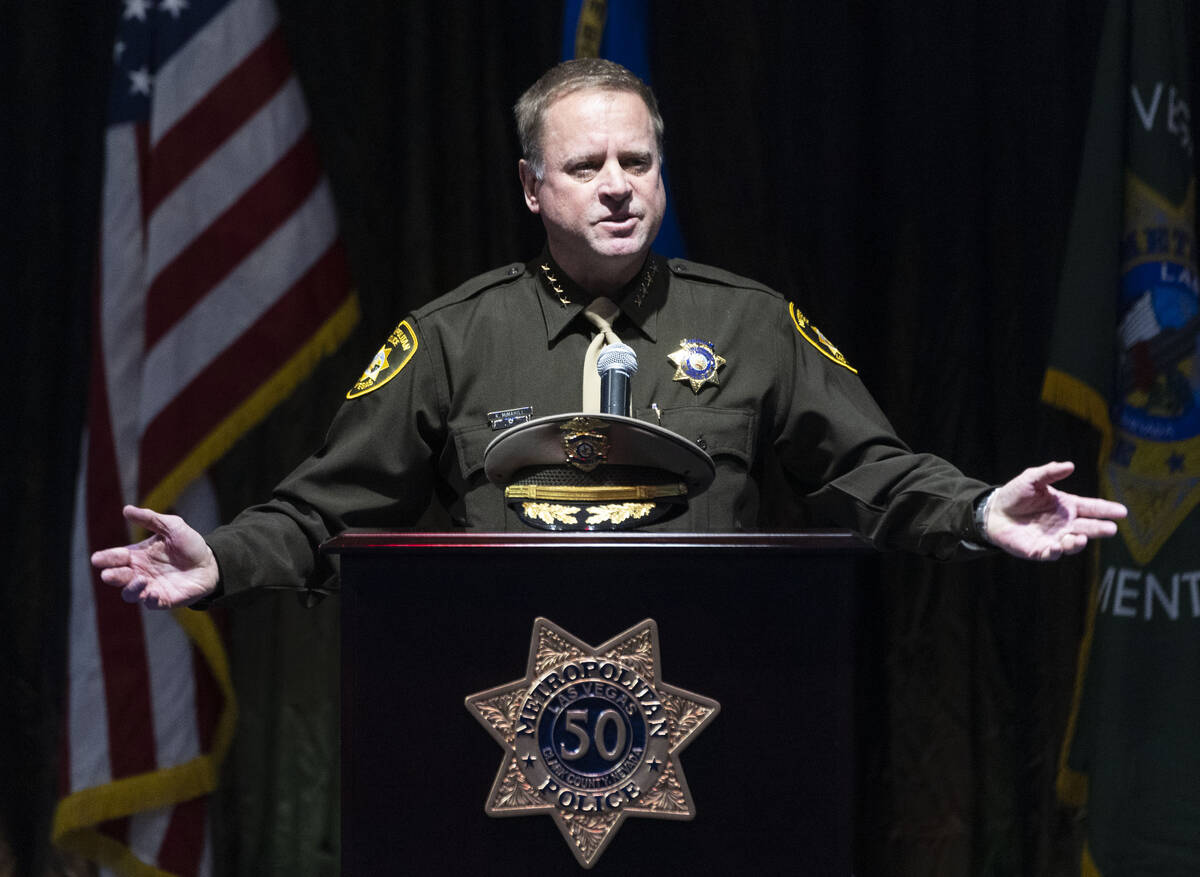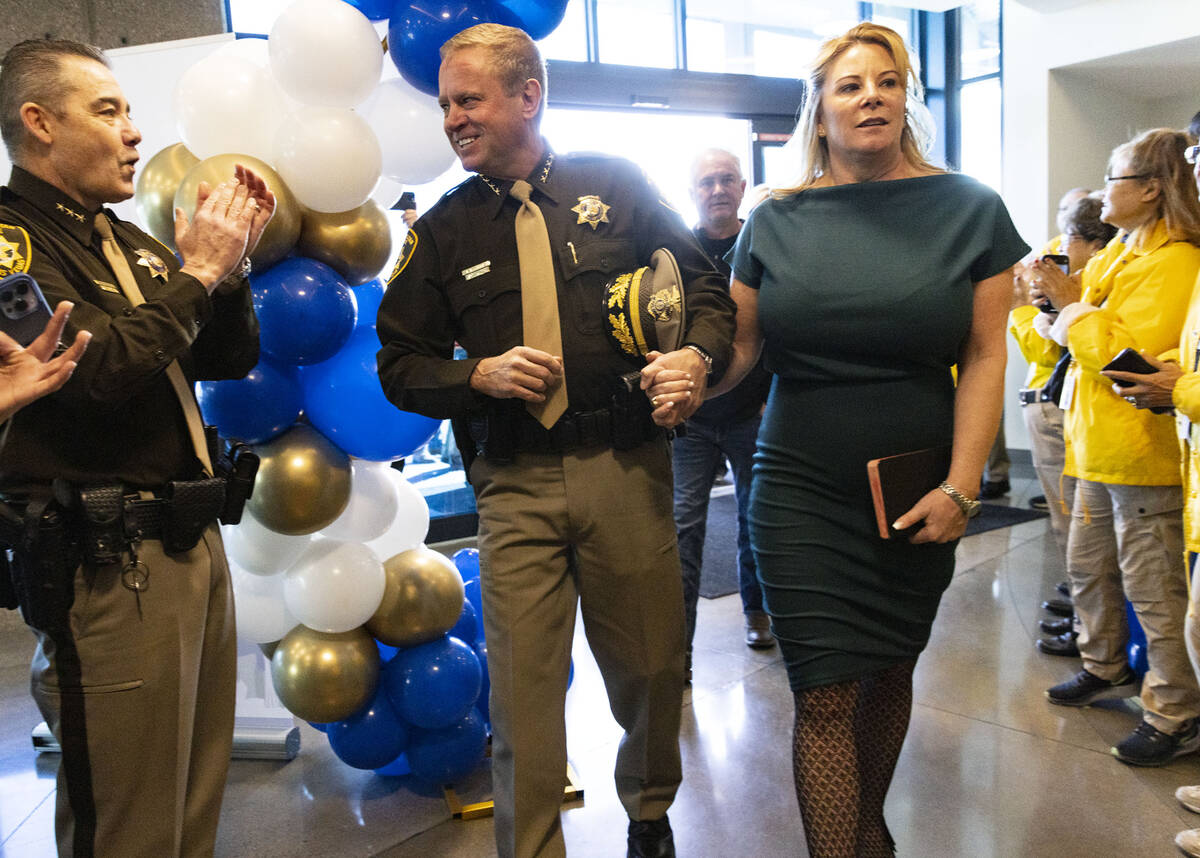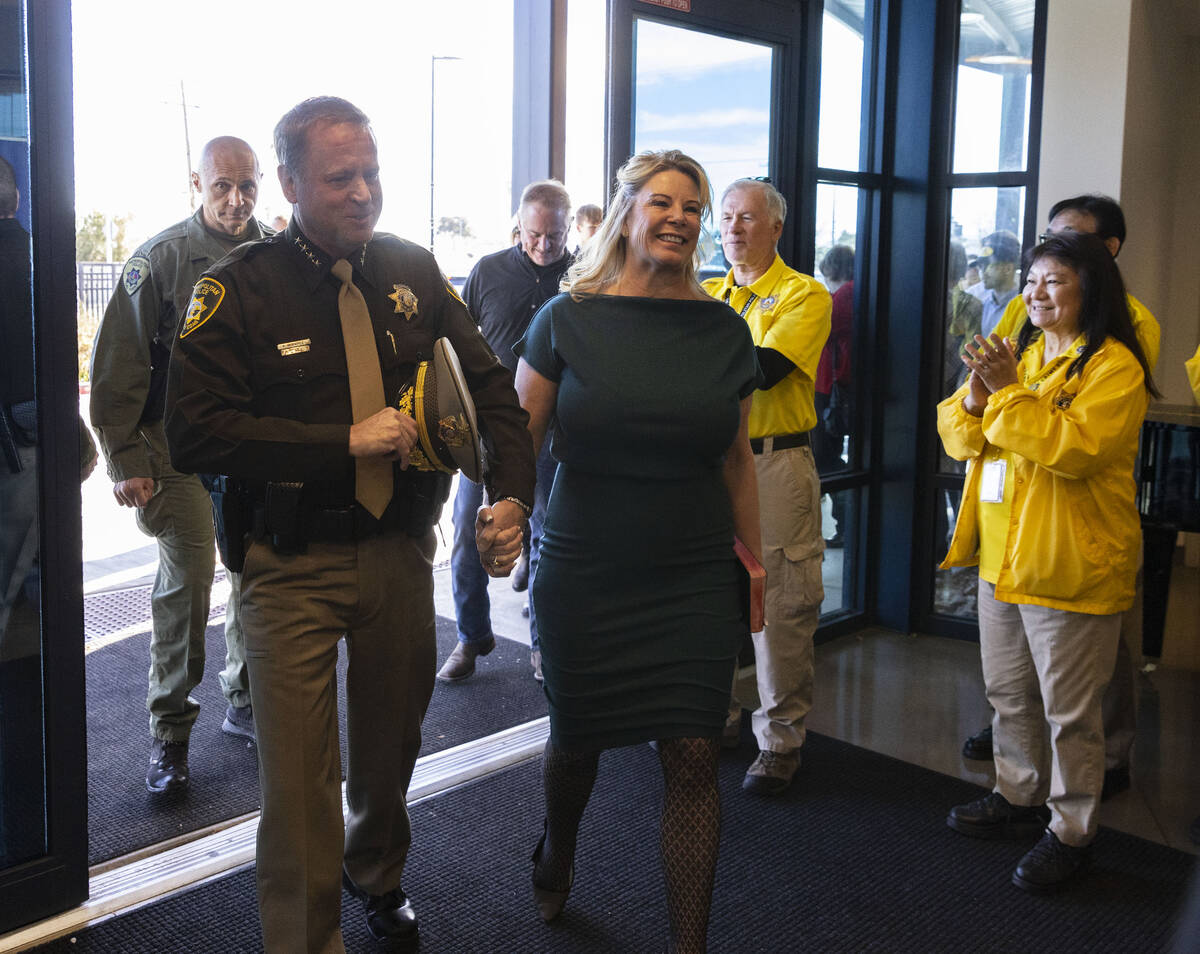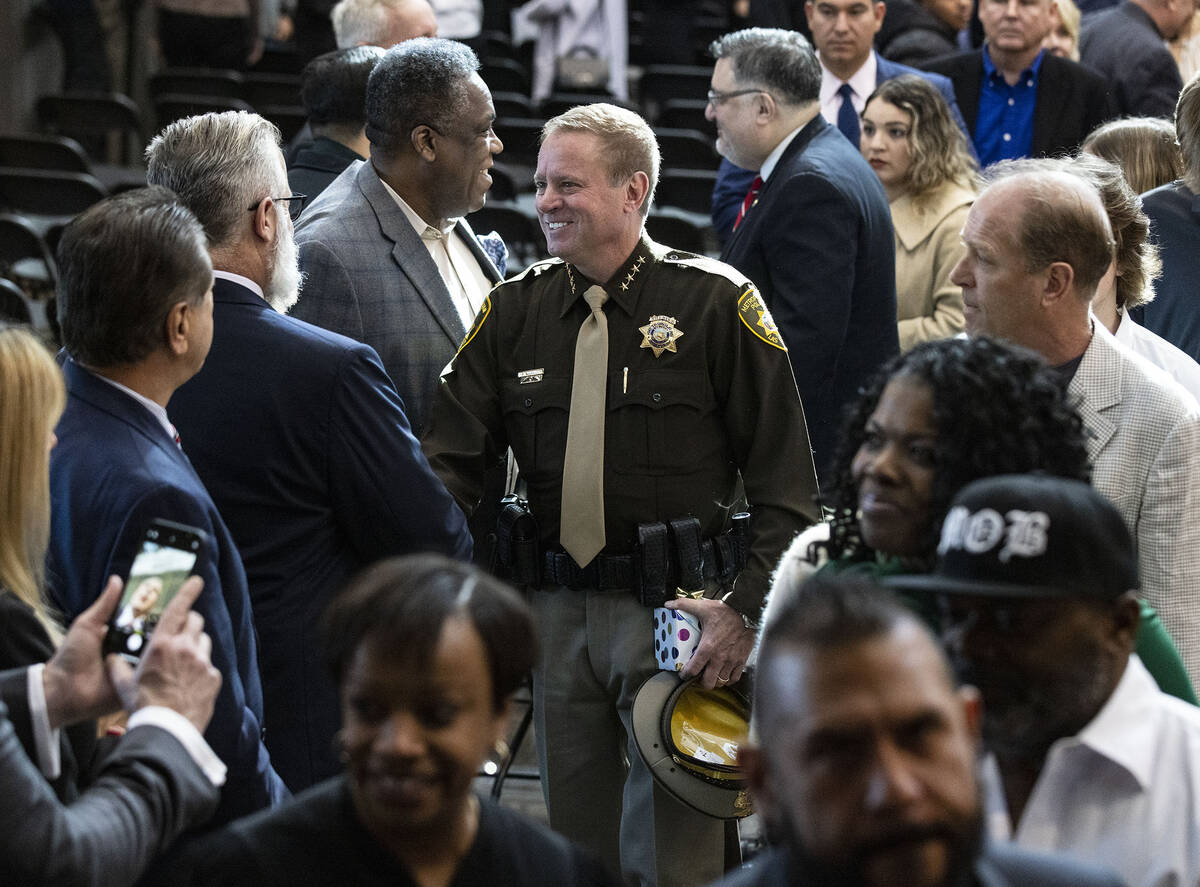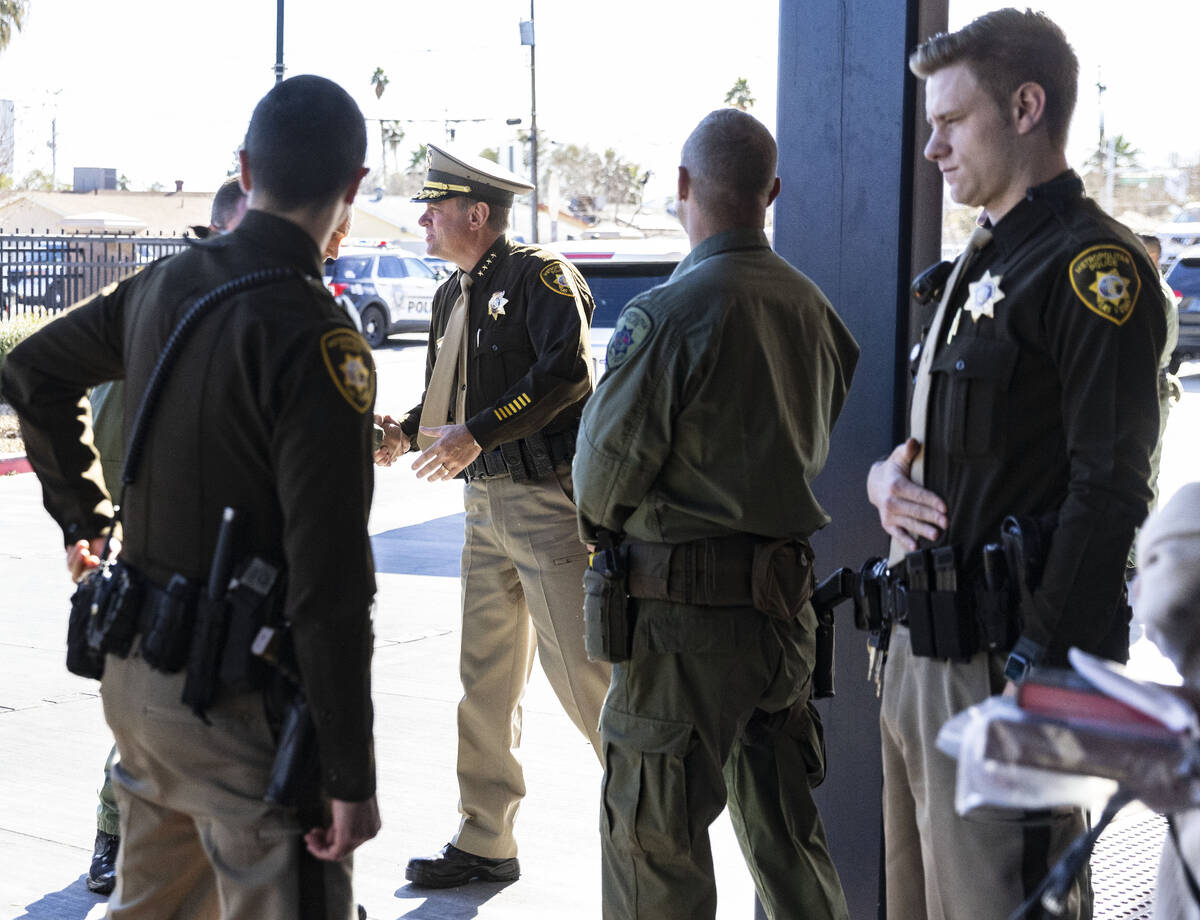 Clark County Sheriff Kevin McMahill used his swearing-in ceremony Monday as an opportunity to talk about homelessness, addiction and the mental health of officers and civilians.
In the overflowing foyer of the Blind Center of Nevada, McMahill announced the first female assistant sheriffs in the Metropolitan Police Department's 50-year history: Yasenia Yatomi and Sasha Larkin, along with Jim Seebock.
Andrew Walsh's promotion to undersheriff was announced last week.
"I am extremely humbled to be standing here before you," McMahill said during the ceremony. "I am extremely humbled in front of my family and friends. I'm humbled to be the leader of the Las Vegas Metropolitan Police Department, and I know the gravity of becoming the sheriff."
McMahill was sworn in by Justice of the Peace Tierra Jones. His wife, Kelly McMahill, held a Bible that belonged to the sheriff's brother, who died by suicide. His children, Finn, Abigail, Darby, Tristan and Officer Brayden McMahill, stood with his son-in-law, Officer George Nazario, grandchildren Uriah and Sawyer Nazario, and the sheriff's parents, Dolly and Mike McMahill.
Before McMahill was asked to raise his right hand, retired Metro captain and poet Harry Fagel read a poem he wrote for the incoming sheriff.
"Regardless of the endless issues, political misuses, institutional mistakes and unfortunate abuses," Fagel read. "Meanwhile, are you safe walking down the street?"
Fagel said officers must have thick skin, care about the community and be "not easily shook." He prayed McMahill would protect the community and treat residents the same way he would treat his own family.
"I pray he serves the Constitution with fierce determination, and I pray he creates safe spaces both outside and in, places free of alienation," Fagel said.
Las Vegas Mayor Carolyn Goodman, Las Vegas city councilwoman Victoria Seaman, Henderson city councilwoman Carrie Cox and county commissioners Michael Naft and William McCurdy, sat among prosecutors, firefighters, police officers from other departments and the U.S. Marshals Service.
McMahill said that when he retired two years ago he was depressed, and work in the private sector did not fulfill him. Former Clark County Sheriff Joe Lombardo, who was sworn in as governor Monday, asked McMahill in March if he would run for sheriff.
McMahill won the election by gaining more than 50 percent of the vote during the primaries in June. He said he spent the next six months quietly reflecting on the promises he made during the campaign.
In an interview last month with the Review-Journal, Lombardo said he hoped McMahill would make progress in the fight to end homelessness and help those suffering from mental illness, a promise Lombardo said he did not fulfill after his win in 2018.
McMahill said Monday that incarceration would not fix these problems, and he looked forward to working with community partners eager to make a difference.
"You know what works?" McMahill said. "A community policing philosophy that is based in humanity. The fact that we see humanity in one another before we see anything else, not the color of your skin, not the sex that you are, not the person that you sleep with."
The sheriff credited Kelly McMahill with the idea for a wellness bureau, which will help officers recover mentally and physically from trauma suffered in the field. Kevin McMahill said he wanted the community to have "smart, happy and healthy cops."
McMahill thanked each family member individually with a few words describing them to the crowd, and he ended his 20-minute speech with several promises.
"You have my word that every single day I will come here to work and make this, what I think is already a great police department, the greatest police department," he said. "We have a lot of work to do, there is not a doubt in my mind about that. I promise you I'll put forth that effort, I'll put forth that love, I'll put forth that ability that I have to bring people together to make a difference."
Contact Sabrina Schnur at sschnur@reviewjournal.com or 702-383-0278. Follow @sabrina_schnur on Twitter.