Las Vegas City Council may add nearly 900 acres to city land
January 3, 2018 - 5:22 pm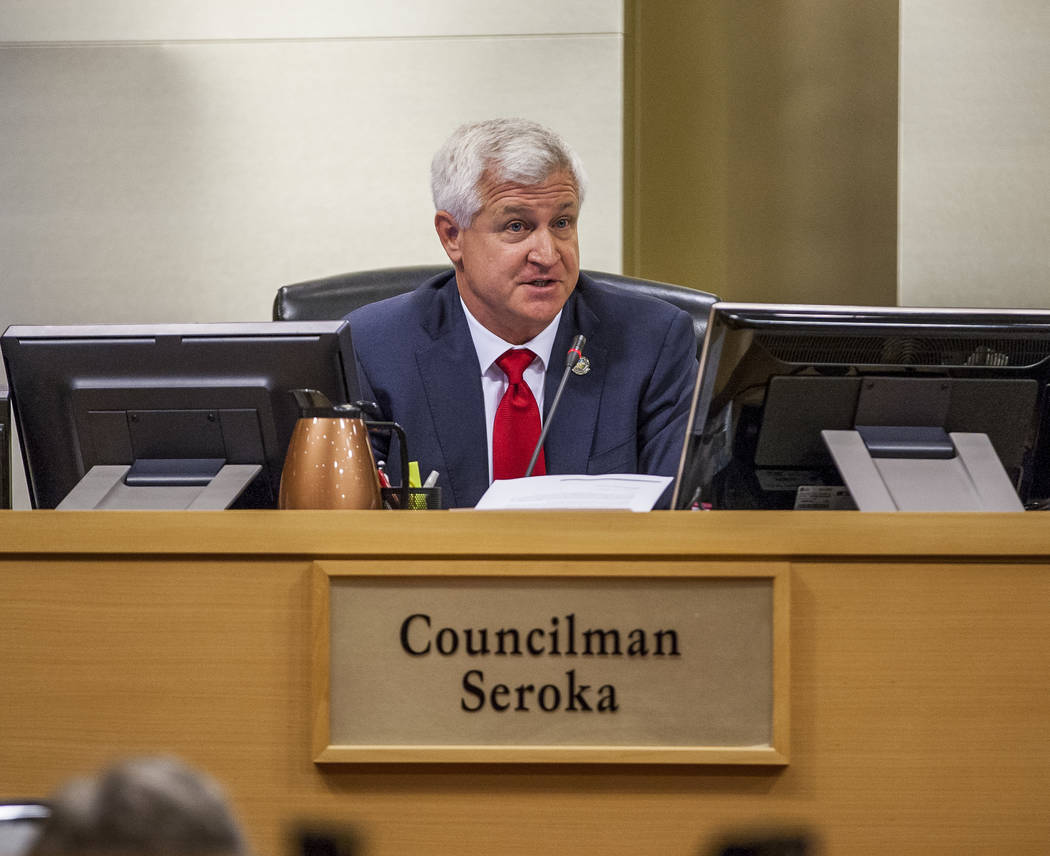 The Las Vegas City Council set a public hearing for next month on a plan to absorb 872 acres of unincorporated Clark County into the city.
Dozens of speakers at Wednesday's council meeting spoke out against their properties being annexed into the city, representing a small fraction of the 1,553 property owners affected by the proposal.
The owners will be notified the city is considering annexing their property.
Councilman Steve Seroka asked the council to delay the vote Wednesday and cast the lone vote against setting the public hearing for next month.
If a majority of the affected property owners protests the move, state law prohibits the city from attempting to annex that land again for at least another year. If fewer than a majority of those property owners protest the move, the city could go forward with the annexations.
If the incorporation moves forward, the land would become parts of Las Vegas wards 1, 3 and 5.
All of the speakers Wednesday opposed the annexation plan, asserting they like living outside city boundaries and don't need its services.
Last January, the city devoured more than 4,500 acres of former Bureau of Land Management property that became part of the northwest Ward 6.
Councilman Bob Coffin pointed out a possible perk to annexation opponents.
"If you don't like us, this gives you a chance to vote against us," Coffin said. "If this goes through, you get to knock us out."
In other business on Wednesday, the City Council approved an $80,000 settlement with Tiana Monetathchi related to personal injuries allegedly caused by a city public works employee. The council also voted to approve:
■ An interlocal contract extension for administering and funding the Las Vegas Metropolitan Police Department Citizen Review Board, $95,322.
■ An interlocal agreement for the Homeless Management Information System. The city's share of the cost is $65,984; the cities of North Las Vegas, Henderson, Boulder City and Clark County also contribute. The city also approved $179,027 for inclement weather shelters and $6,854 for the federally required annual Homeless Census, also shared costs with the county and other cities.
Contact Jamie Munks at jmunks@reviewjournal.com or 702-383-0340. Follow @JamieMunksRJ on Twitter.
Badlands appeal denied
The Las Vegas City Council on Wednesday denied an appeal by Badlands golf course development opponents challenging a city planning director decision.
Queensridge resident and attorney Frank Schreck appealed the decision not to require EHB Cos. to submit a general plan amendment and a major modification of the master plan with the most recent round of development plans for the closed west Las Vegas course.
"This isn't a case where the city code can just be ignored because the developer would like to develop something the code doesn't allow," said attorney Todd Bice, who represents Schreck.