Las Vegas City Council to consider pet shop ordinance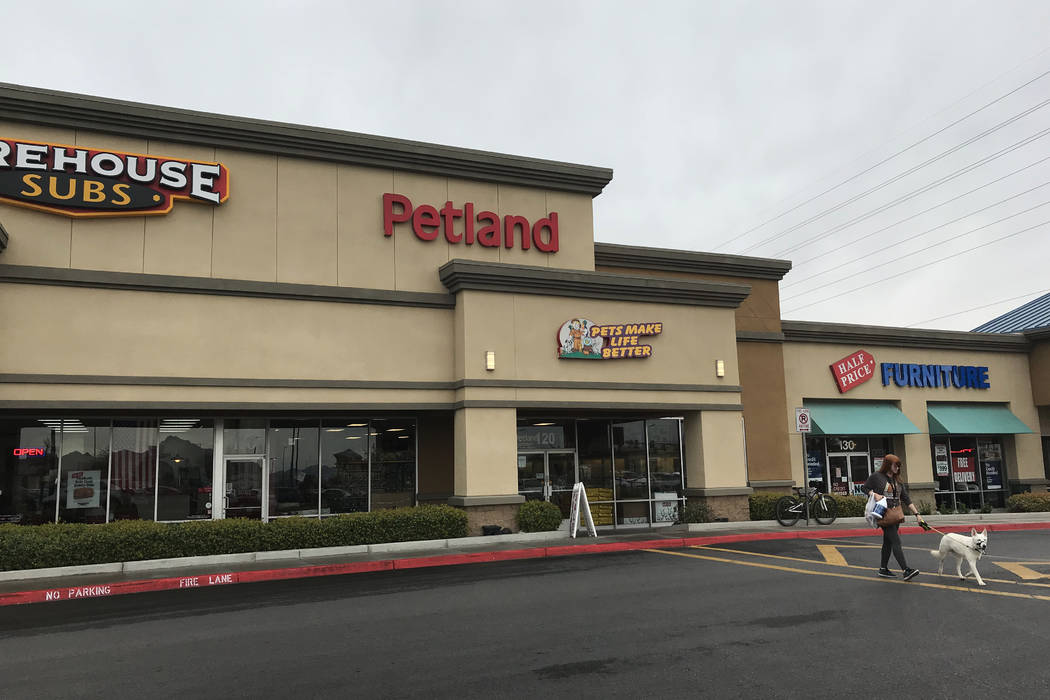 New rules for Las Vegas pet shops would give the city more teeth to enforce where the animals sold in the city are coming from.
The rules, which are in an ordinance up for a City Council vote Wednesday, would require pet shops and the breeders and distributors who sell animals to them to have a business license and a professional animal handler's permit. They also would not be able to have recent U.S. Department of Agriculture citations for violating the Animal Welfare Act.
Deputy Planning Director Mary McElhone said the proposal amounts to a "mini audit" when pet store operators renew their semiannual licenses.
One goal of the ordinance is to have an animal control officer inspect the animals and their paperwork when they're delivered to Las Vegas pet shops, McElhone said.
Each animal distributor in Las Vegas would need to give the city a quarterly report detailing the breeders and brokers they're sourcing animals from, and post a sign at the entrance and exit directing people with concerns about animal welfare at the store to contact animal control officials.
The animals that will be sold must also be micro-chipped.
The City Council voted in early 2016 to ban store sales of pets not obtained from animal shelters, nonprofit humane societies or nonprofit animal rescue organizations, coupled with a two-year delay aimed at giving the two stores affected time to change their business models.
A newly configured council changed course on Nov. 15 and repealed the ban before it took effect.
Both votes ruffled feathers in Las Vegas. Repeal proponents argued a ban would drastically decrease the choice in animals, and pet shop owners said it would force them out of business. The owners said they don't source animals from puppy mills, profit-driven commercial breeding operations that are widely considered inhumane.
The council's two new members, Steve Seroka and Michele Fiore, were part of the majority that voted to repeal the ban. City officials said an outright ban wouldn't necessarily stem the flow of animals into Las Vegas from puppy mills.
Representatives for the Humane Society countered that a ban would have been effective at drying up the market for puppy mill dogs.
Seroka is sponsoring the new ordinance.
"Nobody likes puppy mills, and we had a bill we were about to implement that wasn't going to accomplish what we were setting out to achieve," Seroka said.
The ordinance authorizes the city's animal control officer, the Metropolitan Police Department and certain other city employees to issue citations, conduct inspections and audits into breeders, animal distributors and pet shops.
Penalties for flouting the new rules would range from $150 to $1,000, depending on the violation. Pet shops would be given six months to comply with the new rules.
Past council votes on pet shop regulations have drawn crowds, with public comment periods lasting more than 90 minutes. A Monday morning committee meeting was moved from a conference room to City Council chambers in case a crowd turned up, but few people attended.
Nevada Voters for Animals President Gina Greisen attended a stakeholder meeting on the new ordinance this year. She said she recommended the signs with animal control contact information be posted at pet stores. Greisen acknowledged the rules are "better than nothing," but she questioned campaign contributions to council members leading up to the repeal vote.
Petland gave $5,000 to Seroka on July 24, less than a week after he was sworn into office, according to Seroka's annual campaign finance report to the Nevada secretary of state's office.
"They should have disclosed that during the meetings," Greisen said.
Seroka contends the contribution didn't affect his vote, and he emphasized the new rules would place more responsibilities and costs on pet store owners.
"I think if you look at my track record, my vote and my voice is always for what I believe is for the greater good of the community," Seroka said. "Whether they give money or not is not part of the equation."
"If I were influenced, I would have sat back and rested easy after the council decision to repeal the ban," rather than spending months on the new rules, Seroka added.
Lobbyists for Petland and Puppy Boutique, the two pet shops that would have been affected by the ban, met with Fiore, Mayor Carolyn Goodman and Councilwoman Lois Tarkanian leading up to the vote to repeal. A lobbyist for the Humane Society also met with Seroka and Tarkanian before the vote, according to records of the city's lobbyist meetings.
The Clark County Commission is expected to take up a separate set of rules Tuesday for new pet shops that open in the county.
Contact Jamie Munks at jmunks@reviewjournal.com or 702-383-0340. Follow @Journo_Jamie_ on Twitter.